Five trends postsecondary education leaders need to watch this fall
As some college campuses start welcoming students back to campus this fall, the effects of COVID-19 on Americans' plans and expectations for their education will be important to consider.
Are Americans still planning to pursue higher education? And if so, what are their motivations and expectations for their education — and what are the barriers to enrolling?
Education leaders have been weighing these questions since COVID-19 forced the closures of college campuses around the country this spring and raised questions about the effects on the fall semester. The pandemic and ensuing economic crisis have raised questions about shifts toward online education, trends that favor skills-focused programs, and concerns about students delaying or canceling their plans.
Listening directly to those affected can help educators understand learners' motivations, concerns, and "must-haves" to ensure they are removing, rather than compounding, barriers in this crisis.
Since the beginning of the pandemic, Strada Education Network has been surveying Americans to better understand the impact COVID-19 has made on their finances, careers, and education. The nationally representative survey has collected insights that can help education leaders navigate the crisis. With more than 13,000 responses to date, the Public Viewpoint survey has looked at generational differences, the effects across different racial and ethnic groups, disruptions on industries, and how Americans laid off during the crisis planned to recover.
These are the key findings we believe are the most helpful to education leaders as they prepare for the fall semester.
1. Two out of every three young adults report they have changed or canceled their education plans: The 18- to-24-year-old age group is the traditional lifeblood of universities, but 65 percent of this demographic is either changing or canceling their education plans. Among these young adults, 34 percent have canceled their plans entirely, while another 16 percent have delayed their enrollment, 17 percent have reduced the number of courses or amount of training, 11 percent have changed the school or provider, and a small percent have changed their field of study.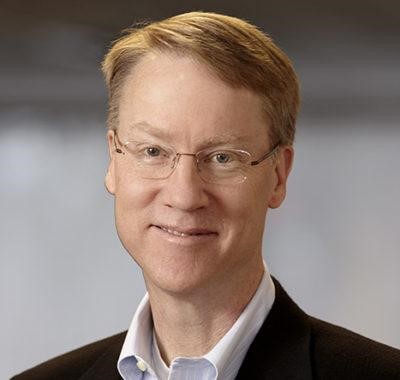 "These shifts, along with the interest in rapid skill development, have major implications for colleges, universities, and other providers seeking to serve workers and learners through this crisis," said Dave Clayton, senior vice president at Strada Center for Consumer Insights.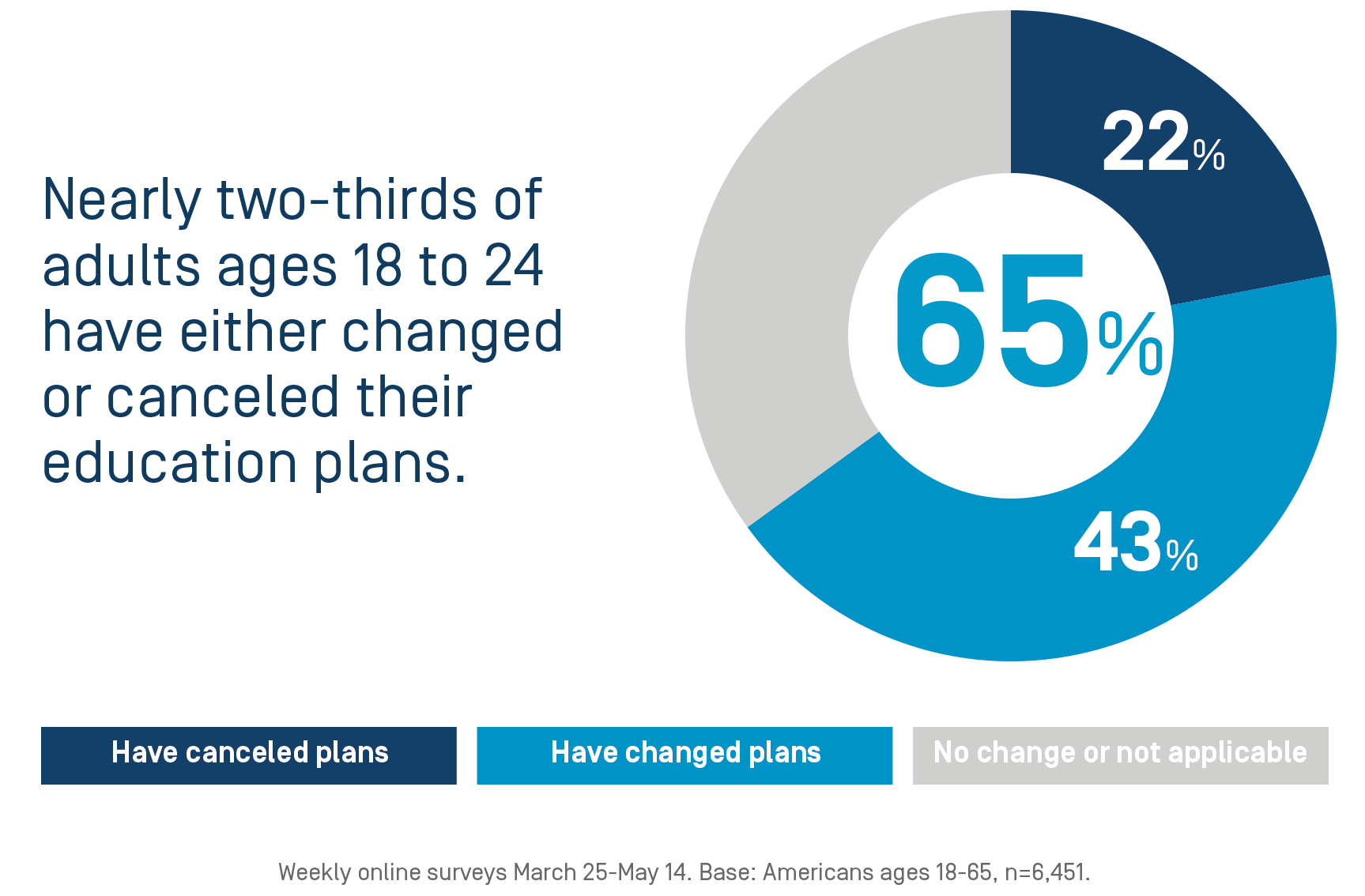 2. Adults' fears about their ability to succeed are a significant barrier to enrolling: Nearly half (49 percent) of adults said fears about their ability to succeed, or that they have been out of school too long, are extremely or very challenging issues for them personally. In fact, this self-doubt is just as much of a concern as the cost (48 percent). Only time and logistical constraints (55 percent) ranked higher as barriers to enrolling. At the same time, only half of adults without a postsecondary degree or credential believe it would be worth the cost (52 percent) or help them get a stable job (50 percent).
"Educators, policymakers, and funders need to tackle Americans' twin crises of confidence — both in the career value of education and in their personal ability to succeed," Clayton said. "The economic fallout from the pandemic only makes this more urgent."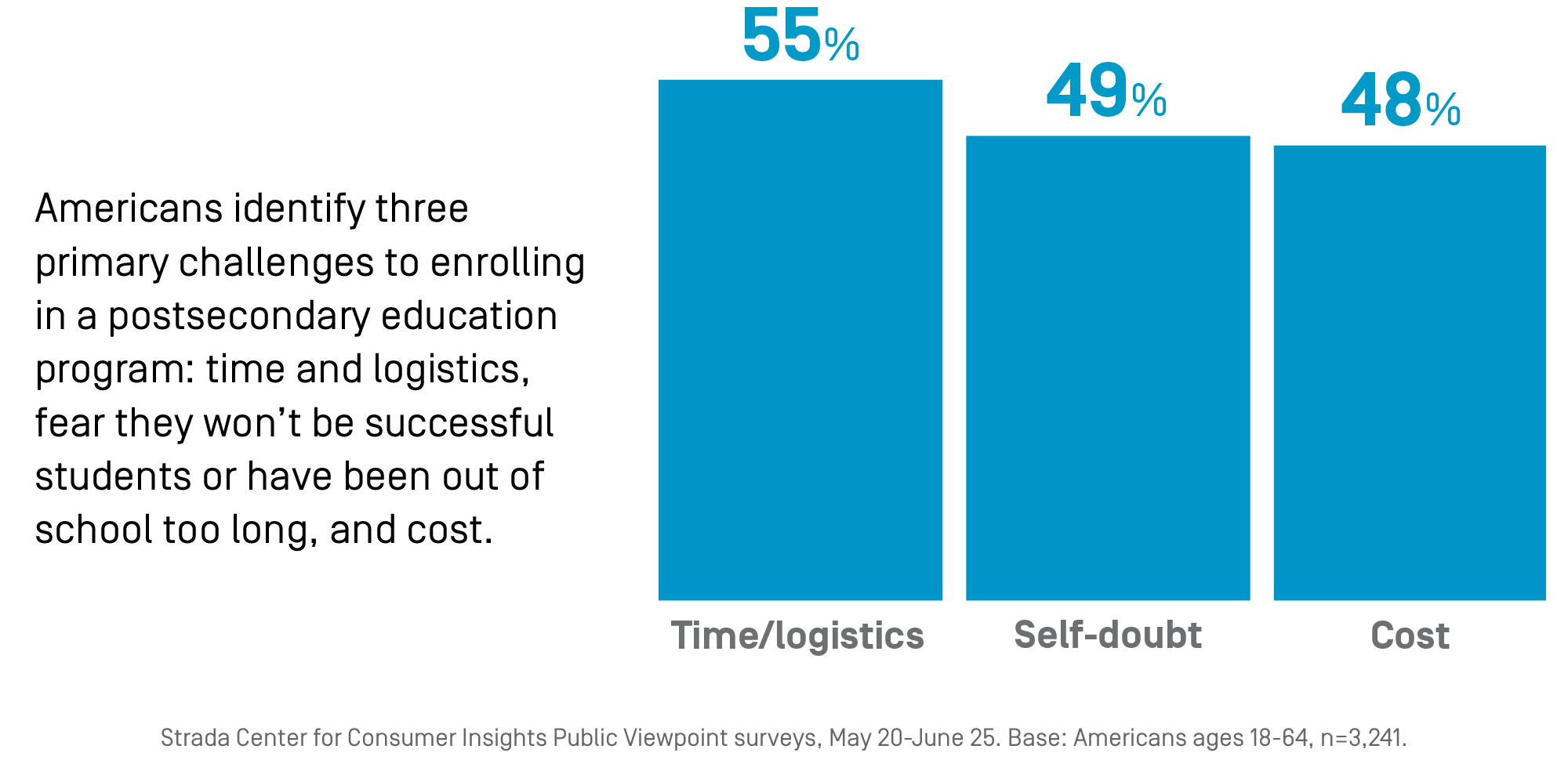 3. Nondegree programs have the strongest interest: Regardless of their current education level, a majority of Americans looking to pursue more education strongly prefer shorter certificate and skills-training programs over degree programs. Sixty-two percent said if they enroll in the next six months, they would choose a nondegree or skills-training program. This interest in rapid skill development is widespread across education attainment levels including a majority of bachelor's degree holders (60 percent), people with some college credits, an associate's degree, or a certificate (56 percent), and those with a high school diploma or less (71 percent).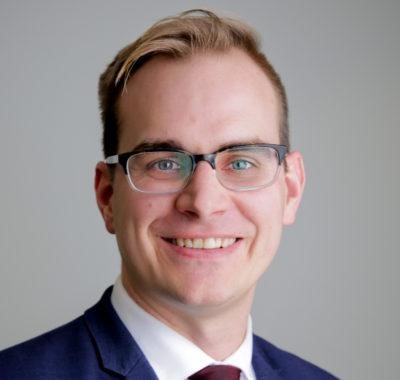 "The pandemic has created unprecedented change to our lives and work, but the full implications for education are still not clear," said Andrew Hanson, director of research for Strada Center for Consumer Insights. "To this point, a majority of Americans are telling us they're interested in immediate opportunities to develop their skills."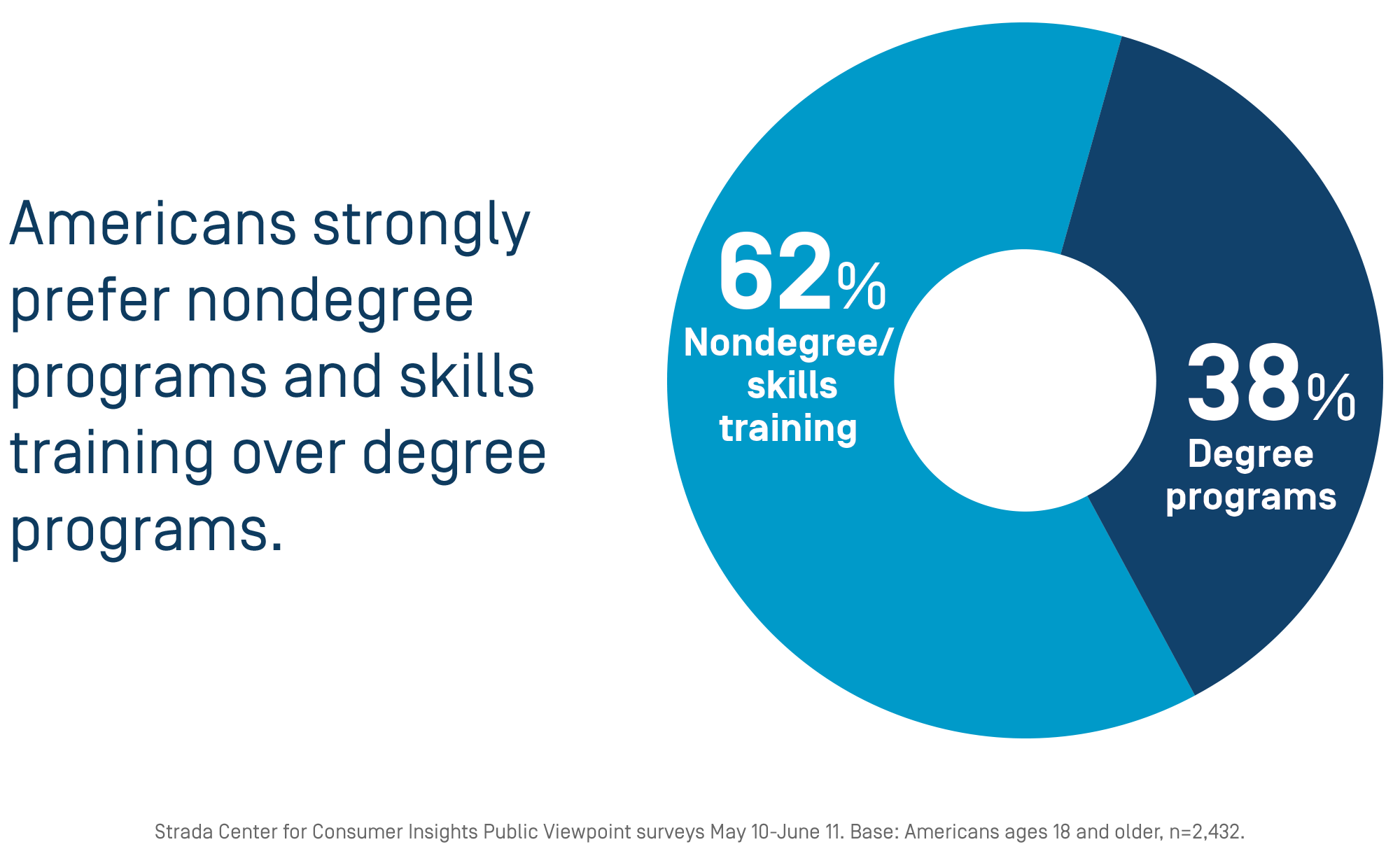 4. Americans prefer online programs over in-person: If you had $5,000 to spend on education, how would you use it? When we posed that question, 46 percent said they would pursue online programs. In fact, online options were the most popular choice among respondents of all education levels, including bachelor's degree holders (48 percent), those with some college credit, an associate's degree, or a certificate (48 percent), and those with a high school diploma or less (41 percent). Less than one-third preferred in-person programs.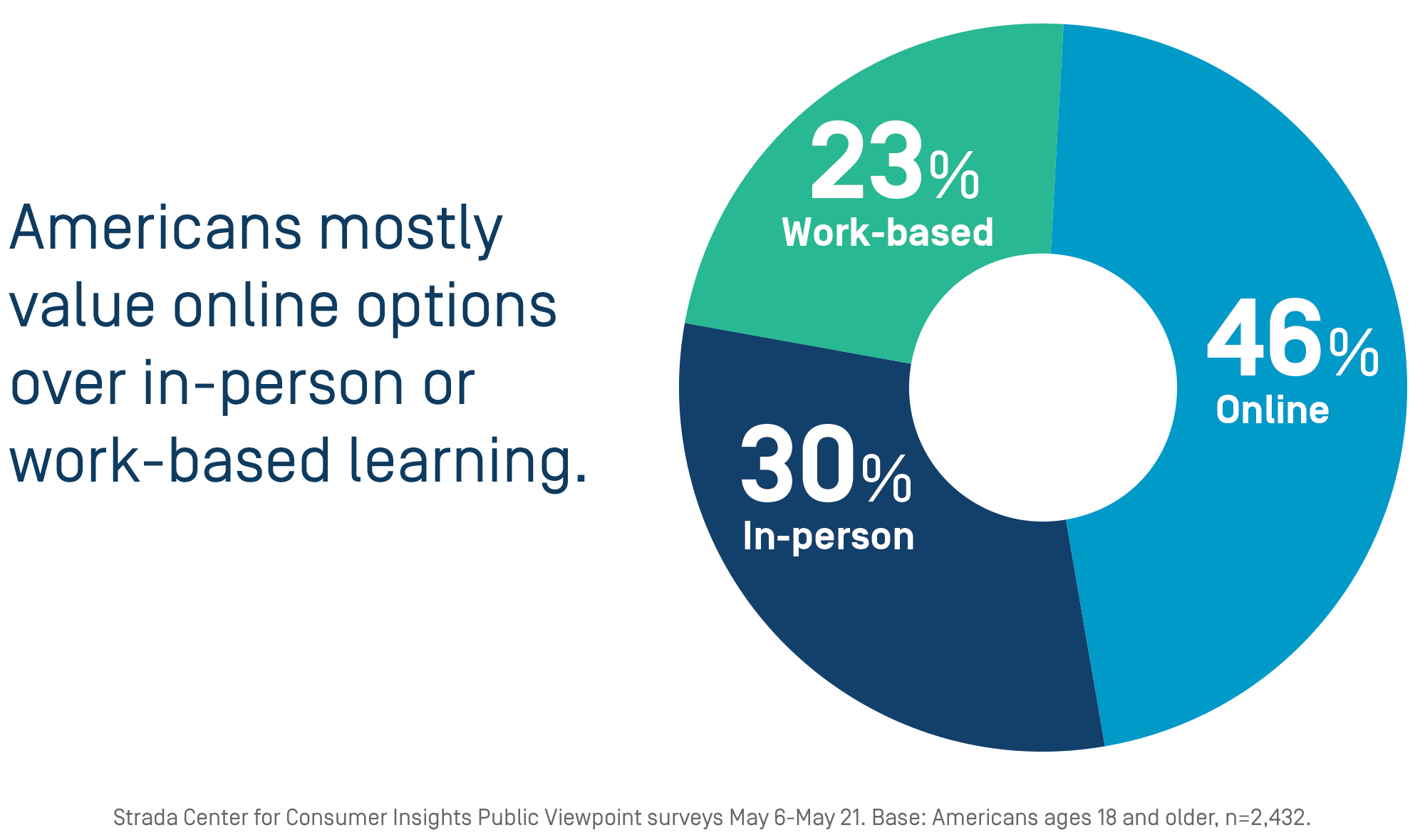 5. People of color are most likely to experience disruption: The pandemic has affected communities of color disproportionately, with Latinos (25 percent) and Black Americans (24 percent) more likely to have been laid off than White Americans (15 percent). They're also more likely to have altered their education plans. Fifty percent of Latinos have either changed (29 percent) or canceled (21 percent) their plans, while 42 percent of Black Americans have changed (27 percent) or canceled (15 percent) their plans. By contrast, only 26 percent of White Americans have changed (15 percent) or canceled (11 percent) plans.
"Even beyond COVID-19's disproportionate impact on the health of Black Americans and Latinos, our communities of color are clearly experiencing greater disruption of their work and education," said Nichole Torpey-Saboe, director of research for Strada Center for Consumer Insights. "As Latino and Black Americans demonstrate their keen interest in education and training as a path to recovery, it's important that we all make certain our postsecondary systems are designed to deliver on that promise."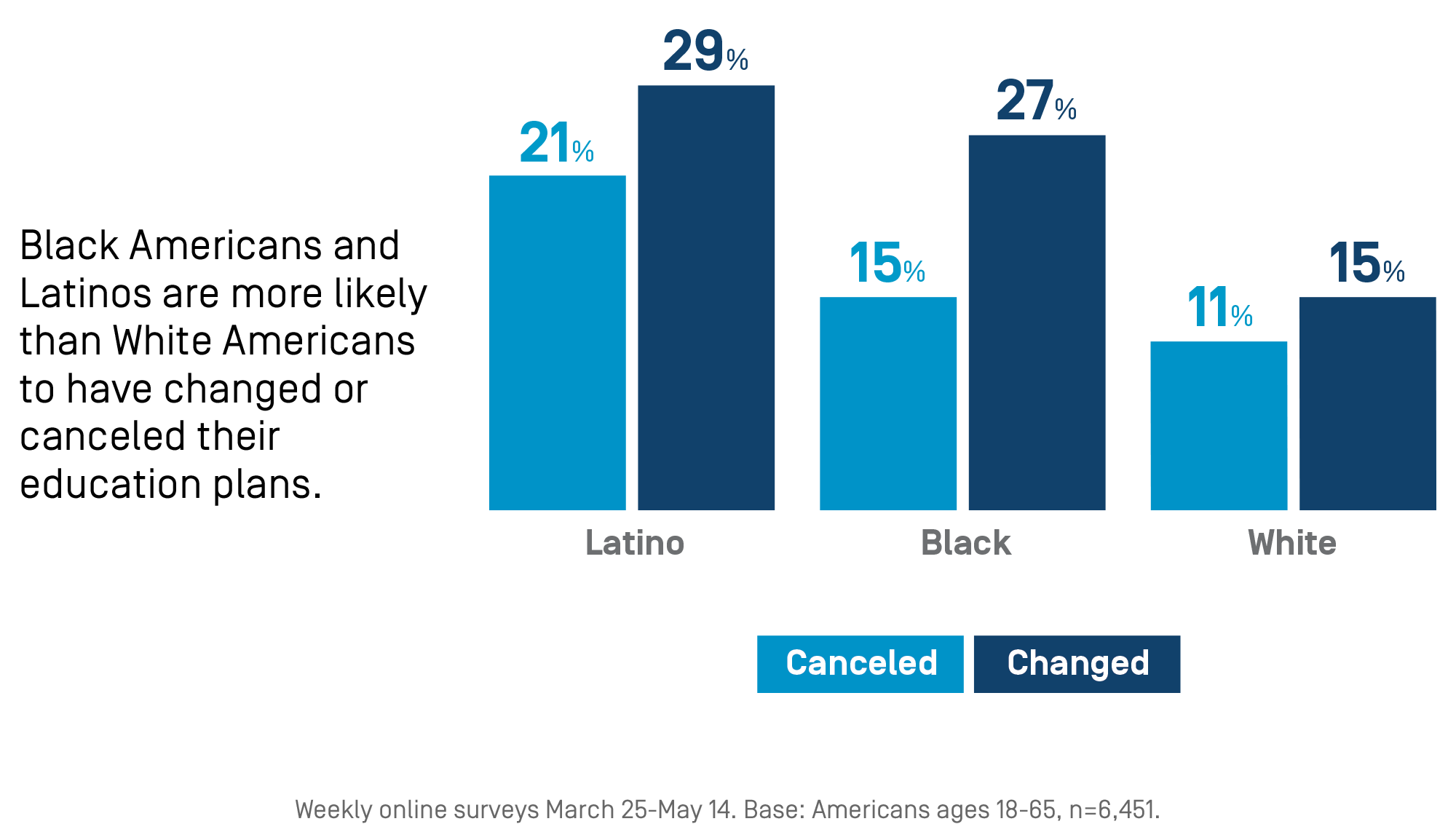 These topics are explored in more depth with education and workforce leaders in the Lessons Earned podcast. Public Viewpoints results and reports are available at StradaEducation.org/PublicViewpoint.