The Impact of Expanding and Simplifying Financial Aid
One year after announcing one of the nation's most generous financial aid initiatives, Rice University reflects on the impact of the initiative, the Rice Investment, including a significant increase in applicants and the number of students benefiting from need-based aid.
In September 2018, Rice University unveiled one of the nation's most generous financial aid initiatives with the goal of making higher education more affordable for low- and middle-income families. The initiative, the Rice Investment, dramatically expanded financial aid for students from low-income families to those with incomes up to $200,000.
"The Rice Investment was groundbreaking for two key reasons: Its generosity and the transparency of its qualifications," said Yvonne Romero da Silva, Rice's vice president for enrollment. "Through this initiative, we've been able to offer aid to more families than ever before, and because the commitment is so simplified, students and families can understand what they qualify for right from the beginning."
The financial aid initiative, which took effect in fall 2019, aims to reduce student debt burden. Families who qualify for the Rice Investment with incomes up to $200,000 are no longer required to take out loans as part of their need-based financial aid packages. Instead, loans are replaced by scholarships and grants.
Rice is changing the way schools and families talk about financial aid, according to Anne Walker, Rice's executive director of financial aid services. "Instead of Expected Family Contributions (EFC), we talk about income," Walker said. "Most families know what their income is, but EFC is a calculated number. This eases the process for families."
"We wanted to simplify the process by using terms our families would easily understand, like income and grant aid to cover tuition," Romero da Silva said. "Making our financial aid policies more transparent and understandable helps families figure out what kind of financial support they will be eligible to receive at Rice. Giving them the knowledge up front really makes the difference."
Prospective college students receive an array of mixed messages when it comes to financial aid.
"Everyone tries to make their financial aid packages look really good, but after exceptions, loans and other costs, it might not be the deal students think they're getting," Romero da Silva said. "If a Rice student comes from a family that makes $65,000 or less, they get free tuition and free room and board, plain and simple."
More than a year after the announcement, Rice can now evaluate initial data to measure the impact the Rice Investment has had on enrollment, aid and overall perception.
Spike in Applicants
Communicating what prospective students will be eligible for in a transparent way has had a huge impact on the number of families that consider applying to Rice. Since the Rice Investment was announced, Rice has seen a 29% rise in applications and an increase of matriculating students receiving need-based financial aid from 44% to 50%.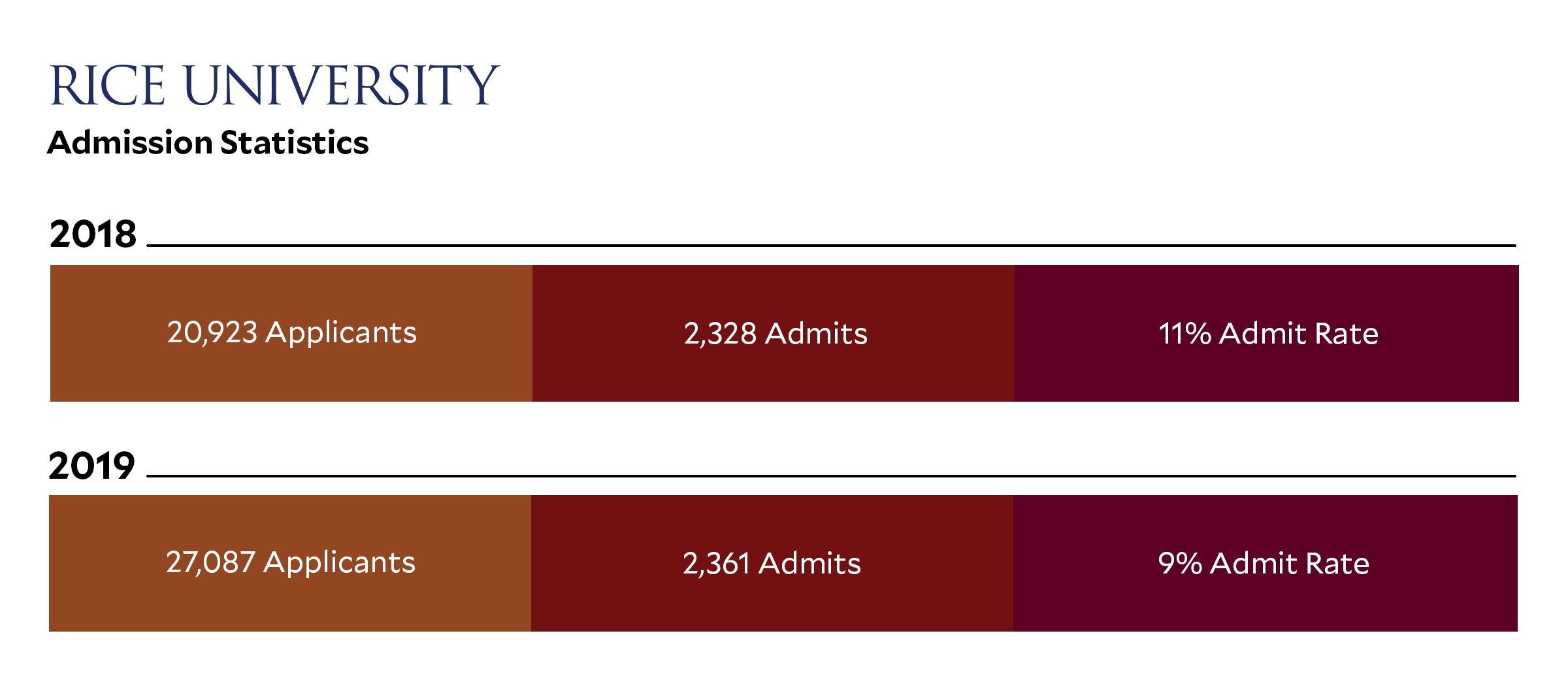 "As we continue to be on the road meeting with students, families really appreciate that transparency, because the financial aid process at other institutions is such a black box," Romero da Silva said. "Even if they understand their expected family contribution, they don't know what they are going to get until the very end. Having the capability to tell families up front what they are going to be eligible for really helps students to navigate the process and understand their options."
Increase in Students Receiving Need-Based Aid
The Rice Investment contributed to an overall increase of $7 million of the $83 million total in financial aid granted to Rice students. A total of 64% of students enrolling this year at Rice University are receiving some form of aid, and 50% of students are receiving need-based aid.
"The data shows increased aid packages in each of the income thresholds covered by the Rice Investment," Romero da Silva said. "We were really pleased to see this because it means the students are responding."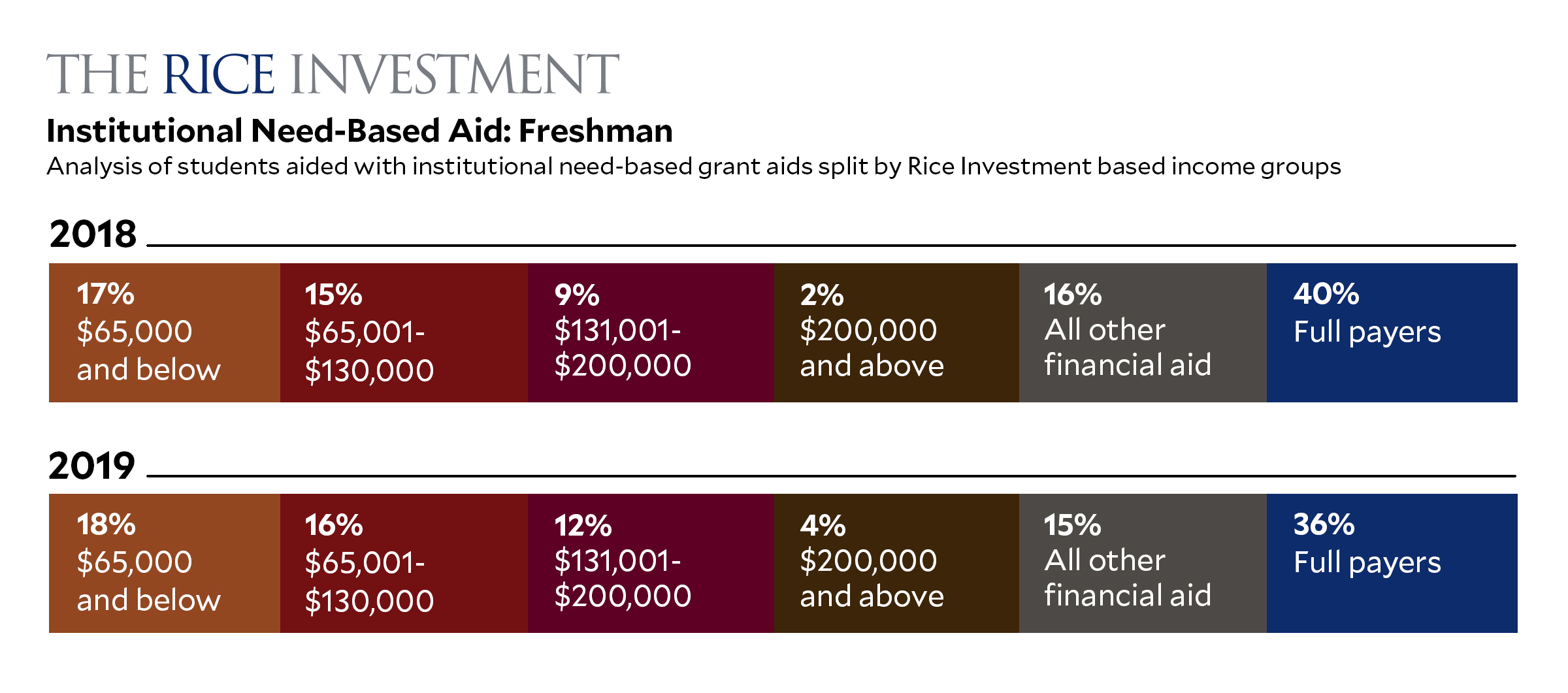 The percentage of students receiving need-based financial aid increased from 44% in 2018 to 50% in 2019.
"We were already addressing a lot of the needs for our lowest income students, but we were hearing from alumni and others that students in the other income buckets felt as though they were being squeezed out," Romero da Silva said. "The increase in representation in those two brackets lets us know the Rice Investment is working."
Increase in Perception
In addition to an increase in applications and the number of students receiving aid across the income brackets, Romero da Silva and her team are noticing impact in another area — favorability accorded to the university even from those who don't benefit from the investment.
"We're receiving overwhelming support from both existing students who don't benefit and prospective students who don't qualify," Romero da Silva said. "They want to be a part of an inclusive institution that is leading the way in making higher education more affordable for more families. The initial data and sentiment suggest the Rice Investment design is working and we're hopeful it will continue to provide students with new opportunities and access."
The Rice Investment builds on the university's founding principles of accessibility. When Rice opened its doors in 1912, it didn't charge tuition. "This bold step reflects our commitment to make a Rice education accessible and affordable for students from all backgrounds," said Rice University President David Leebron. "At Rice, we see firsthand the difference that students from every background can make in every human endeavor. It's the very essence of our university that we remain affordable for every student who can earn admission. Because talent deserves opportunity."