'It Just Means More': SEC award champions pioneering research and teaching
The Southeastern Conference may garner most of its attention for achievements in the sports arena, but like most academic entities, the SEC is built on a strong foundation of teaching and research. 
The Southeastern Conference may garner most of its attention for achievements in the sports arena, but like most academic entities, the SEC is built on a strong foundation of teaching and research. The SEC Faculty Achievement Awards highlight this strength by identifying individuals from all 14 SEC universities who have excelled in teaching and research, particularly at the undergraduate level.
Tenured faculty are eligible for the honor, with one winner per campus chosen by the SEC's provosts. From the winner pool an SEC Professor of the Year is selected, receiving a $15,000 honorarium to go along with a $5,000 honorarium gained through the initial selection.
This year's awards highlight the breadth and depth of the SEC's innovative research, ranging from gravitational waves to catfish genetics to the study of aging. Furthermore, SEC officials say the awards also demonstrate that not all conference honors are sports related.
The SEC has a history of supporting faculty who earn top academic prizes, including a 2018 Nobel Prize in Chemistry awarded to University of Missouri Professor Emeritus Dr. George P. Smith. According to SEC Associate Commissioner for Academic Relations Dr. Torie A. Johnson, many in higher education are unaware of the conference's academic successes and pioneering efforts that reflect a mission of teaching, research, and service. And so each year, she says, the faculty achievement awards fulfill the dual purpose of celebrating research milestones and showcasing the collective impact the conference has locally, regionally, nationally, and internationally.
"We believe the SEC is the only athletic conference recognizing and supporting its faculty's work in this way, unrelated to intercollegiate athletics," she says. "Students see that these are the individuals they will have the opportunity to interact with when they study in the Southeastern Conference."
A history of landmark research
Dr. Gabriela González, a professor of physics and astronomy at Louisiana State University, is one of the SEC's approximately 14,000 full-time, tenured faculty. Named in April as the 2019 SEC Professor of the Year, Dr. González previously served as a global spokesperson for the group of researchers who detected gravitational waves at the Laser Interferometer Gravitational-Wave Observatory, or LIGO.
LIGO has two installations – one in Hanford, Washington, and the other in Livingston, Louisiana – that operate together as a single observatory. Dr. González's landmark research focuses on LIGO instrument development and diagnostics, two critical elements in increasing the astrophysical reach of data-analysis methods. In 2016, she stood on the podium to announce that gravitational waves — or ripples in space and time — had been discovered at the LIGO observatories. She was also in Stockholm the following year when three fellow LIGO leaders were awarded the Nobel Prize in Physics after proving century-old predictions made by Albert Einstein.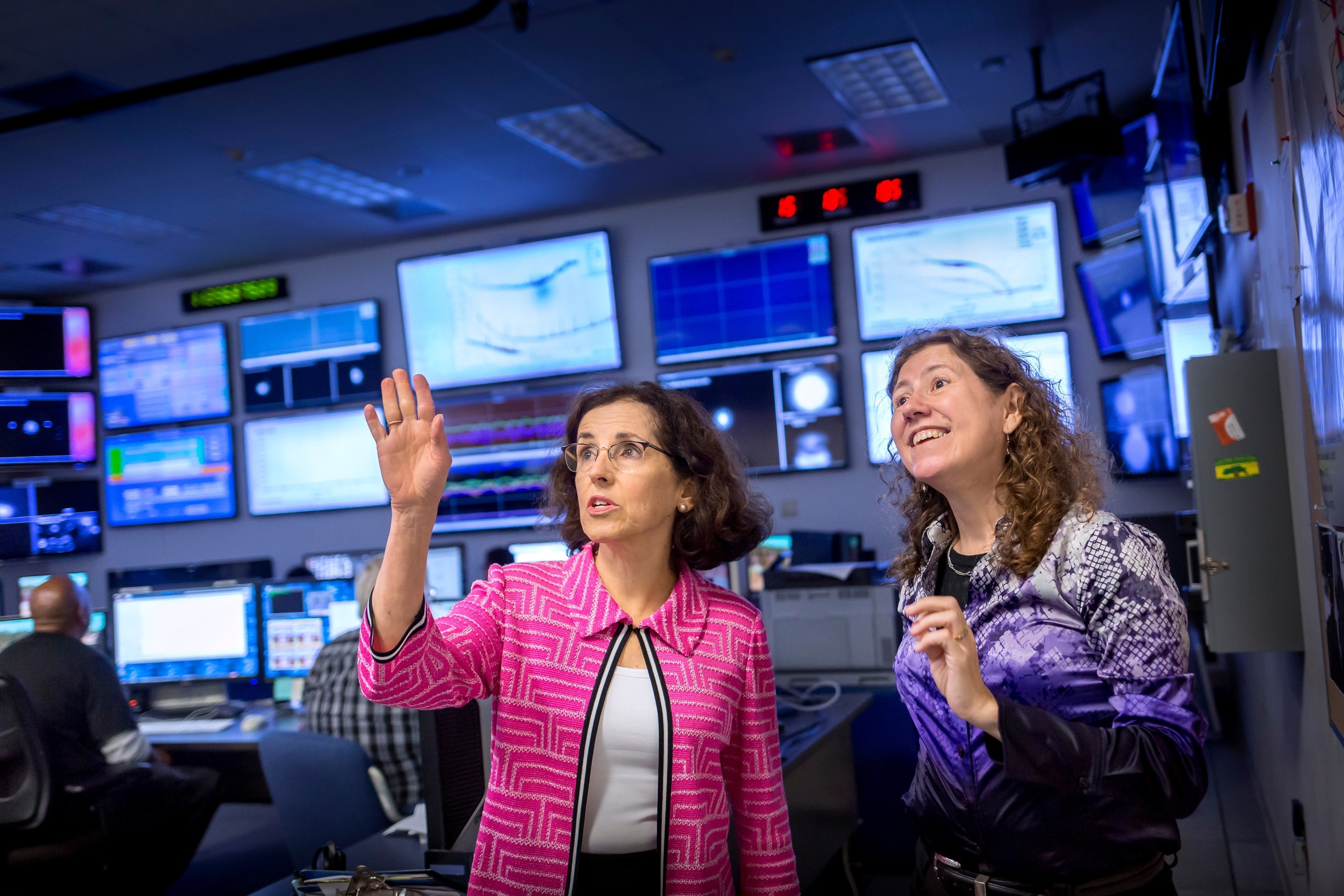 According to the Argentina native, receiving the highest SEC faculty honor is a humbling experience, one she says she's proud to share with Dr. Isiah Warner, an LSU chemistry professor and 2016 SEC Professor of the Year. As for her research, Dr. González helped put together the LIGO observatory in Louisiana, concentrating on improving the instrument as well as enhancing the laser interferometer's ability to detect gravitational waves and properly evaluate data.
"It's been a great bonanza for science; we have learned so much," says Dr. González. "We are now beginning to design new facilities and new instruments."
During her career, Dr. González has mentored doctoral students and postdoctoral fellows, while also orchestrating an outreach initiative for K-12 students in the Baton Rouge area that has so far raised $1 million. Support from LSU — and the SEC as whole — has made it all possible, with the SEC award further promoting foundational educational programming conference-wide.
"The award shows that teaching and research are the core of universities," Dr. González says. "People sometimes don't realize that universities with good sports also have very cutting-edge research."
Pursuing knowledge conferencewide
Dr. Rex Dunham, a professor at Auburn University's School of Fisheries, Aquaculture, and Aquatic Sciences, feels a sense of belonging with the 13 other individuals who received one of this year's SEC Faculty Achievement Awards.
"It's hard to put into words, but it's gratifying that my peers consider my research as being important, impactful, and worthy of recognition," says Dr. Dunham. "When I look around at the accomplishments of the winners at other universities, it's truly amazing."
Dr. Dunham is internationally known for his exploration into catfish genetics, focusing on better food production, increased yield, and positively impacting nutritional quality for consumers. A member of Auburn's faculty since 1981, Dr. Dunham's work has led to channel catfish — North America's most numerous catfish species — becoming the majority hybrid catfish industry.
"Having an impact on farmers is one of the most satisfying aspects of my career," Dr. Dunham says. "Part of the program is a process called xenogenesis, where we're working with stem-cell technology to make it easier to produce hybrids. It's extremely satisfying to have a role in impacting food security."
Ultimately, Dr. Dunham views the SEC award as a product of the advanced knowledge generated by all SEC universities.
"Nobody has a significant accomplishment without help from others," he says. "We do have a lot to be proud of. The important thing is to keep striving to improve."
Back at the SEC, Dr. Johnson says acknowledging the important research and lifelong opportunities that occur around the league aligns with the SEC's "It Just Means More" campaign, which emphasizes achievements both on and off the field. For instance, fans tuning into the SEC Network for a sporting event may see a bottom screen ticker announcing the latest SEC Professor of the Year.
Achievements in sports might make the highlights on ESPN, but SEC administrators are equally thrilled about the next generation of scientists emerging from its high-impact classrooms and labs.
"It shows the importance of research at our universities and the caliber of our faculty members," says Dr. Johnson. "We get to recognize 14 people a year, but those are in no way the only ones who are deserving. Our students are fortunate to access our professors in their pursuits."