Southeastern Conference leverages sports to highlight its universities' off-the-field achievements
Although SEC athletic accomplishments tend to garner the national spotlight, the conference is also busy creating unique initiatives to champion the academic achievements of its 14 member universities.
For many people, the Southeastern Conference conjures up images of a packed stadium of exuberant fans cheering on their favorite football team. Although SEC athletic accomplishments tend to garner the national spotlight, the conference is also busy creating unique initiatives to champion the academic achievements of its 14 member universities.
According to officials, the SEC was the first NCAA conference to integrate non-sports programming into its athletic office structure, including hiring SEC staff members to oversee the programs, which are a cross-campus effort that showcases oft-underappreciated classroom endeavors and supports the next generation of academic leaders. The SEC's efforts also harness the energy and dynamism of a conference in which camaraderie and loyalty are paramount.
"We'll always publicize our student-athletes, but at the foundation of everything they do, they're students," says SEC Associate Commissioner of Communications Herb Vincent. "If we can leverage the popularity of sports to promote the academic accomplishments of our universities, we'd be remiss not to do that."
Highlighting academics is another method of connecting a loyal alumni base known for chanting, "SEC! SEC! SEC!" at football bowl games, officials say. For more than a decade, a focus on educational programming has supported the teaching, research, service and economic development activities of SEC students, faculty and staff, forging a new tradition of collaboration alongside the successes of the conference's much-praised sports programs.
"It was and continues to be necessary for the SEC to engage in a concerted and strategic effort to communicate to different audiences the wide range of accomplishments and the value of our universities," says SEC Commissioner Greg Sankey. "We're taking young people who come to campus as adolescents and leave as adults to impact our states, region, and world in positive ways. By broadening the scope of our academic initiative, we will be able to establish a stronger platform to articulate how SEC universities are impactful and influential including and beyond intercollegiate athletics."
Shaping a New Identity
In continuing to shape its scholarly identity, the SEC recently expanded its 13-year-old academic initiative, known as "SECU," into a newly-imagined "SEC Academic Relations" department within its organizational structure. Led by SEC Associate Commissioner for Academic Relations Torie Johnson, the department is more actively promoting the full range of university successes, with support from institution presidents, administrators and others with interest in the uniquely symbiotic relationship between higher education and intercollegiate athletics.
"I don't know if another conference office staff is as involved as we are in academics," says Johnson. "Based our research, it doesn't look like anyone else has established a department within their athletic conference aimed solely at promoting academic accomplishments; hired full-time conference office staff members to guide those endeavors; or outlined expectations for promoting academics using the athletic conference office resources."
A trio of current SEC-funded programs concentrate on faculty and administrative growth. The SEC Academic Leadership Development Program (SEC ALDP), for example, identifies and prepares faculty and early career administrators for roles in higher education, whether within the conference or elsewhere.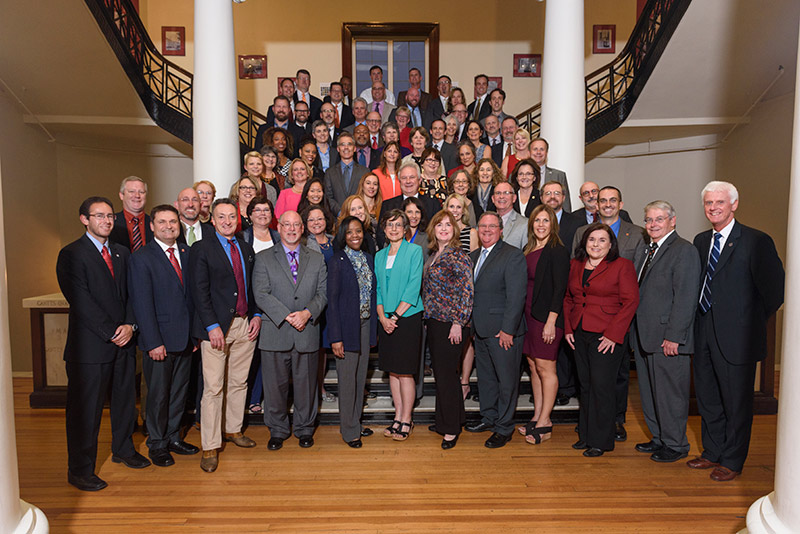 The program provides two, three-day workshops where participants learn a variety of critical skills, from conflict management to branding to balancing a departmental budget. Now in its eleventh year, the initiative includes between two and four "fellows" from each SEC university who attend, along with their campus "liaison," on-campus seminars each October and February.
"Past workshops have focused on diversity and inclusion and learning your personal style as a leader," says Johnson. "It's often about understanding what's in front of you each day when you are in a high-pressure position. You have to manage an inflow of information and still be able to sleep at night."
Kim Bissell is an associate dean for research in the college of communication and information science at the University of Alabama, where she also serves as a professor. Bissell, who oversees departmental research and funding, applied to the SEC leadership program in 2013 to address challenges associated with her work.
"When I came in as dean, I'd spoken with our associate chair, but I didn't have a ton of exposure within the bigger picture of administration," Bissell says. "I applied (to the leadership program) to gain a broader understanding of how it all works from the top down. What are the different pieces that come together in terms of strategic communication, development and finance? If you have a plan, how do you execute it from start to finish?"
This year, Bissell will meet colleagues from three SEC universities as part of a fellowship for former leadership program participants. Learning how larger departments juggle personnel and support functions will help Bissell maximize her efforts in a role where constant resource management is critical, she says.
"The schools I picked all have different reporting structures," says Bissell. "I'm trying to see how each office functions with the personnel and resources they have, and what they see as their strengths and weaknesses. I want to shout out our successes to anyone who will listen while finding meaningful ways to address our weaknesses."
'A Sense of Pride'
Recognizing faculty with outstanding teaching and research records is another way the conference is presenting its academic prowess, administrators say. The SEC Faculty Achievement Awards are given to one professor per campus, with an overall winner ̶ known as the SEC Professor of the Year ̶ honored during an annual awards dinner. In June, Texas A&M University chemistry professor Marcetta Darensbourg received the conference's top academic honor for her research into fuel cell technology as an environmentally friendly energy option.
Intra-conference collaboration, meanwhile, is the goal of the SEC Faculty Travel Program that sends participants to other SEC campuses to conduct research, develop grant proposals, present lectures and deliver performances.
Fostering a regional relationship among SEC schools is the larger mission of the conference's promotional efforts, dovetailing with an image enhancement campaign that advertises SEC achievements on a regional, national and international level, notes conference commissioner Sankey.
As many of those triumphs occur on the athletic field, the conference uses sports to bring attention to its off-the-field feats. In-game promotions on digital and social media platforms may point to research collaborations between opposing universities. During a recent football game pitting Alabama against the University of Missouri, a placard bearing the SEC's "It Just Means More" campaign branding appeared on the conference's academic Twitter feed (@TheSECU), sharing the schools' collaboration in helping families make appropriate health-care decisions for loved ones with cancer.
"It Just Means More" messaging also appears in print promotions and 30-second television public service announcements. While most major athletic conferences get screen time to sing their academic praises, the SEC's "all for one" focus is unique, reflecting the belonging that fans and alumni feel with other member institutions, Sankey says.
"There's more happening than football and basketball games," he says. "We have leading faculty, important research and lifelong opportunities that occur around the league. When going through the preparation process in how to present ourselves, we jokingly said there was a lot of hoisting of trophies (in SEC promotions). But there's so much more happening, and that gets back to education."
Along with its faculty programming, the SEC also supports initiatives aimed at current and future students, including education abroad programs, a business competition for MBA students and a recruiting fair for prospective students who are not athletes. But its student music ensemble is perhaps most emblematic of the conference's powerful solidarity, bringing in melodically gifted learners from multiple schools to perform during the SEC's football championship weekend.
Ultimately, conference administrators are pleased to share cool connections off the field, even as on-field rivalries remain hot as ever.
"It's not hard to do, because we believe in the SEC," says Vincent, the conference's associate commissioner of communications. "We're producing public service announcements that generate a sense of pride among the audience, whoever that audience may be."