Studying Beyond Books and Borders at Georgetown Qatar
Students explore conflict zones around the world with fully funded program at Georgetown's Qatar campus
While it's commonplace for students at Georgetown University's Walsh School of Foreign Service to discuss issues in conflict zones around the world, students at the university's campus in Doha, Qatar, go beyond discussions by traveling to such conflict areas and engaging communities on the ground.
These trips are a part of Georgetown University in Qatar's (GU-Q) award-winning 'Zones of Conflict, Zones of Peace' (ZCZP) program. ZCZP was started in 2007 to help students study conflict management and resolution by combining academic research with a close examination of the realities on the ground.
So far, the students have visited past and present hotbeds of conflict, including Israel and Palestine, Rwanda, South Africa, Germany and Poland, Japan, and Zanzibar. This summer, the students will be traveling to Beijing and other cities in China to explore the history and culture of Muslims in the country. After 10 years of operating as a co-curricular initiative, the program has now evolved into a 3-credit course.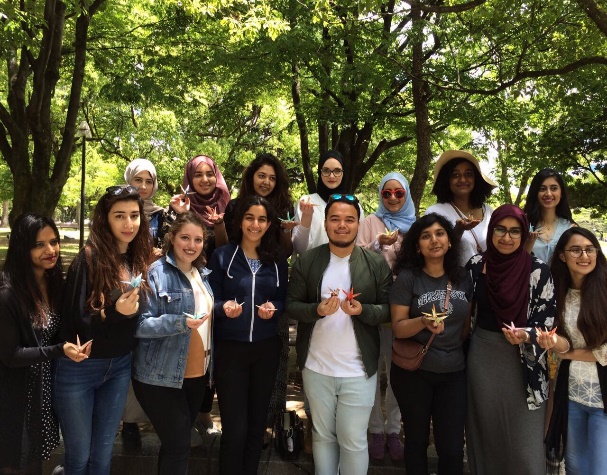 Every year, the program selects one topic to study and chooses destinations accordingly; the first-ever topic explored was the Israel-Palestine conflict. "From the very beginning, especially since we chose to start with what was perhaps the most challenging of all the trips—Israel and Palestine—we really wanted to make sure that when our students went [to the countries], they hit the ground really familiar with the history of the conflict," said Dean Brendan Hill, Senior Associate Dean for Students and co-founder of the ZCZP program. "We wanted them to come back and be very well informed on the topic, and to understand all the different narratives, the factions in both societies, and where they stood on the spectrum."
Innovating Higher Education
The ZCZP program is unique to Georgetown's campus in Qatar, which was established in collaboration with Qatar Foundation (QF). The campus is part of QF's 'Education City,' a 3,300-acre urban development that also hosts campuses of Northwestern, Cornell, Carnegie Mellon, Texas A&M, Virginia Commonwealth, HEC Paris, and University College London.
According to Hill, being in Qatar provides the university an opportunity to explore possibilities that may not have been feasible at the Washington campus. "One of the best parts of being with QF is that they always urged us to be experimental. They wanted us to do things that we might not be able to do on our Washington campus," said Hill. "I don't think there's anything quite like the Zones of Conflict, Zones of Peace program elsewhere."
Qatar's proximity to many of the areas being studied, along with the support provided by QF, makes it easier for faculty to organize such initiatives in the university's Qatar campus, said Hill. The university's proximity to QF's other partner universities in Education City has also led to several unique opportunities for students, such as the ability to cross-register for classes at any of the neighboring universities. Students at Georgetown Qatar can even pursue a joint minor/certificate in Media and Politics from Northwestern.
"People sometimes think that students choose classes only based on our school's ranking or the classes offered," said Hill, "but we know that programs like Zones rank very highly in why people choose to apply to GU-Q. It has truly become one of the highlights of [our campus] here."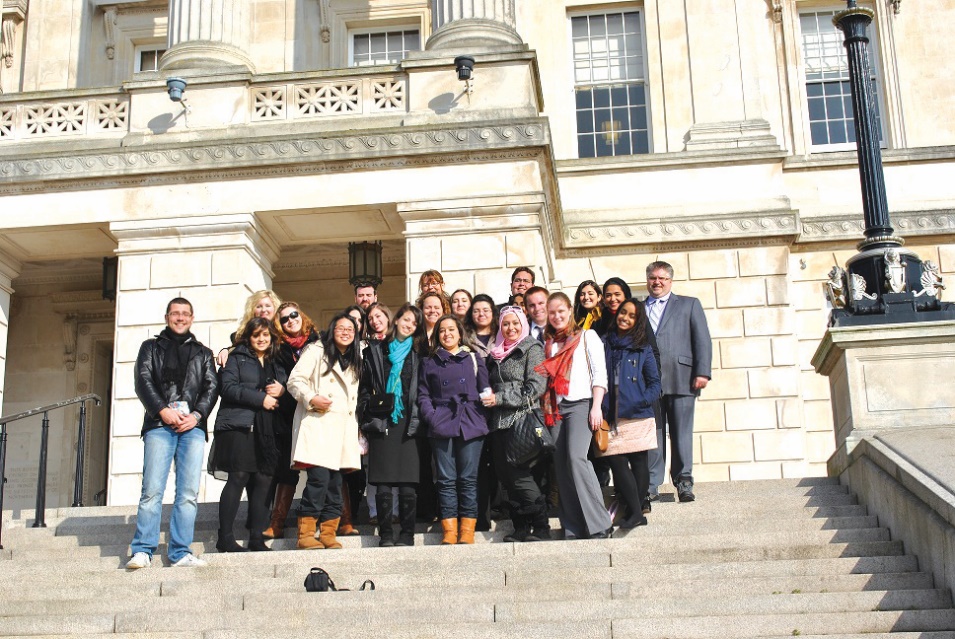 "Sometimes, wading through books and discussing them in class is just not enough to get the complex motives, narratives, and traumas involved with some of modern history's greatest conflicts," said Hisham Bin Hashim, a GU-Q graduate who visited Germany and Poland with the program. "Zones takes you beyond the classroom and onto the field, allowing you to directly engage the people and spaces transformed by conflict. As a student, being granted this level of perspective was invaluable for deeper reflection on questions about human nature and societies at large."
More than Service Learning
Awarded the NASPA Best Practices in International Education Award for International Exchange, the fully funded program is one of several co-curricular opportunities available at Georgetown's campus in Qatar and is unlike conventional service learning trips offered at universities. "When we first set up shop in Qatar and were planning our extracurricular offerings, we didn't want to just take students on trips; we didn't conceive of ourselves as a travel agency," explained Hill. "We didn't want to send students there and have them not be prepared. We recognized early on that the way to maximize the students' engagement in the trip is to prepare them well in advance."
One of the main goals of ZCZP is to move our students from ill-conceived certainty to well-informed confusion.
For the students who are selected to participate in the ZCZP program, the competitive selection process is just the first step in their long journey before ever setting foot on a plane. The pre-trip portion of the program involves students writing research papers and attending seminars with faculty experts to gain a holistic, scholarly understanding of the conflict before exploring the realities on the ground.
"The Zones program at GU-Q provides students with an incredible opportunity to put into practice the skills and knowledge obtained in the classroom," said Abdullah Al-Arian, Assistant Professor of History and a faculty lead for one of the trips. "By engaging directly with many of the leaders and communities most affected by global conflicts, Zones ensures that students learn about lived experiences and collective histories, giving greater urgency to resolving long-standing conflicts and preventing new ones."
"When people discuss given conflicts, they often do so with preconceived and strongly held notions of what happened, who was right and who was wrong," said Hill. "One of the main goals of ZCZP is to move our students from ill-conceived certainty to well-informed confusion."
"The purpose is not so much to answer questions, but to ensure that the right questions are asked."