What Applicants Want in Part-Time M.B.A. Programs
Many seem willing to trade away some flexibility for the benefits of cohorts, study finds.
Many business schools are anxious about the future of full-time M.B.A. programs. Many prospective students these days are opting for specialized one-year programs or certificates, not seeing the value or not having the time for a full-time residential M.B.A.
But about part-time programs? A new report from the Graduate Management Admission Council finds that a part-time-student strategy is no panacea for business schools. The report is a combination of results from various surveys and prior research studies by the organization.
Not since 2008 have a majority of business schools reported an increase in applications to part-time programs.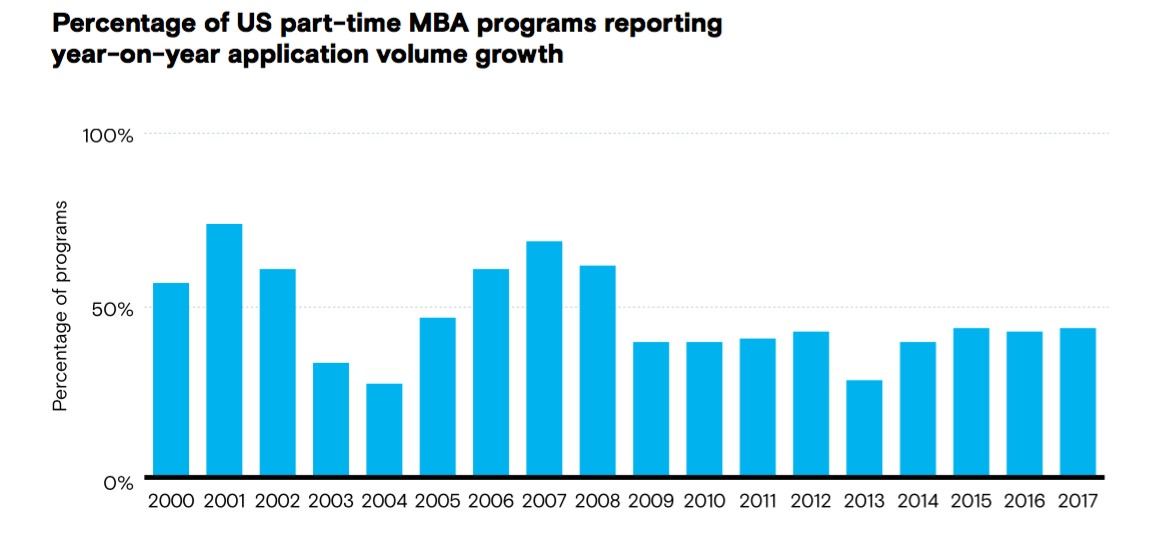 But not all programs have been reporting declines. The GMAC research found that in the last four years, "lockstep" or "cohort" programs, in which part-timers enroll in courses with the same students and work through the curriculum together, are reporting greater gains in applications than those in which students make their own selections and are not part of a cohort.
In 2017, 54 percent of cohort programs reported increases in applications, while only 34 percent of self-paced programs reported increases.
Many full-time programs have long played up the value of the cohort. Students and alumni report learning from those enrolled with them, and they maintain connections after graduation. But conventional wisdom has held that part-time students place more value on convenience of course selection, which may be more limited in a cohort model.
But the new GMAC report sees a notable shift in attitudes.
"The consistency of this finding in the post-recession part-time M.B.A. market may signal changing candidate priorities away from the independence of the self-paced model and toward the group experience and network building inherent in cohort-based lockstep programs," the report says.
Other findings in the report focus on the shift in the student population from Generation Xers to millennials, which the report defined as those born between 1981 and 1997.
Generation X prospective students in various surveys reported being concerned about the impact that a part-time business degree would have on their time -- either for work or family.
But millennials are more focused on finances. The are more focused than Xers were on the cost of program, and in particular on borrowing to pay for an M.B.A. This may not be surprising, the report says, given that many members of this generation of students emerged from their undergraduate educations with significant debt.
But keeping this in mind may be critical to recruiting students, the report says.
You may also be interested in...
Today's News from Inside Higher Ed
Inside Higher Ed's Quick Takes