Digital Tweed® is the work of Kenneth C. Green, founding director of The Campus Computing Project. If successful, these posts will inform and entertain, and at times also annoy. A little dissonance can be a good thing.
Title
Buying Blackboard, Redux
Blackboard is for sale, again.  Let the speculation begin!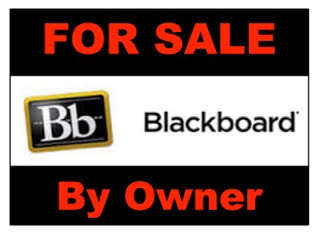 Let the speculation begin. Perhaps that's the best initial response to the news last week that Blackboard (Bb) is up for sale, again. The potential sale comes just four years after Providence Equity Partners purchased Blackboard for $1.64 billion. The report that Bb may be on the market follows the annual Bb World Conference, where potential buyers were, no doubt, backbenching the event and talking with Bb clients.
Speculation about potential buyers was rampant in April 2011 when Blackboard's management announced it had received two unsolicited buyout offers. An April 2011 Forbes article suggested potential Bb buyers included Google, IBM, McGraw Hill, Microsoft, News Corp., Pearson, Oracle, SAP, and SunGard Higher Education (now Ellucian). Not surprisingly, most of the predictions about the potential buyers in 2011 were wrong. However, at the risk of shameless self-promotion, this observer wrote that "my hyperactive inference engine suggests that the probable bidders are investment firms rather than companies that currently play a major role as content or technology providers to the campus market." Ultimately Providence Equity Partners was the winning bidder; the purchase closed in November 2011.
Perhaps the most surprising aspects of last week's news about a potential Bb sale are that (a) the sale is happening so soon, just four years after Providence took the company private in 2011, and (b) the rumored asking price is somewhere between $3.0 – $3.4 billion, a hearty bump in value in less than 48 months.
There are two dimensions to the speculation about the current Bb sale. The first, and most obvious, is who would buy. The second, and perhaps less obvious, is why sell now.
Let's begin with speculation about potential buyers.
As in 2011, Blackboard has lots of moving parts. However, Bb now has more "parts" – 12 parts/product platforms today vs. just seven four years ago. While the LMS remains key to the Bb franchise, the company today is not the same one purchased by Providence in 2011. Over the past four years, Bb has experienced the usual "adjustments" that follow a major acquisition, including significant turnover in senior management and some large layoffs.
Bb's higher ed LMS franchise, which was always the company's cash cow, continues to erode. Data from The Campus Computing Project and from other sources document the continuing decline of Blackboard's share of the higher ed LMS market. At its peak, following the WebCT acquisition in 2004, almost four in five campuses had standardized on a Blackboard LMS platform; today that number has dropped by roughly half. While still dominant among larger institutions, Bb's competitors are garnering winning reviews from LMS review committees and consequently winning campus contracts.
But the market share and revenue erosion of Bb's higher ed LMS may have been offset in recent years by rising revenue from other Bb units, a new focus on services to the K-12 market, and some newly acquired companies. Well before the Providence acquisition in 2011, Blackboard had a long history of growth by acquisition. And a quick scan of the company's press release archive points to six acquisitions over the past three years: some focused on the K-12 (ParentLink and SchoolWires), some focused on higher ed (CardSmith, Perceptis, and MyEdu), and one to enhance video conferencing capacity (Requestec).
So who would buy Blackboard? As in 2011, my best guess is that the likely buyer is an investment firm like Providence, rather than an educational publisher or a software company (e.g., Google or Microsoft). There are just too many working parts and operating units in the "new and expanded" Blackboard that do not complement or supplement the activities and investments of publishers such as Cengage, Pearson, McGraw Hill, or Wiley (e.g., the Connect and Transact business units).
Among investment firms, Hellman and Friedman LLC (H&F), which purchased Datatel in 2009 and SunGard Higher Education in 2012 (the combined firms now known as Ellucian), would seem to be a possible bidder. H & F's investments include Renaissance Learning, which offers "cloud-based assessment, teaching, and learning solutions for the K-12 market." Renaissance's K-12 market position might nicely complement and supplement Bb's recent K-12 acquisitions and initiatives. And Bb's higher ed applications (LMS, notification services, card services, mobile, and analytics, ) also complement the ERP applications from Ellucian.
But as long as we are engaged in idle speculation, one (very?) long-shot potential bidder might be Amplify (owned by Rupert Murdock's News Corp.) which provides tablets and curricular software for the K-12 market. If Murdock (or his sons, now positioned for succession) wanted to make a big entry into higher ed, buying Blackboard would be one way to do it.
Moving on, the question of why sell now is very interesting. Four years is a very short "turn" for this kind of investment. The short turn cycle and significant asking price of $3.0-$3.4 billion suggest that Providence and Blackboard are "highly confident" that the company has its financial, operational, and technology portfolios in good order. Too, the rumored asking price suggests that Providence's management believes its oversight of Bb has led to significant gains in revenue, and by extension, value.
All things considered, this probably is a very good time for Providence to sell Blackboard. As noted by EdSurge, lots of money is currently pouring into education market investments. During the first six months of 2015, venture capital investments in education firms totaled $1.6 billion, while the value of mergers and acquisitions (M&A) totaled $6.11 billion. For the three-year period from January 2012 – December 2014, education market M&A activity totaled $28.1 billion.
Yet the speculation about potential bidders and buyers may be too much Inside Baseball (or Inside Bb) for most folks in higher ed. A recent Wired article, published before this year's Bb World Conference, characterized the company as an "overgrown education giant" that has infiltrated many schools and colleges, a sentiment shared by many academics. Titled "The Reeducation of Blackboard, Everyone's Classroom Pariah," the Wired article suggests that Bb's updated LMS platform reflects many essential, timely, and useful enhancements. Blackboard, says Wired, "is catching up to the competition."
Will these changes matter – either to end users on campus or to potential bidders for the company? Maybe. That Providence thinks Bb might fetch somewhere around $3 billion (or more) reflects real confidence in real changes and improvements over the four years. Still for all the changes made in (and still planned for) the LMS that remains central to the company's market position and revenues, Bb is engaged in a very competitive battle to retain campus clients. Indeed, perhaps the most important press release that I did not see as I scanned the company's PR archives this week was the announcement of a former LMS client returning to Blackboard. The return of former LMS clients as a metric for success is as important as rising revenues and the company's profit margins.
Still, for campus clients the question of what company or investment firm owns Blackboard is less important that what new management will do and if it will invest in the company. A big fear, of course, is that the new management will not invest in improving, and as appropriate, integrating, Bb's various platforms and services. Rather, the reasonable fear is that management will increase licensing and service fees, which would affect already stressed K-12 and campus technology budgets.
For the moment, however, let's remember this is all speculation about if Bb sells, what selling price might be, and what new management will do after an acquisition.
If Bb sells for anywhere near the rumored asking price of $3 billion, it will be a big win for Providence.
If (or when) Blackboard sells, the best that the rest of us can do is hope that the sale to new management also ultimately results in a big win for K-12 and campus clients – as reflected in reasonable licensing fees and continually improving products and services.

Disclosure: Blackboard, Cengage, Ellucian, Google, McGraw Hill, Microsoft, and Pearson are corporate sponsors of The Campus Computing Project.
Follow me on Twitter: @DigitalTweed
Opinions on Inside Higher Ed
Inside Higher Ed's Blog U