Oronte Churm is the pen name of John Griswold, who teaches in the MFA program at McNeese State University, proudly nestled in Cajun country on the Louisiana Gulf.
Title
LSU Rally for Higher Ed a Step in the Right Direction
Power to the people, right on.
It was a beautiful late-spring morning in south Louisiana last Thursday, blue skies and headed for 80 degrees. Roses have been in full swollen bloom for weeks, and ditches are filled with adolescent turtles and frogs.
I stopped at the nearest Tobacco Plus to fuel up for the two-hour drive to Baton Rouge, where LSU students would rally against devastating state cuts to higher education. A sign in the mini-mart window read, "You should be FURIOUS! Louisiana wants to raise tobacco taxes." On the pump: "Alert! A $10 per carton cigarette tax is possible in LA!! Come inside and use our phone to call your congressman!!! Help us fight this tax!!!!"
Governor Bobby Jindal, who took the Norquist pledge but is under intense fire for the budget mess he's created, has proposed "raising the state's cigarette tax to provide a tax credit program for students and businesses that donate to colleges and universities." Louisiana's cigarette tax is 50 cents less than the southern regional average, but locally the hike seems to generate more discussion than years of damage to colleges and universities, which is sometimes downplayed when reported.
It was difficult to find a place to park anywhere near the Capitol complex in Baton Rouge, and difficult to find a restroom before the rally, almost as if they didn't want protests to happen there at all. The government building that houses the offices of Louisiana Travel, the Atchafalaya National Heritage, and the Lt. Governor was guarded by an older security guard who seemed to regard us not as a teacher and two grad students who needed to use restrooms, but as the Manson Family, who needed to use his restrooms. The two students aren't even scary, really.
While I waited I browsed issues of EQ: Louisiana Economic Quarterly, published by Louisiana Economic Development. Secretary Stephen Moret, who was appointed by Jindal in 2008, opened the fourth-quarter 2014 issue with a letter that said, "In 2014, for the first time ever, Louisiana claimed the No. 1 ranking for Best Business Climate in the U.S. ...by Business Facilities magazine. [...] Louisiana...now places higher in every major national ranking of state business climates than it ever did prior to 2008 [when Jindal took office]."
Elsewhere in the magazine: "In the South, this state has the lowest business costs on average"; "This state has the lowest tax burden in the U.S. for new manufacturing operations"; "Lowest industrial natural gas rates in the South"; "Second-lowest industrial electricity rates in the South"; "The Competitive Projects Payroll Incentive provides a rebate of up to 15 percent of a participating company's new payroll for up to 10 years"; "Louisiana's Industrial Tax Exemption Program provides a 100 percent property tax abatement for an initial five-year term, with an option for a five-year renewal...."
Let me tell you, if I was a chicken plucker with a pocket full of start-up capital, Louisiana would be sounding pretty good right now. But for average residents of the state, who rely on healthcare, education, and other services, Jindal's policies have felt like giving away the store, and there've been many questions about the value of his administration's incentives and tax breaks, given that Louisiana has the fifth-highest unemployment rate in the country and a $1.6 billion deficit.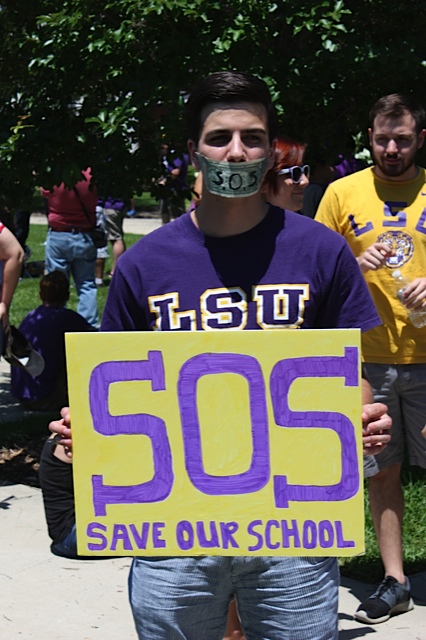 In A.Z. Young Park, on the west side of the capitol grounds, maybe 300 protesters were talking and milling around in purple good spirits. The LSU Alumni Association served up bowls of jambalaya with northern beans and handed out iced bottles of water. Tables had been set up for attendees to write their legislators and to make protest signs with markers on poster board. I talked a good while with a heavily-bearded PhD candidate in wraparound shades, who spoke as if other state campuses, mine included, were goners, but he was happy for the turnout and that LSU still stood a chance.
The crowd built quickly, until there were, maybe, the 1,000 in attendance who'd said on Facebook they were coming. Under the live oaks it felt like a community picnic, people walking dogs and riders laying bicycles on the ground to go talk. News cameras took aim at a Batman in a purple rubber suit.
The crowd eventually fell into a column and marched across the street into the gardens, chanting "Save our schools! LSU!" and waving signs that read "Bobby Swindle," "No funds, no future," and "Who needs edukashion when you have Jesus!" (The last a swipe at Bobby Jindal's participation in a prayer rally -- held at LSU -- with anti-gay lobbyists and a tele-evangelist who claims to raise the dead.) A group of elementary-school kids in matching t-shirts stood under a shade tree near the statue of Huey Long and watched us go by with amusement or, in some cases, a little fear. Kid: "I don't wanna go to college." Protestor: "We're doing this for you." The kid looked at her defiantly and stomped off.
The march convened on the bone-white granite steps of the capitol, and protesters had to decide which parts of their bodies to sacrifice to the sun and which to shield in nuclear shadow. A succession of students and politicians spoke at a podium surrounded by cameras, the emcee describing us as "...collateral damage in [Jindal's] suicide mission for the presidency!" The crowd was feisty and called back to speakers. Batman looked wobbly in his sweaty rubber suit, and when I thought to look next, he was gone. Dan Claitor (R), Senate Education Committee Member, praised us, pointed up the street, and told us to go march on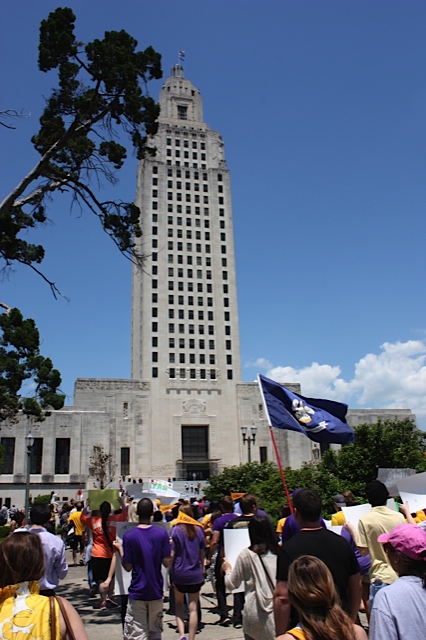 the Governor's mansion, told us how to get there, and where to stand across from it so we wouldn't get in trouble, but he didn't offer to lead and admitted that the governor was out of the state, as he often is. John Bel Edwards (D), Minority Leader of the Louisiana House, reminded us that Jindal would be leaving office soon, and to keep in mind that he, John Bel Edwards, was a longtime friend to higher ed and would appreciate our vote.
The rally wrapped up and I took my grad students for shrimp and fish tacos and cold beer at Lucy's Retired Surfers Bar and Restaurant. We sat on the patio under an awning in the perfect weather. Sonny, the PhD candidate I'd chatted with, walked by, still in shades, his barrel beard bouncing on his chest. I forgot his name for a second and called, "Hey, Brother." He waved and asked how we all were doing. We were doing pretty well.
What will the future bring? According to recent polls, the front-runner for the next Louisiana gubernatorial election is David Vitter (R), hardline social and fiscal conservative, whose phone number was one of those published in the "DC Madam" scandal, and who's made political enemies willing to play dirty, so to speak. Vitter's own site says, "After six years of devastating budget cuts, Louisiana higher ed needs to be stabilized and built up," which sounds pretty good, but the statement includes phrases such as "spending reform...reduce duplication...use outcome-based funding to demand value and results for our students." In Louisiana, these have often been code for the reduction of support for a public good.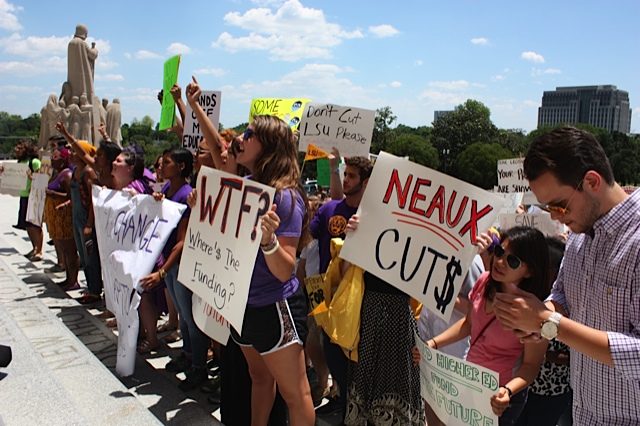 My old friend Frenchy's dad, Colonel Louie, had a saying: "Boy, I got mine, you're gonna have to go out and get yours." I like to believe he meant not just a job and the freedom that money brings to personal decisions; we all have to go out and also get ourselves relationships, experiences, and an education in or out of an academy.
Education isn't just job training. It's freedom from the fear of not-knowing and the pleasure of being able to look things up for ourselves; it's solace in finding ties to the rest of human experience; it's situating ourselves among voices historical and contemporary, knowing cycles of passions and how they played out, and using writing and speech as a way of coming to know our own minds. It's "for" becoming better, more informed, more just, more satisfied citizens. Students and others at LSU went out and got some of that last week.
Opinions on Inside Higher Ed
Inside Higher Ed's Blog U