Crafts with meaning, or distractions ....
Thanksgiving is almost here, but so far, I haven't had time to do much writing, start preparing my Thanksgiving feast, or even think about what I'm thankful for. I'm too busy preparing a fake, somewhat edible turkey so that my child will have the same turkey as everyone else at school (because, as the mom of an allergy kid, I always have to send in a duplicate of any food served to the class, and the class moms this year are bringing in turkeys made from popcorn stuffed in a clear plastic glove). Here's a pic:
'
I sent a copy to my friends to brag about my crafty prowess. They sent me back pics of each of their turkeys:

I now have discovered that women at every level of profession throughout most industry, government, and educational institutions in the U.S. are getting absolutely no work done this week, because we are all making turkey crafts.
At first I wondered why we were doing this? It's one thing for schools to make turkey projects with kids, but is it necessary for us parents at home to actively participate in he turkey-making experience? Why do I feel so compelled to drop everything and make this turkey? Is it just because I don't want my child to feel left out of the turkey craft experience? Or, am I competing with the other moms, an attempt to prove myself so that I don't lose my mom card?
As I glued the snood onto my turkey glove, I began thinking about how disingenuous this project was. Here we are, making these cute-looking stuffed turkeys filled with candy or popcorn or pretzels while, later in the week, we will be buying and cooking turkeys that have been killed for our consumption. A project that my children (and by extension, myself) have had to prepare in previous years is disguise a turkey so he won't be caught for Thanksgiving. At least that's more honest about dealing with the holiday.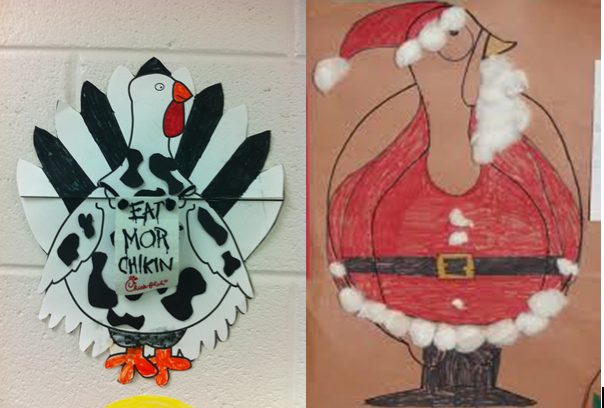 I wonder whether, in some ways, these turkey projects are a way to distract from the other, less palatable, aspects of the holiday that involve explaining to children how settlers treated Native Americans then, and our country's treatment of them still now. Every time we decorate a turkey, we aren't having real discussions about the issues associated with this holiday.
I find Thanksgiving a complicated time for academics who focus their work on questioning power, control, and ideologies. Sometimes, it's just easier being a mom stuffing a latex glove with rainbow Goldfish, popcorn, and feathers. Happy Thanksgiving to the other Ph.D. moms and dads out there. Don't worry about your work this week; there are turkeys that need crafting!
Opinions on Inside Higher Ed
Inside Higher Ed's Blog U