The Driver: A Novel by Hart Hanson
Published in August of 2017.
Hart Hanson is the creator of the TV show Bones. I've never seen Bones. You can let us know if it is any good.
What I do know is that Hanson has written a terrific crime thriller with The Driver. The timing is good, as many of us are huge fans of the movie Baby Driver. The book is totally different, but it shares the explosive energy and originality of the film. (And they are both about criminals and people who drive for a living, so there is that).
The lead character in The Driver, Michael Skellig, is not a criminal. He is an ex Special Forces sergeant now running a limo company that employs veterans. Through a series of complicated but interesting events, Skellig gets involved with a skateboarding entrepreneur, a drug kingpin, and a crooked cop.
Mayhem ensues. It is all very entertaining, fast-paced, and enjoyably escapist. The Driver is going to make one terrific movie one of these days.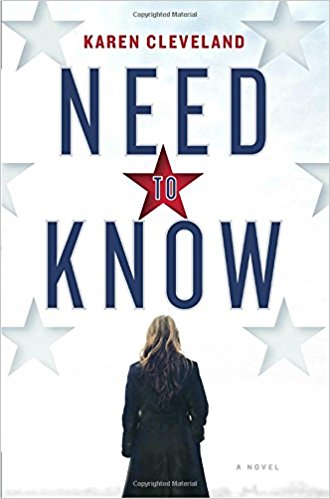 Need to Know: A Novel by Karen Cleveland
Published in January of 2018.
I read Need to Know mostly because my favorite TV show is The Americans. (Which just kicked off its final season). The subject of the book and the TV show are the same - Russian Illegals. These are the deep sleeper agents that the Soviets placed in the U.S. as spies, posing as travel agents and other similarly nondescript citizens. (Academics?).
In the case of Need to Know, the Russian spy happens to be the husband of a CIA counterintelligence agent whose job - get this - is to ferret out Russian spies. (And I'm not giving any spoilers away here).
We seem to be having a Russian cultural moment. The Americans anticipated this worry, Need to Know capitalizes on it. (As does the latest season of Homeland, which I'm very much enjoying). The Americans and Homeland may do this all better, but Need to Know is pretty good.
There is very little believable about this novel, but it is constructed in such a way that you will be unable to do anything but consume the book in giant gulps. Need to Know almost demands binge reading.
What non non-fiction did you read in March?
Opinions on Inside Higher Ed
Inside Higher Ed's Blog U