Evaporating Fears on Competency-Based Education
Fears about impact on general education -- once a roadblock for many institutions considering CBE -- no longer seems an obstacle.
This year's Inside Higher Ed survey of chief academic officers repeated a pattern of recent years: increased support for competency-based education, but greater levels of support in public than in private higher education.
This year, 91 percent of provosts at public colleges and universities said that they favored awarding credit through CBE (as competency-based education is frequently called). The figure was a healthy majority, but lower, at 72 percent, at private colleges. The numbers have been creeping up a few percentage points each year.
Digging into the numbers (you can download the full report here), it's been clear for years that provosts -- at public and private institutions -- have for years seen CBE as a way to help some students earn degrees more speedily than in the past and without spending as much money.
But one area that was once a fear no longer seems to be a major concern. In 2014, 39 percent of provosts at public institutions said they feared CBE would damage general education. At private institutions, the figure was 50 percent.
This year, only 22 percent of provosts at public institutions expressed the fear and 41 percent did so at private institutions.
That's still plenty of skepticism in private higher education, but perhaps not at the level that would discourage some institutions from starting programs.
In the intervening years, many traditional (and prestigious) institutions have jumped into CBE. But also the first evidence has started to appear of the ability to provide general education skills through CBE.
Southern New Hampshire University, for example, tested students in its College for America CBE program, using the Proficiency Profile from the Educational Testing Service. The relatively new test assesses students in core skill areas of critical thinking, reading, writing and mathematics. The results were favorable for CBE students: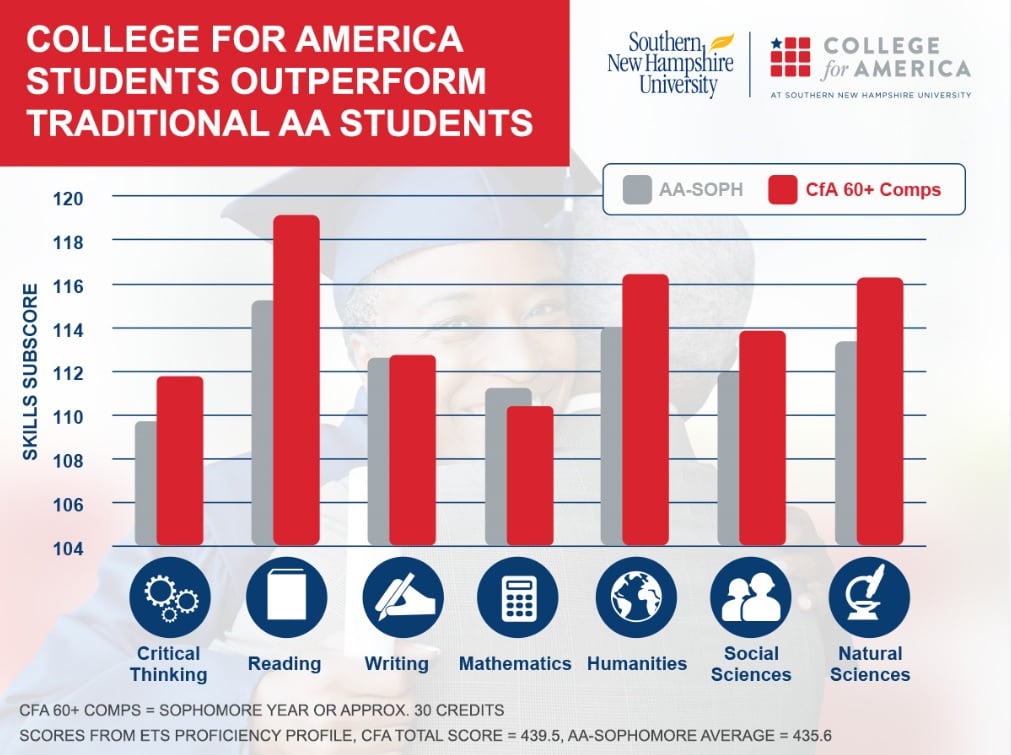 Inside Digital Learning Articles
Inside Digital Learning Opinion
You may also be interested in...
Inside Higher Ed's Quick Takes