Turning Young Alumni Into Donors
"Millennial" donors need to be reached through online and smartphone-accessible campaigns that provide tangible explanations of what impact their donations will have.
WASHINGTON -- Colleges seeking to turn recent graduates -- members of the millennial generation -- into donors should connect with them online and show them tangible examples of how their donations will impact the institution, fund-raising consultants said at a conference Monday.

Derrick Feldmann, CEO of Achieve, and Angela White, senior consultant and CEO of Johnson, Grossnickle and Associates (both are fund-raising agencies in Indiana) presented findings from a new report at the Council for Advancement and Support of Education's annual summit for leaders in higher education advancement.
The report, put out by the Millennial Impact project, is the third annual one. The project, which is sponsored by Feldmann and White's agencies, works to help organizations -- including higher education institutions -- learn how to engage the millennial generation in fund-raising efforts.  The project studies how young adults aged 20-35 are persuaded to volunteer and give financially.
Feldmann wrote in an e-mail to Inside Higher Ed that the project has not made explicit comparisons among the three years' reports because they have featured different sample sizes, research pools and survey questions. The 2010 survey asked about 2,200 young adults, the next year's survey asked about 2,900, and this year's survey asked about 6,500.
The project has seen some consistencies. For example, online communication and giving have been consistently important in organizations' interactions with millennials, Feldmann said, adding that another theme has been that respondents want to know how donations will be used.
Using Mobile Devices to Connect
Feldmann said this year's survey found millennials using mobile devices to communicate with organizations more often than in the previous years. As technology -- and with it, the ability to do more on a mobile device -- advances, millennials are spending more time using their smartphones to learn about organizations and share their interest with others, he said.
In the presentation, Feldmann said that most millennials find out about volunteer or giving opportunities through organizations' websites or social media. According to the report, 65 percent of respondents said they prefer to get information about organizations via their websites. The next highest -- 55 percent -- said they rely on social media, and 47 percent said they want updates via e-newsletters.

Organizations must communicate with more visuals and less text to accommodate shorter attention spans, and they must also ensure that websites and e-newsletters are easy to access from mobile devices, he said.
According to the report, 77 percent of respondents said they owned a smartphone, and 80 percent of those smartphone owners said they have used it to connect with an organization, usually by reading e-mails, e-newsletters or other updates.
Although more millennials are accessing information about organizations via mobile devices, White said she's not sure this will translate into more smartphone donations: "We think the future of giving on your mobile device is uncertain," she said, adding that 85 percent of respondents said they had never donated to a nonprofit on their mobile device -- 47 percent because they had never been asked, and 42 percent because they were worried about security or privacy.
According to the report, 75 percent of respondents said they gave to charities within the last year, and the majority of these donors gave between $1 and $50. Almost three quarters – 70 percent – said they gave online, and 39 percent said they donated money in person.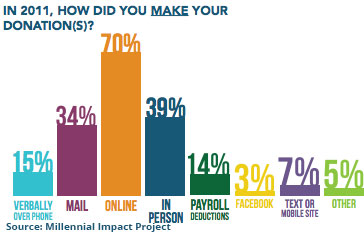 Knowing What You're Funding
Feldmann said millennials want to know about opportunities to get involved, and to know what impact their money will have, he said.
"You're not competing with each other," Feldmann told the administrators. "You're competing with [other charitable] organizations." He said many other types of charities can show donors tangible impacts, such as telling them a monthly donation will feed a hungry child, and colleges need to show the higher education equivalent of these outcomes.
White said the project conducted focus groups for the first time this year to test themes that cropped up in the survey, such as respondents wanting to see specific examples of what their donations funded.
According to the report, focus group participants responded well to programs that provided tangible examples of what the organization can purchase or provide for constituents at certain levels of giving. Participants wanted concise, visual and clear explanations about what response the organization wanted and how it would help their cause.
"Millennials really want to know where their gift is going, and what difference it makes," White said. "The big black hole of 'annual giving' is not exciting."
Postgraduate Students: A Different Animal
In a question-and-answer session at the end of the presentation, Mary Beth Hernandez, associate dean for advancement of the University of North Carolina at Chapel Hill's School of Social Work, said it's harder to engage graduate school alumni in fund-raising than it is undergraduate alums.
Feldmann said these graduate school alumni want three things from their institutions: a job, advice from other alumni who have successfully secured jobs and the opportunity to contact high-level administrators with concerns (even if they never actually do this, they want to have the option).
He recommended playing host to online chats with alumni and administrators, such as presidents. He also said an alumni affairs team should create a program to help graduates transition away from the institution for six months or so before starting to ask them for money.
In an interview after the presentation, Cindy Campanella, assistant vice president for alumni relations at the University of Delaware, agreed that engaging master's and doctoral students is challenging. She said since a lot of these students have families or jobs -- or both -- on top of schoolwork, they feel like they don't have any extra time or resources to volunteer with or donate to fund-raising campaigns: "I don't think you can tackle those people exactly the same way."