Everything was in place for a young woman from a poor family in Gambia to come to the U.S. to get a college education. But she can't get a visa.
The young woman from Gambia who planned to study in the U.S. had the support of her government, all the way up to the first lady, whose foundation was to pay for her airfare. A college in New York had offered her a substantial scholarship. A host family in New York was waiting for her; another family in Pennsylvania was ready to donate a new laptop, a smartphone and a four-year phone plan, school supplies, even a new wardrobe. All told, when you factor in her scholarship, her sponsors in the U.S. had put together a package worth more than $140,000 to pay for four years of tuition and living costs.
It was all lining up -- a life-changing opportunity for a young woman from a poor family in a poor country. But she was twice denied a visa to come to the U.S. And so instead of joining this fall's freshman class at St. Thomas Aquinas College outside New York City, Penda Jallow is still in Gambia, unemployed. Jallow, her mother and her father get by on the father's income of $35 a month.
"To my own understanding, I think I'm just not lucky yet," said Jallow, who is 23. "I'm not lucky yet to have the visa. I was having the hope that I will make it because I was well prepared for the interview."
To Jallow's mentor and primary champion in the U.S., Ashleigh DeLuca, Jallow's denial suggests there's something wrong with the visa system. In addition to the proof of financial support, Jallow's visa application included letters from U.S. Senator Kirsten Gillibrand and the Gambian ambassador, as well as a job offer for Jallow from a Gambian food processing company pending the completion of her undergraduate degree.
"I understand why they have the system set up the way they do, but the system has to allow for people to come in," DeLuca said. "If a young woman who very clearly has support and very clearly is planning on coming back to the Gambia is not granted a visa, that to me says that the system is broken."
DeLuca, an American, met Jallow 10 years ago, when she taught English in Gambia. Her students were in sixth grade, the last grade in lower basic school, and most of them, she said, couldn't afford to keep going. At age 13, they were expected to be full contributing participants in their households.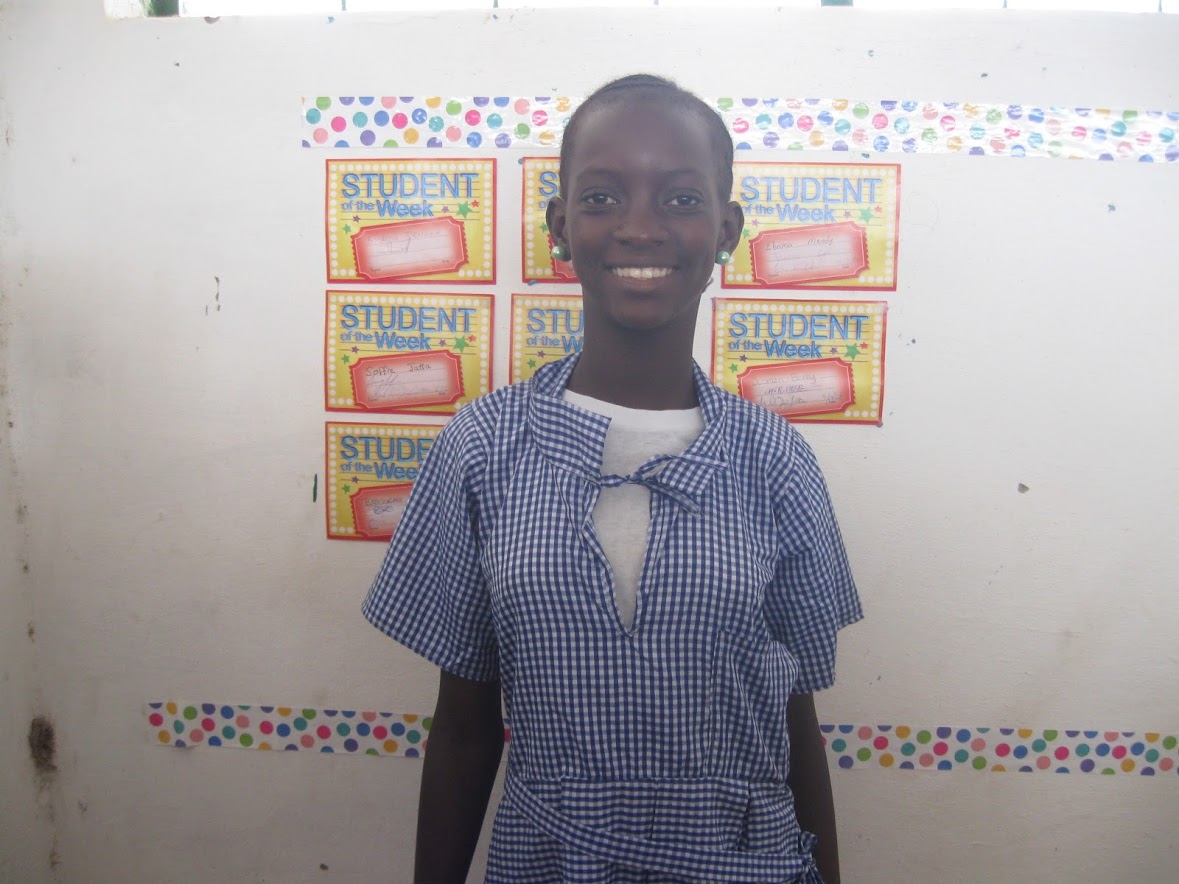 "I was very struck that there was a small group of kids, they got it without anyone telling them -- they knew education was important," DeLuca said. "I told this group of kids, let's sign a contract. If the parents promise to not pull your kids out of school for any reason, I promise that I will go home to New York and find families that will pay for your kids to go to school through high school.
"They agreed. I agreed. I went home and I did it. I found 10 sponsoring families for all 18 students." Of the 18, DeLuca said, only three, including Jallow, finished high school. The young men dropped out to take jobs, the young women to get married. One of her students died a preventable death of malaria.
For the three who did graduate high school, DeLuca said, "the program changed into, let's give these kids life-changing education. Let's bring them to the U.S. Let's give them a four-year degree. The only expectation is that they try their hardest. Then we send them back to the Gambia to help develop their country."
Jallow would have been the first of the three students to come to the U.S. for college with the help of what DeLuca dubbed the Starling Sponsorship Program, a program that has received the support of Gambia's government.
"We supported this program 100 percent," said Mustapha Sosseh, the deputy head of mission for the Gambian embassy in Washington, D.C. Sosseh said embassy staff had raised money for Jallow's visa application fee.
"This is the only sponsorship program that we're working on and it's the first of its kind, and it was a noble gesture by Ashleigh and we definitely applaud the initiative," Sosseh said.
"We are very disappointed," he added. "We thought it was going to be much easier."
The State Department does not comment on reasons for visa denials. However, the form letter Jallow received from the U.S. embassy in Senegal, where she applied, suggests she didn't convince the consular officer that she intended to depart the U.S. and return home after her education, a requirement for obtaining a student visa. The form letter, addressed to "applicant" and not to Jallow specifically, says the applicant has not demonstrated that she has the kind of familial, professional or social ties "that will compel you to return to your home country after your travel to the United States."
Failure to establish what's known in immigration law as "nonimmigrant intent" is a common reason why prospective students are denied visas to come to the U.S. And it's a lot harder for citizens of poor countries to convince a consular officer they plan to go back home than it is for people from developed Western nations.
"It's hard because it is subjective," said Stephen Yale-Loehr, a professor of immigration law practice at Cornell University. "It's really up to the individual consular officer to determine whether they think the individual will go back to their home country after they finish their studies. For some countries it is harder than others: it's a lot easier to show nonimmigrant intent if you're from a Western European country than if you're from a West African country. It's always been the case, and this is just the latest example of that. There's no magic bullet or document that will necessarily satisfy a consular officer. The more evidence that an individual has, such as a job offer or owning land or being married to someone who is staying behind in the home country, the better the chances that someone will satisfy that 'nonimmigrant intent' requirement. But for many students, they're not married, they don't own land and if they're the first one in their family to be going to college, it can be hard to prove that they really do intend to return home after they finish their studies."
Jallow did present the letter with the job offer from the Gambian food processing company with her visa application, but evidently it was not enough to satisfy the consular officer of her intent to return. The State Department issued just 42 F student visas to Gambian nationals in fiscal year 2017, down from 66 the year before that, and 79 in 2015.
It's unclear whether the reduction in the number of student visas issued to Gambian nationals is a result of an increase in rejection rates or of fewer individuals applying. The State Department does not publish refusal rates by country for F student visas, but it does publish somewhat analogous data on country-specific refusal rates for short-term B tourist and business visas, which also require applicants to demonstrate "nonimmigrant intent." About 70 percent of B visa applicants from Gambia were refused in 2017, a figure nearly on par with the refusal rate for applicants from Afghanistan. To choose a couple of other countries by way of comparison, about 6 percent of B visa applicants from Germany were rejected, and 56 percent of B visa applicants from Ghana.
The B visa refusal rate for Gambians has not changed substantially in recent years, though it is down somewhat from 76 percent in fiscal year 2015.
Classes at St. Thomas Aquinas College will start Sept. 4, likely without Jallow. "It's unfortunate, but obviously it's not the call of the institution," said Michael R. DiBartolomeo, the college's vice president for enrollment management.
"I'm going to pivot until I have no moves left to make, but unfortunately my options are dwindling and they're dwindling fast," said DeLuca, Jallow's mentor and benefactor. DeLuca said she still wants to see if the second of her three former students who graduated high school is able to get a visa to come to the U.S. to study, but in order for the student to apply for a visa, DeLuca has to help that student get everything else -- the college admission offer, the aid package, the letters of support -- in place first. It's a daunting task knowing that the end result could still be a visa denial.
"Right now the political climate in our country is just not receptive to people who look like Penda, a black African from a Muslim-majority country. I'm very disappointed in that because it's my country," DeLuca said.
DeLuca said her other option is to look at college possibilities for her former students outside the U.S., such as in Canada. "For me, my goal is to try as hard as I could to get these kids to a four-year college; if not a four-year college, at least some semblance of an education that will improve their lives and their families' lives. If it doesn't include the U.S., that's disappointing to me as an American, but I'm not accounting for what I want in this equation. It's about helping them."
Jallow said in an interview she's been unable to find a job since graduating from high school in 2015.
"I'm just sitting at home, helping my family," she said on a call via WhatsApp. "My aim is to study in the U.S. because having an American degree will give me more opportunity to have a good job and a good salary because right now my father is earning $35 a month. My mother and I have not been able to find employment, so we must carefully use his income to support the three of us."
Jallow said she would return home to Gambia after earning an education in the U.S. "For me it is important for me to return to my home country immediately after graduation because I have been given the full support of the Gambian government to get a college degree because they want to see the Starling Sponsorship Program a success. They hope that if more students receive a strong education abroad and go back home to apply their degree in the Gambia that they can lower the unemployment rate and help boost the economy."
"I'm just waiting for a mission," she added. "After completing my mission, I have to come back to my home country, not only to take care of my parents but also to repay the generosity and the support of my government."