A Scientist's Anti-Gay Art Criticism
Cardiologist loses journal editorship over homophobic comments he made to a local ballet but hangs on to his faculty job. He's reportedly defended his words, saying that his personal views have no bearing on his professional capabilities.
The American Heart Association removed a University of Louisville cardiologist as editor of its journal Circulation Research last week, over antigay comments he made to a local ballet.
The professor, Roberto Bolli, Jewish Hospital Heart and Lung Institute Distinguished Chair in Cardiology and chief of cardiovascular medicine at Louisville, retains his faculty post. 
The heart association said a in a statement that Bolli has become the subject of "public scrutiny in light of public comments he has made that have been alleged to be hate speech."
The association has a "zero-tolerance policy with respect to personal conduct that conflicts with AHA's guiding values and commitment to an environment that embraces diversity and inclusion and values cultural, racial, gender and other differences to help the organization succeed in achieving its mission and goals," it said.
The association's leaders are further committed to ensuring that the editorial integrity of their scientific journals remains "unimpeachable and unbiased."
A former editor for another association journal will take over Bolli's editorship temporarily. A new editor was already scheduled to take over this spring.
Bolli did not immediately respond to a request for comment. But his comments to the ballet became public knowledge last month, after the arts blog Arts Writing Is Dead shared a redacted email reportedly written by Bolli from a personal email account to the Louisville Ballet in March 2018. At the time, the ballet was advertising its 2018-19 "Season of Romance" lineup. (Note: An earlier version of this story misstated Bolli's first name. It has been updated to correct the error.)
Bolli reportedly contacted the ballet to complain after he received promotional mail for the ballet's production of Human Abstract. The show, which wrapped earlier this month, included a love story about two men. The promotional flier features two male dancers wearing ballet leggings, holding hands. It says, "If you love someone, let him go."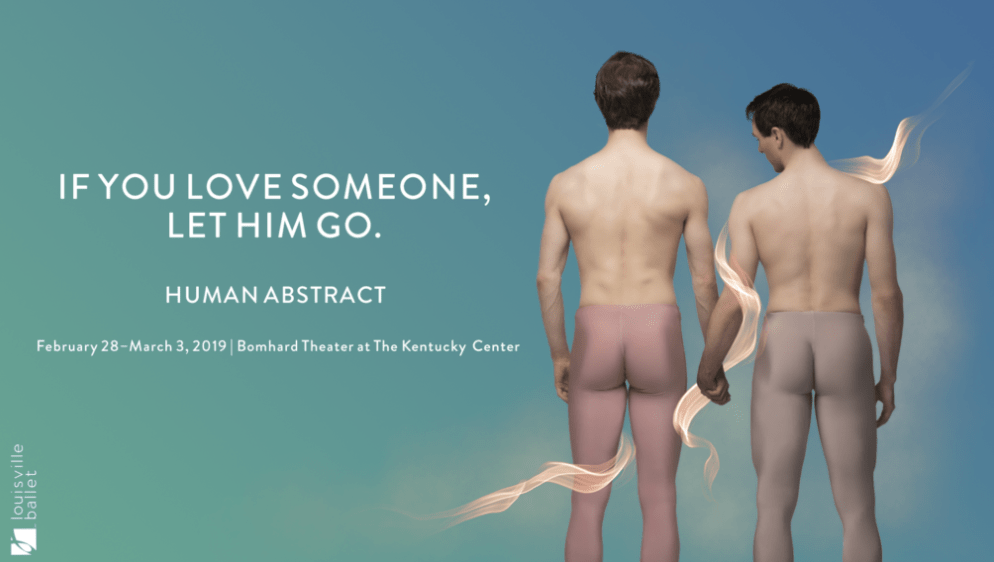 Source: Louisville Ballet
Hardly smut. But Bolli was apparently incensed, writing to the ballet that "You have reached a new low. Your company is now promoting sodomy and homosexuality (see 'Human Abstract' and the lurid picture of two sodomites that you included)."
Bolli declared that he would never again attend a Louisville Ballet production and demanded that its "minions of Satan" peddling "perversion and immorality" stop sending "filth" and "sewage" to his house.
Beth Boehm, Louisville's provost, and Toni Ganzel, dean of medicine, didn't include Bolli's name in a campus memo about the situation last week. But they distanced themselves and the university from his comments.
"The message appears to be a personal one; the faculty member did not mention the university or use his title in the email," wrote Boehm and Ganzel. "Still, his words have proven hurtful to many of our faculty, staff and students, particularly those in the LGBT community."
They added, "These comments are disheartening. They do not represent the values we hold dear" at Louisville. "We encourage all members of our campus community to continue to respect and honor our differences and to learn from one another."
A university spokesperson confirmed that Bolli is still on the faculty. If the university took any disciplinary action, he added, it probably wouldn't do so publicly, as the Louisville typically considers personnel matters to be private.
Arts Writing Is Dead reported that Bolli responded to its initial report about him, telling the blog via email that his words had been distorted and misrepresented.
"I certainly do not hate queer people; as a Christian, I love them. And I certainly do not think queer people are minions of Satan," he reportedly said. "My personal religious views on homosexuality have nothing to do with my treatment of queer patients. As doctors, we have a duty to care for all patients to the best of our abilities irrespective of their lifestyle or actions or other considerations. I treat all patients, including queer patients, with the utmost compassion and respect."
Bolli reportedly added that there are "many different types of lifestyles or actions that physicians may find objectionable, yet we do not let these considerations affect our care of patients."
The ballet published an "Open Letter Against Hatred and Prejudice" about the comments it's heard and read about Human Abstract. It told the Courier Journal that its position "has always been that we will not give this type of rhetoric a platform. We will not fight hate with hate."
The Courier Journal also reported that Louisville said it received a copy of Bolli's nearly year-old email last month, when the ballet opened.