Admissions Scandal and Pop Culture
Lifetime movie focuses on legacy admissions and revenge. Dr. Dre boasts about daughter getting into USC until critics note his mega-donation. Comedians continue to mine scandal.
Legacy admissions aren't just being discussed in higher education. They were central to the plot of Nightmare Tenant, which debuted Friday on Lifetime.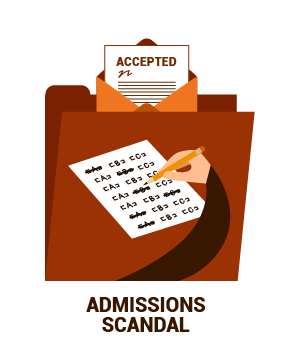 The tenant in question, Nikki, was named the class valedictorian of her high school and received perfect SAT scores. But she was rejected by fictional Vanderton University. Her counselor explains (in an office, above, that most counselors would find fictional in its size) that seven students from the high school applied to Vanderton. Like her, they had outstanding grades and SATs. Only one student from the high school was admitted -- a legacy applicant. About a third of freshmen at Vanderton are legacies, the counselor explains.
Nikki then sets out to avenge what happened by destroying the life of Carol, the mother of the successful legacy applicant (and herself the daughter of an alumna). Carol feels lonely in her large house with her daughter gone. Nikki (under a fake name) becomes a tenant -- and sets about seeking revenge on Carol and those around her. While the movie quickly devolves into revenge violence, Nikki repeatedly talks about how her spot was "stolen" and how those who are legacies have it easy.
Scott Collette, the screenwriter for the film, said in an interview with Inside Higher Ed that it was "complete coincidence" that Nightmare Tenant aired so soon after the admissions scandal broke. It was shot last year and had been scheduled for Friday for some time, he said.
Collette said that the film's producers focus on mother-daughter relationships, whether the mothers and daughters are truly related or not. In this case, the script started as an "empty nest" idea, and the anger over admissions became the vehicle to create a conflict between the two characters.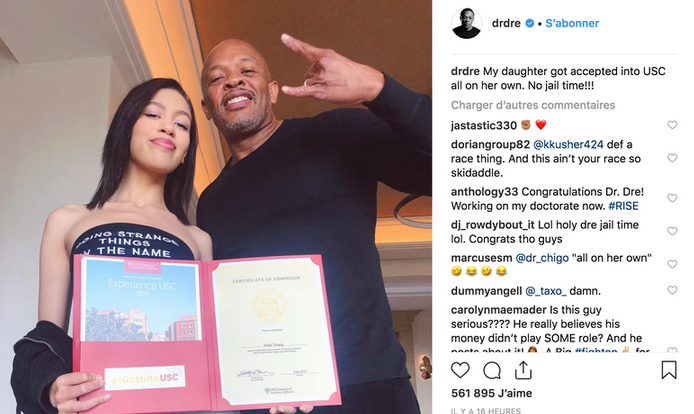 Dr. Dre's Boast
The public discussion of those who are favored in admissions (legally) has not just focused on legacies, but on major donors. Dr. Dre, the rapper and music producer, discovered that this weekend after he posted an Instagram photo (at left) in which he boasted that his daughter had been accepted to the University of Southern California (the institution a number of those indicted this month bribed their way into) "all on her own," adding "No jail time!!!"
But he removed the post on Sunday as many pointed out that Dr. Dre is hardly a typical parent of a USC applicant. In 2013 Dr. Dre and Jimmy Iovine, a music producer, together gave $70 million to USC to create the USC Jimmy Iovine and Andre Young Academy for Arts, Technology and the Business of Innovation, which the university described at the time "as an environment for those rare undergraduate students whose interests span fields such as marketing, business entrepreneurship, computer science and engineering, audio and visual design, and the arts."
The Comedy Continues
While the Lifetime movie was not "inspired by the headlines," many in comedy are being inspired. Here is a roundup on the initial reactions in the world of comedy.
In recent days, the actor Jim Carrey, who is now also a cartoonist, made a cartoon of Lori Loughlin, the actress facing criminal charges in the admissions scandal.
McSweeney's this week focused on a satire complaint by the University of Pennsylvania on the failure of wealthy parents to bribe their way in there.
"It is just despicable that these privileged, wealthy families, who already enjoy every advantage, would be so deceitful and unethical in their efforts to secure a coveted spot at Yale, Stanford, or Georgetown, but not at Penn, which -- friendly reminder! -- is an Ivy League school. It's extremely exclusive. Very difficult to get into. Definitely harder than Georgetown and sometimes harder than Stanford; it sort of depends on the year." (Penn may take consolation in real life that there is evidence that someone -- in a different scandal -- bribed a coach to help his son get in.)
The idea that the wealthy can fake the athletic talent of their children to get into college is amusing to many. Ben Stiller joked on Ellen that his daughter was planning on getting into Yale University as a football player.
And the humor site The Onion decided that the scandal was a good opportunity to take a few pokes at the National Collegiate Athletic Association. It "reported" on a press conference by Mark Emmert, the NCAA's president, demanding to know why the association had not made any money off of the scheme.
Emmert was quoted as saying, "As an organization that always strives to squeeze money out of college athletics, I'm disgusted that this all went on right under our noses without us getting so much as a taste. There's no way there isn't some desperate millionaire out there willing to pay for his son to be a benchwarmer on a D1 team. To miss out on such a lucrative pay-to-play scheme goes against everything the NCAA stands for."