A President's Nontraditional Admissions Pitch
Throwing money in the air, hanging out with the mascot and humor are all part of the strategy for the leader of Northern State.
Admissions videos are a dime a dozen -- the pretty quad. The happy students. The emotional scene at commencement.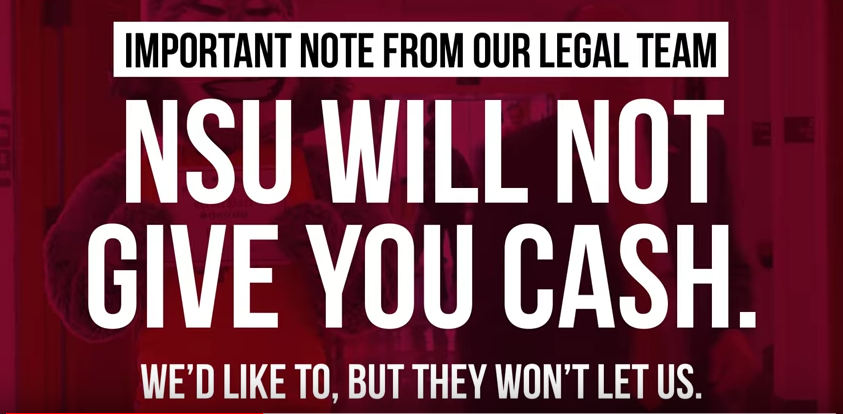 Timothy Downs, the president of Northern State University, is trying a different approach to attract applicants to the South Dakota institution. Need scholarships? He's throwing money in the air. (And the legal department is offering its own view of the implied promise in the video.) Want interesting books in the library? He finds one for all ages. And frequently accompanied by the mascot, he offers prospective students a long list of reasons to attend the university.
The money in the video is real, Downs said in an interview. But only $1 bills were used, and the funds weren't actually given away.
Enrollment is up this year, to a bit more than 1,500, but Northern State officials believe that they can't count on growth, given that their hometown of Aberdeen, S.D., is hardly a metropolis. So getting the word out is important.
In an interview, Downs said that the idea for the video came from the communications and marketing team at the college, plus a local marketing agency called Production Monkeys. Hoping the video would stand out, "We developed a script that most people would consider different."
If colleges want to reach students today, he said, "You have to think differently."
The university did focus groups before releasing the video, and received positive results, he added. He said he realized that "not everyone will appreciate the humorous angle," but said that the buzz in South Dakota is making more people think about the university. In the end, he expects more students to enroll. And he said he's not worried about not appearing presidential at all times. "A large part of my job is to engage."
You may also be interested in...
Today's News from Inside Higher Ed
Inside Higher Ed's Quick Takes