Join Inside Higher Ed's Membership Program | Become an Insider Today
Access the resources you need to be more effective,
while supporting Inside Higher Ed.

Insider Membership Program
Join Today
Over $750 worth of benefits for only $119/year.
Exclusive for Insiders:
Library of in-depth research reports and surveys
Hot topic webcasts hosted by our editors and with special guests
Custom Inside Higher Ed news feed
Ability to save articles across the Inside Higher Ed site
Special invitations to online and in-person events
Members-only LinkedIn group and Twitter feed
PLUS, discounts on Inside Higher Ed special reports (10% on print, 15% on digital)
Show your support for Inside Higher Ed's robust journalism.

A note from Co-Founders and Editors Scott Jaschik and Doug Lederman
We are proud to serve all of the professionals and diverse institutions that make up the rich web of higher education and will continue to provide you with the in-depth analysis, provocative views, and hard-hitting stories for which we are known. While readership is core to our business and virtually all of our content is free — so that everyone can get the best news, information and career services — we rely on committed readers like you to become members.
If reading Inside Higher Ed is an integral part of your day, please show your support by joining our Insider membership program. For less than $10 a month, take this next step – become a member today.
Exclusive Insider Benefits and Perks
Newest Member Benefit
Members-Only Webcast: What to Anticipate in the First Months of the Biden Administration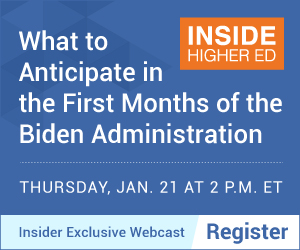 Special Reports
Free & Discounted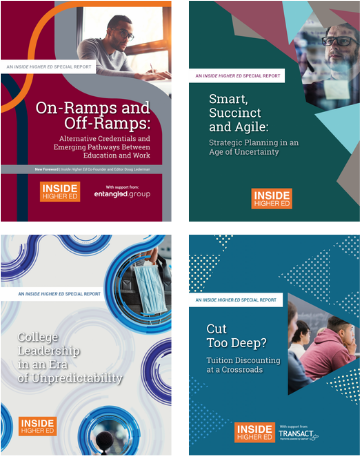 News & Resources
Customized Dashboard & Newsfeed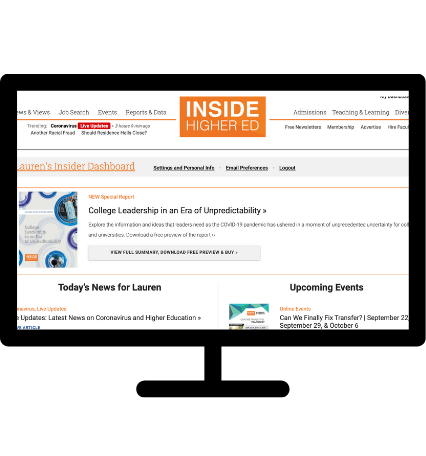 Webinars & Reports
Exclusive Content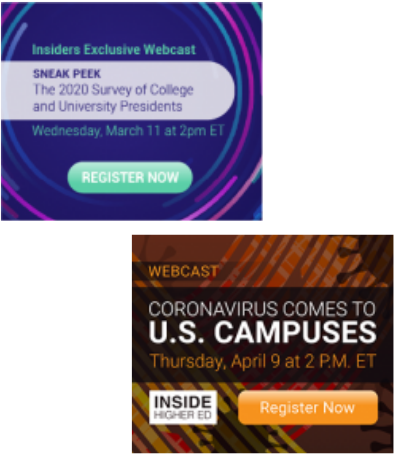 Networking
Private Social Media Groups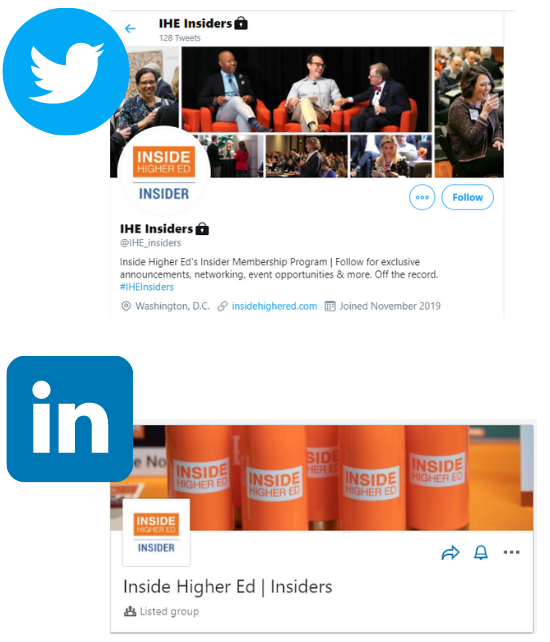 Events
Special Invitations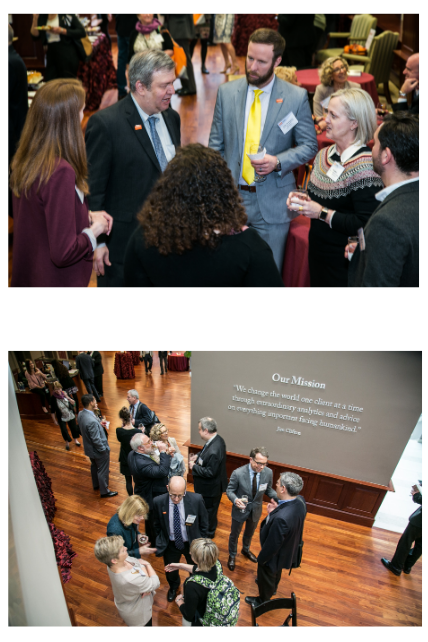 Institutional Memberships
Are there ten or more individuals within your organization who would like to be members of Inside Higher Ed? If yes, an institutional membership might be an optimal solution to save your organization money and allow more members of your team to access all the great resources and opportunities this program offers. Administrations utilize this program for faculty and staff professional development, as an HR benefit, and more. Find out about our institutional membership program by contacting [email protected].
Questions? Check out our FAQ for more information and contact us at [email protected].