Boom in Indian Enrollments, Followed by Bust
At the University of Central Missouri, the number of students from India went from 152 five years ago to 2,429 in 2015 -- and 631 today.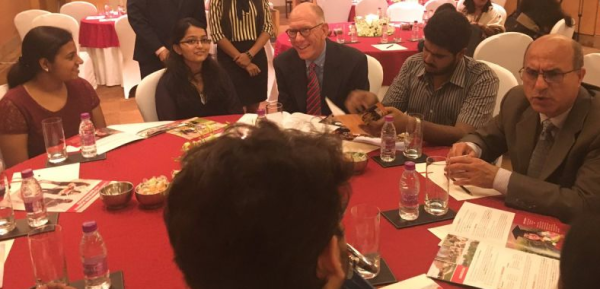 At the height of the boom, in 2015, the University of Central Missouri enrolled 2,429 students from India, accounting for about 87 percent of the university's total 2,786 international students. The number of students from India had risen rapidly -- climbing from just 152 in 2012 -- and it dropped this fall with similar precipitousness.
Central Missouri is enrolling just 631 students from India this year, out of a total international population of 944 students. Almost all of the university's Indian students -- save 19 -- are graduate students enrolled in master's programs (the university does not offer Ph.D. degrees).
"Our graduate international student population is where we took all of the hit, so our graduate international student population is down 71.2 percent," said Mike Godard, Central Missouri's vice provost for enrollment management. The drop in international graduate students accounts for an approximately 40 percent drop in Central Missouri's total graduate enrollment, when went from 4,202 students last fall to 2,532 this fall.
It's true that enrollment is up at Central Missouri at the undergraduate level: the university reports a 5.1 percent growth in new freshmen, a 3.4 percent increase in new transfer students and a 1.1 percent increase in retention. The number of international undergraduates is also up, albeit from a small base, from 239 to 248 international students. The university also reports a 5.8 percent increase in domestic in-state and out-of-state graduate students.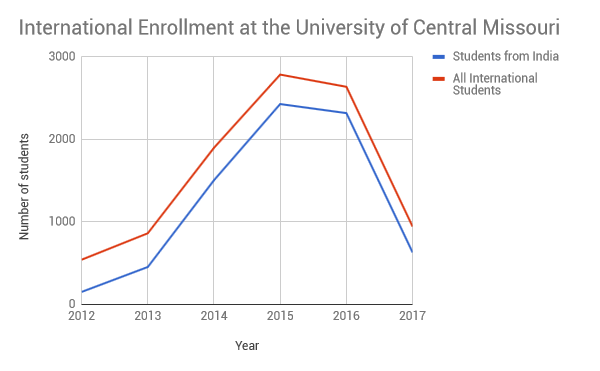 But there's no question that the big drop in graduate students from India has made a "tight budget even tighter," as Jeff Murphy, a university spokesman, put it.
"This has been a very difficult year financially for all of Missouri's public colleges and universities," said Murphy. "We've had some significant reductions in appropriations at the state level that have impacted all of us." Murphy said that in fiscal year 2017, the Legislature approved a $59.7 million appropriation for the university but withheld some of that money, so the university received $53.7 million. In fiscal year 2018, Murphy said the university expects a $52.7 million appropriation. To save money the university initiated a voluntary retirement incentive program, which Murphy said 110 employees opted for, including 35 faculty members and 75 staff.
Public universities have increasingly turned to tuition revenue from international students to make up for state funding shortfalls, but the drop in Indian students at Central Missouri shows the risk of relying too much on students from any one country. In a recent survey of admissions directors conducted by Inside Higher Ed and Gallup, 53 percent of respondents from private universities and 39 percent from public universities said that American colleges have become too dependent "on international students from a few countries, such as China and India," the top two countries of origin for international students in the U.S.
Central Missouri officials say that while the university recruits in India, the surge in students from there was unexpected. "It wasn't necessarily by design," said Godard, the vice provost for enrollment management. "India is -- I don't want to call it a unique country -- but very relationally connected, and very reliant on social media. We had two academic programs in particular that I think individuals found of interest to them: they were a graduate computer science program and a graduate program in computer information systems. Both of those two programs are offered at our Lee's Summit center, which is about 40 miles or so from our main campus in Warrensburg, closer to the Kansas City metro area."
Godard said the tuition structure at the Lee's Summit location "is such there that no matter who you are from, you pay the same tuition rate; you could be in state, out of state." This year, in response to the drop in international students, the university dropped the tuition for the master's of computer science and computer information science programs, from $424.05 per credit hour to $390.25 per credit hour. At that rate, a student, whether from elsewhere in Missouri or from Mumbai, can complete the minimum 30 credits required for the programs for a little less than $12,000 in tuition.
"I think some international students found that attractive for the price point, as compared to other options," Godard said. "It's kind of like one year we had a handful and then all of the sudden the next year we were just inundated."
The chairs of the computer science and computer information systems departments did not respond to Inside Higher Ed's requests for interviews about the effects of the enrollment changes on their programs. "As enrollment went up, we increased the number of faculty who could cover classes and they were hired on year-to-year contracts, so as the enrollment went down we reduced the number of faculty," said Murphy, the university spokesman. He said about seven to eight year-to-year positions have been cut, but that no permanent, tenured or tenure-track positions were eliminated.
"It's hard to pinpoint all the exact reasons why we had that drop," Murphy said. "Certainly we're doing things to build up our international student population. Our president and a delegation of nine or 10 other faculty and staff members in September visited India and Nepal and Saudi Arabia and met with alumni from UCM. They also attended college fairs and visited with industries and tried to establish some strong connections to build our enrollment in the future."
Many universities across the country are reporting declines in international student enrollments this fall. However, the trend is far from uniform, and some institutions are reporting increases. International recruitment professionals have reported hearing concerns from prospective international students about the climate in the U.S. -- about whether they will feel safe and welcome on American campuses -- as well as about the employment opportunities available to them here. Many prospective students have raised concerns about whether the Trump administration will make changes to existing programs that allow international students to stay in the U.S. and work after graduation, including the optional practical training (OPT) program, which allows students with STEM degrees to work in the U.S. for up to three years after graduation while staying on their F-1 student visas (students with degrees in non-STEM fields can work for up to one year). There have been no changes to date to the OPT program, but some speculate they could be coming.
Many in higher education are big fans of the OPT program, which they argue is critical for attracting talent to the U.S., but critics say it creates unfair competition for American workers, particularly in technology-related fields. The left-wing magazine Mother Jones recently focused on Central Missouri's students and alumni in a critical article it published about the OPT program and the working conditions for graduates who are recruited to work at so-called body shops, essentially temp agencies that provide information technology workers to other companies on a contractual basis. (In a statement about the Mother Jones piece, Central Missouri said that "while the university does not vet every company that seeks to hire its graduates, UCM students are encouraged to use their due diligence in learning about organizations that approach them as job candidates and the quality of the working environment and conditions they provide." The university statement also encouraged international students to report any unlawful employer practices to the career services office and "to use resources available at career services as a starting point for any job search.")
In any case, it's clear that the opportunity to work in the U.S. for up to three years after graduating on OPT -- and the chance to get a H-1B visa after that -- is a key selling point for many students from India, and newfound uncertainty over the future of these programs is at the very least not helpful for recruitment. In April President Trump issued an executive order that called on agency heads to "suggest reforms to help ensure that H-1B visas are awarded to the most skilled or highest-paid petition beneficiaries." Since that time, applicants for H-1B visas have come under increased scrutiny, as Reuters recently reported.
Rahul Choudaha, the executive vice president of global engagement and research at StudyPortals, an online international student recruitment and marketing platform, said that the drop in Indian students at Central Missouri "is largely attributable to 'Trump effect' for the segment of Indian students who were highly conscious of value for money. They prioritized opportunities of lower tuition and higher job prospects over any other criteria."
Choudaha said the University of Central Missouri offered lower tuition than many other American universities. "At the same time," he said, "the OPT STEM extension offered high prospects for gaining experiences through internships and subsequently finding jobs. However, the tighter immigration policies that aim to curb prospects of H-1B visa has unfavorably skewed the equation for many Indian students who were seeking value for money."
"More of my friends are going to Australia and Canada" rather than the U.S., said Abhideep Dharga, an Indian student in Central Missouri's computer information systems master's program. "They were worried about maybe in the future the government will affect their visa." Beyond concerns about the future availability of H-1B, Dharga also said it's hard for international students at Central Missouri to find on-campus jobs: international students can't legally work off campus without special authorization to do so, and then only in training programs related to their field. "Many students who come from other countries, they're more dependent on on-campus jobs," said Dharga.
Dharga also cited as another reason for the drop in new enrollments the February incident in a Kansas City, Mo., suburb in which a white man shot and killed an Indian engineer, Srinivas Kuchibhotla, and wounded two other men. Authorities have classified the shooting as a hate crime.
Priyanka Chaudhary, another graduate student from India studying computer information systems, said she came to Central Missouri last March because she wanted to study in the U.S. at an affordable university. She's been happy with the decision to study there.
"I think most of it has to do with the application screening and visa approval process back in India," she said of the drop in Indian students at Central Missouri. "Part of it could be the uncertain and slightly hostile environment post-presidential elections."
Godard cited a number of likely reasons for the drop in students from India this fall, including increased competition from other universities that are offering computer science master's programs at a similar price point and factors in the Indian economy.
"Last year the economy in India was decimated for a little while, so as a result of that we still had interest in students wanting to come and study at UCM, but their financial situation changed enough where that wasn't possible," Godard said. "We also saw that visa issuance went down significantly in India, especially certain regions of India, Hyderabad being one of them." Godard said he did not have any hard data on how visa approval rates have changed.
'"We would all be naïve to say our geopolitical environment didn't change in January," Godard continued. "I think you take the increased competition in the marketplace for those two programs, you take the economy in India, you take the decreased issuance of visas, so even if people are interested in coming, they aren't able to, and then you take the geopolitical environment that we're in right now, and you put all those together and here we are."
You may also be interested in...
Today's News from Inside Higher Ed
Inside Higher Ed's Quick Takes