You have /5 articles left.
Sign up for a free account or log in.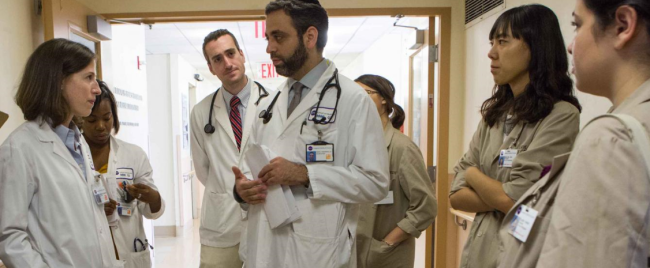 From 1980 to 2014, the share of black, Latino and Native American students in undergraduate programs increased from 11.7 percent to 26.2 percent.
But a new analysis of medical school admissions and enrollment patterns finds that those gains have not been matched in medical education. The Association of American Medical Colleges, which released the analysis, says this is cause for concern in that the total number of medical school slots have gone up, as has the need for more minority doctors.
Data in the analysis show that medical school enrollments are much more diverse than they were 35 years ago. But the gains have largely been for Asian-American students. The share of black, Latino and Native American students is not close to their representation in undergraduate programs. And while the percentage of Asian medical school matriculants lagged the numbers for black and medical students in 1980, the Asian enrollment figure is now far more than black and Latino medical matriculants combined.
Medical School Matriculants, Percentages by Race
| | | |
| --- | --- | --- |
| Group | 1980 | 2016 |
| American Indian and Alaska Native | 0.4% | 0.3% |
| Asian | 4.0% | 21.3% |
| Black | 6.0% | 7.1% |
| Latino | 4.9% | 6.3% |
| White | 83.7% | 51.5% |
While it is very difficult to earn admission to medical schools, the admit rates are generally higher than what many expect -- in large part because of the self-selection (and academic advising) involved in applying to medical schools. It is only a minority of college students who have taken the courses needed to apply to medical school and earned the kinds of grades that would suggest a decent chance at admission. During the period of 1980 to 2016, applications from all groups increased. The admission rate remains notably lower for black applicants than for other applicants.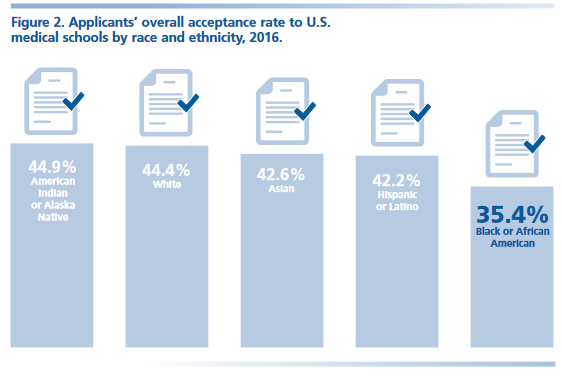 While the admit rate data show the highest rates for Native American groups, an important caveat is that their base is extremely small. Only 54 such new students enrolled in medical schools in 2016.
The AAMC report urges medical schools to study why black applicants are admitted at notably lower rates than are members of other groups.
The new analysis does not discuss the issue of standardized testing, and in particular the Medical College Admission Test. But other data on the AAMC website point to gaps in the average scores by race and ethnicity, as well as gaps in college grade point averages.
Average MCAT and Science GPA of Medical School Matriculants, 2016-17
| | | |
| --- | --- | --- |
| Group | MCAT | Science GPA |
| American Indian and Alaska Native | 501.1 | 3.43 |
| Asian | 510.5 | 3.68 |
| Black | 502.5 | 3.38 |
| Latino | 503.0 | 3.49 |
| White | 510.1 | 3.68 |
Whatever the explanations for the enrollment and admissions patterns, the AAMC's new report says it is important to continue work to diversify enrollments.
"Research shows that physician diversity adds value to the health-care system by expanding access to health care," the analysis says. "Racial and ethnic minority physicians are more likely to practice primary care than their white peers. Black or African-American, Hispanic or Latino, and American Indian or Alaska Native physicians are also more likely to practice in medically underserved areas."
More from Traditional-Age