You have /5 articles left.
Sign up for a free account or log in.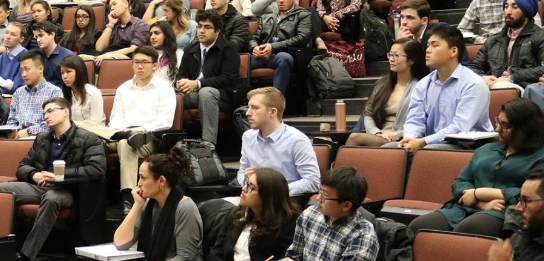 Even as women have become the majority in undergraduate student bodies and at many professional schools, their numbers have been much smaller as a share of the total enrollment in M.B.A. programs.
Many experts say this is a failing of business schools. Last week, FT (formerly Financial Times) -- which is influential in rankings of business schools -- issued its first list of top M.B.A. programs for women. Many experts on business school admissions said that they hoped FT's attention would encourage business schools to think not just about their overall performance, but how they are seen on issues that tend to matter to women.
But what do women seeking an M.B.A. want? Of those looking at the methodology, some have said that it places too much emphasis on salaries -- and ignores factors that may be important to many women.
FT's focus in its methodology is alumni salaries, which count for 45 percent of the total formula, with one-third of that total for each of average salary of female alumni three years out of the program, increases from pre-M.B.A. salary, and the smallest gaps in average salaries of male and female alumni.
The rest of the formula covers many areas, including percentage of female faculty members, percentage of female students, percentage of women on advisory boards, and women's responses to questions on their career progress, the effectiveness of career centers and other factors. The rankings methodology in many ways mirrors that for FT's main rankings (except for looking at data about and from women). FT did not respond to a request to discuss its methodology.
Using this system, FT finds that three of the top 10 institutions globally are from China and another is from Singapore. The publication attributes this success to encouragement in China and Asia for women in the business world to advance in their careers, with less wage discrimination against women in their jobs.
The top American institution is Stanford University, followed by the University of California, Berkeley; Washington University in St. Louis; Harvard University; Dartmouth College and the University of Pennsylvania.
The website Poets & Quants noted that it was possible to make the list (if not the top 10) while having very few female faculty members -- the top 50 programs included 10 where women do not make up more than 20 percent of the faculty.
M.B.A. programs in the United States, in which male students have long been in the majority, are making progress in enrolling greater numbers of women, according to a report last year by the Forté Foundation, which works with business schools to promote gender equity. The foundation found that its members have reached an average of 37.4 percent female enrollment in M.B.A. programs, up from 33.4 percent five years ago. Five years ago, the foundation had only two members that had reached 40 percent female enrollment. Today 17 business schools have enrollments that are at least 40 percent female.
But a review by "Admissions Insider" of the gender breakdowns in the American M.B.A. programs that made the top 10 list found none with gender parity.
Dartmouth and Penn have the highest share of women (44 percent), while Washington University has the lowest figure (39 percent). These are all above national averages, but not close to parity.
Institutions that have (slim) majorities of female M.B.A. students, such as Rutgers University, don't appear on the FT list. Rutgers first achieved gender parity in M.B.A. enrollment in 2014.
Such data have many people wondering about the value of the rankings -- and the difficulty of quantifying measures that are important to many women seeking an M.B.A.
Noah Teitelbaum, Kaplan Test Prep's executive director of pre-business programs, said that postgraduation salaries are indeed important to many applicants, regardless of gender. But he said many prospective female students are asking about other issues.
"Do professors treat female students with respect? Did female students attain leadership positions in student clubs and group projects? Do the female alums feel that their school prepared them to succeed?" Teitelbaum asked. "While salary might be a decent proxy for a measurement of success, there are other questions that it doesn't necessarily answer. Do women have a place at the table when key decisions are made? Are they in leadership positions?"
What Do Women Want?
Sharon Lydon, executive director of the M.B.A. program at Rutgers, said that when she considers the popularity of the Rutgers program with women (and many men), she considers factors that go beyond traditional B-school ranking methodologies.
Lydon described a scene she saw last week: two students (both men) who were getting ready for interviews the next day with the same company, knowing only one of them could get the position. "They were sharing information and helping one another," she said. The environment is intellectually demanding, she said, but collaborative at the same time, in a way that many business schools are not known for. "Many other environments are more cutthroat," she said.
Lydon also noted the impact of having women in leadership roles, such as her dean, Lei Lei, and ensuring that women are well represented on the faculty.
Bentley University, a business-focused institution where women make up 46 percent of the M.B.A. program, has a woman, Gloria Larson, as president. (And while Larson is stepping down this year, she will be succeeded by Alison Davis-Blake, former business school dean at the University of Michigan and the University of Minnesota.)
Susan Adams, chair of management at Bentley, said that an emphasis on salary averages alone can take women in the wrong direction.
At the same time, she agreed that the first job a woman gets after business school can have a major impact -- and so tracking career success makes perfect sense.
The problem, she said, is that some companies aren't offering women salaries that are appropriate, and others may be but are then not valuing women's contributions at work. Good business schools need to coach women about companies so that they "are not walking into a culture that is against them from day one."
In some cases, she said, women may be better off not taking jobs with companies that are the most well-known (or best paying), but that have reputations for failing to appreciate female talent. A savvy career office may point women to companies "a tier down," but at which women rise through the ranks, potentially setting themselves up to earn more money and find more career success over time.
The Graduate Management Admission Council released a report last year as part of its efforts to attract more women to business schools. The report, "What Women Want: A Blueprint for Change in Business Education," notes that some women want the very same things male business students want, and that there are dangers in stereotyping based on gender.
But Betty Su, vice president of the council, said that surveys the group conducted found notable differences linked to gender in how women evaluated M.B.A. programs. One was cost. Thirty percent of female applicants said that they saw cost as a major obstacle, compared to only 9 percent of men. This may relate to the way society treats women generally, Su said. If women can expect to earn less than their male counterparts -- still the case at many companies -- it shouldn't be surprising that financing business school is a big issue for women, who may be appropriately worried about taking on too much debt.
Even if women and men are paid equally, she noted, their work-life balance is likely to be different. In a survey the council did of M.B.A. alumni, 41 percent of women and only 12 percent of men reported leaving the work force at some time to take care of children. "The idea of ROI is more complicated" than pure salary averages, she said, when one considers the lives of many women.
Su said that, on a variety of questions, women surveyed by the council were "a lot more pragmatic" than were men on a wide range of issues, not just salaries. Women were more likely to value the flexibility of part-time, hybrid and online programs, as well as other factors, Su said.
Issues of flexibility came up constantly in interviews with women, she said. So business schools wanting to attract more women may need to be thinking of a range of policies, she said, and some B-schools that do well by traditional measures may not find that women's enrollments follow.