You have /5 articles left.
Sign up for a free account or log in.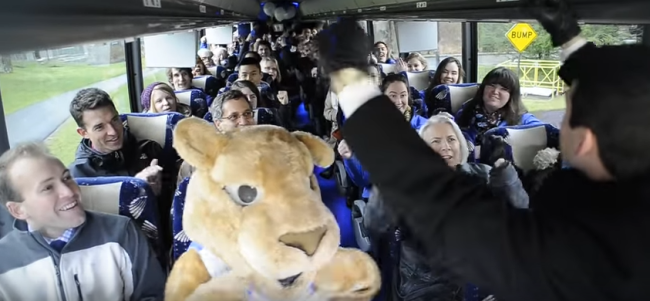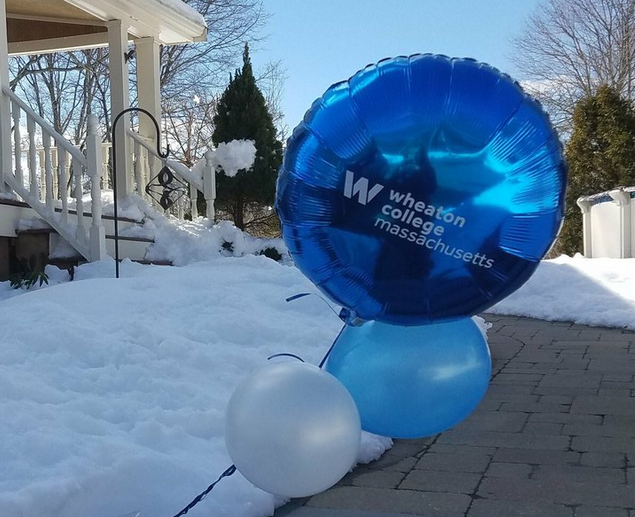 A group of admissions officials this month had a discussion prompted by a photo (at right) showing a balloon left by Wheaton College in Massachusetts at the home of an admitted applicant. Some saw it as an example of creativity in encouraging excitement over going to college. Others saw a clever marketing approach by Wheaton.
Others weren't impressed. A private college counselor tweeted, "@wheaton The fine line between congratulating students upon acceptance and stalking."
There is irony in Wheaton being criticized on this issue: Wheaton used to be among the colleges doing in-person admissions acceptances and has actually pulled back from that strategy.
But the debate set off by the image involves not only Wheaton. A number of colleges have started in recent years to personally deliver admissions offers to at least some admitted applicants, and to share the scenes online. Meanwhile, some community organizations that work with low-income students have started to film students as they log on and learn they have been admitted to various colleges. The videos are then shared on YouTube, although typically these are only of those receiving good news.
These trends have some asking whether students really benefit from having the moment they learn of acceptance to a college shared with the world. These days, of course, many high school seniors take all of 30 seconds after being admitted (or rejected) by a college to let their Facebook friends or Instagram followers in on the news. But is it different when colleges or community organizations share the news?
Greeted by the Mascot
Among the colleges that have done in-person admissions offers are Wheaton, Butler University (which has done some admissions announcements accompanied by its 65-pound bulldog mascot) and Rowan University (where the president has made some admissions offers).
Wheaton College admitted one student in person in 2014, and attracted much attention with the video showing a busload of Wheaton officials, including the mascot, surprising the student in class at her high school.
Grant M. Gosselin, vice president and dean of admission and student aid, said the idea reflected what he sees as special about the college: a personal commitment of faculty and staff members to care about each and every student, an attitude that also results in students caring about one another. While the student was genuinely surprised, the college was confident that she would be happy with the news. She had applied early -- and the idea for the in-person acceptance announcement was cleared with her parents.
The next year, Wheaton made in-person acceptances to 75 applicants (with slightly smaller delegations). In some cases, the meetings were shared on social media, but only with permission of the students and their families.
"We had a wide range of reactions," he said. "Many were thrilled to see us," he said, and that included people who hadn't decided whether to enroll at Wheaton. "But there were some students who were skeptical of why we were there," and that prompted the college to rethink the strategy. "We wanted to make sure we were not putting any student in a position of being uncomfortable."
That led to the shift of leaving gift bags with items from the college, but doing so after acceptances had been announced. These visits are during school hours, so there are few direct meetings with those who have been accepted.
"I see it as celebrating students' success," he said.
David Hawkins, executive director for educational content and policy at the National Association for College Admission Counseling, said via email that he saw several issues to consider about the new trend.
He said it was important for high schools to offer success stories, but that they should reflect a range of students and be inclusive. "Students entering the work force directly, planning to enroll in a certificate program, planning to enroll in a community college or planning to attend a four-year college share a common achievement in their completion of K-12 education," he said. If high schools are involved in celebrations of students' college acceptances, they should ask whether they are celebrating a range of student goals.
Hawkins said that a common question among NACAC members about various ideas is "Is it good for the students?" He said that he wonders whether showing up in a school or posting videos could "exacerbate, sometimes in unseen ways, the pain or disappointment that other students feel during the transition process, all the while keeping in mind that the students being celebrated have accomplished something special."
Elizabeth J. Cheron, dean of undergraduate admissions at Northeastern University and chair of NACAC's Admission Practices Committee, said via email that the panel has discussed the issues. She said it's not surprising to see the publicity over acceptances in the era of social media.
"For colleges, there always is a desire to build excitement in an effort to yield students, and across higher ed and other industries, there is an increased focus on personalization," she said. And Cheron noted that it's possible to reach out to applicants without doing so in public.
"I'm old-school," she said. "I have called students to personally share the good news of their admission, and I know colleagues who hand-write notes on admit letters about the student's essay. If institutions are leveraging more public-facing strategies like social media, it is also important to recognize that students already have a lot of emotion wrapped up in this process, and there are many factors for them to consider in an offer of admission beyond just having the offer in hand."
Getting In, Live on YouTube
Other videos showing college acceptances are not being set up by colleges, but by the community groups that work with students. Consider this video of a student learning that he had been admitted to Cornell University.
The same program this year shared a video of a student admitted to Wellesley College.
Experts said they view the issues raised by such videos in a different way from those organized by colleges.
Akil Bello, who works with low-income students in New York City and nationally, said that he worries about any publicity where students' privacy rights aren't protected, and where the public focus may pressure students to go to a particular college.
But when community groups use videos to promote the idea that students from low-income areas can enroll at highly competitive colleges, that's a good thing, he said.
"If these videos encourage more students to explore education, that's a net positive," he said.