You have /5 articles left.
Sign up for a free account or log in.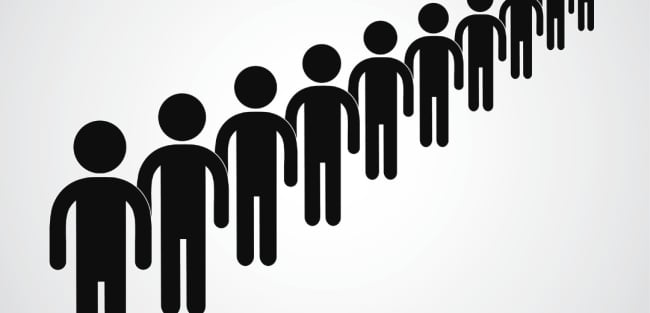 Brown University's freshman class in September had 1,719 students. For this fall, the university admitted 2,566 applicants and should have no problem matching last year's incoming class. Brown, after all, remains exceptionally popular with many talented high school students.
The university has also offered spots on its waiting list to 2,724 of its applicants. If every single admitted applicant rejected Brown's offer, it would have wait-list candidates to spare in building a class larger than the last one.
Brown didn't respond to a question about how many offers it typically makes off the waiting list. The university is hardly alone with a substantial waiting list.
The University of Pennsylvania announced last week that it had admitted 3,731 applicants for the next first-year class, anticipated to be 2,445 students.
Penn, like Brown, offered spots on the waiting list to more applicants than the size of its incoming class. In Penn's case, the figure for the waiting list was around 3,500.
In recent years, a Penn spokeswoman said, the number admitted off the waiting list has ranged from 20 to 175.
Penn and Brown are among the many universities that last week announced their record high application pools and record low admit rates. Their press releases made no mention of waiting lists, but those two universities provided information when asked how large they were.
Others, such as Emory University, said that as a matter of policy they don't reveal the size of their waiting lists.
The figures on waiting lists raise questions -- especially to those who work with high school seniors. Some say the lists simply shouldn't be so long. Others say that colleges should publicize how many students are placed on the lists -- and the very long odds of anyone on them being admitted.
The discussion got a renewed push last week when a private college counselor posted a plea on the issue on the email list of the National Association for College Admission Counseling.
The statement was from Cristiana Quinn of Rhode Island-based College Admission Advisors (who gave permission for it to be quoted here).
"As we near the end of admissions season, I am dumbfounded once again by how many waiting list offers are made. This year seems worse than ever. I assume that admissions offices put so many students on the waiting lists as a type of PR, so that families feel that their student 'almost' got in," Quinn wrote. "I know that you are trying not to offend legacy, VIP donors, and high schools with which you want to have good relationships -- but the insanity needs to stop. At several competitive colleges this year, I literally had NO students denied, everyone who didn't get in, got waitlisted."
She added that most students have "no idea how daunting the odds are" of being admitted off a waiting list. "Most truly think they have a shot at being admitted," she wrote.
Colleges that don't reveal how long their waiting lists are, and how unlikely admission is, she said, are engaged in "cruel" treatment of applicants that "keeps FAR too many students hanging on with unrealistic hopes of being accepted, instead of focusing on the choices before them and being happy with one of them."
While most colleges don't publicize the size of their waiting lists, some information leaks out, and Quinn cited it.
Last year, Boston College offered 5,689 applicants a spot on its waiting list (for a class of a little more than 2,400 enrolled). Just over 100 applicants were admitted from the waiting list.
Middlebury College offered 1,316 applicants spots on a waiting list for a class of a little more than 700. Last year, seven students were admitted from the waiting list.
John L. Mahoney, director of undergraduate admission at Boston College, said via email that the college expects to use its waiting list this year, as it generally does.
"The students who enroll from our waiting list each year are often the most grateful and enthusiastic members of our community for the four years they are here," he said.
Mahoney also pushed back on the idea that large waiting lists are cruel to those placed on them.
"We do offer the waiting list to many students," he said. "This is because they are talented and deserving of admission, but we're just not able to admit them due to the quality of our pool. To some extent, we want to be respectful of how hard they've worked and how difficult it is to receive an outright rejection."
Middlebury declined to discuss its waiting list policy, but a spokeswoman said that the waiting list this year is the smallest in the last six years.
On the NACAC discussion group, many applauded Quinn's statement -- and said they hoped colleges would reconsider their use of large waiting lists.
As with many admissions issues, however, one's reaction may depend on the high school or college one represents in the admissions process. A few comments, from counselors who serve low-income students, said that in their list of concerns about the admissions process, this wouldn't be a priority. Focus on the ways the college-admission process is unfair to talented, low-income students, they argued.
Others said they agreed with Quinn's analysis with respect to highly competitive colleges that are generally swamped with applicants and have the resources to deal with some unexpected fluctuations in yield.
But not all colleges are like that. And some, especially those with a focus on health professions, where laboratory space or clinical opportunities are limited, can't afford to misjudge yield.
Scott E. Steinberg, vice president of university admissions at the University of New England, said that for the college's accelerated nursing undergraduate program, it received 180 applications for a class that couldn't exceed 48 without creating accreditation issues.
Twenty-six people were offered a spot on the waiting list, and seven were admitted.
For the university's College of Osteopathic Medicine (a graduate program), between 4,000 and 5,000 people typically apply for a class that can't exceed 178 to comply with accreditation requirements about the availability of clinical rotations.
The college generally offers 200 to 250 applicants spots on the waiting list and eventually admits around 60 of them, having kept the initial offers low due to the true limits on how many can enroll.
Steinberg said that while his current institution is professionally oriented, he has seen the value of a seemingly large waiting list previously in his career, at a liberal arts college. He said it's not the overall size of the waiting list that can matter but whether there are enough people on it to respond to disappointing yields among select groups of admitted applicants (based on intended major, gender, geography, availability of aid and other factors).
And he noted that not all applicants who are offered a spot on the waiting list accept it. So a "seemingly large number of waiting list offers," he said, can quickly shrink.
W. Kent Barnds, executive vice president for external relations at Augustana College, in Illinois, said the waiting list at his college is quite different in size and use from those that are being criticized. He said Augustana has in recent years had "modest" lists of 150 to 200 and had been "pretty aggressive" at admitting those who ask to stay on the list. In many cases, it was a lack of "demonstrated interest" in the college that may have led to the applicants not being admitted. Saying that they want to be on the waiting list changes that.
And this year, for the first time in five admissions cycles, the college did not use a waiting list. Barnds said that working without a waiting list has "forced us to make decisions, rather than punt."