You have /5 articles left.
Sign up for a free account or log in.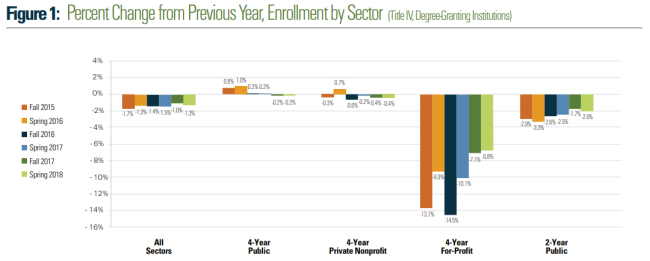 Overall college enrollments continue to slide, according to the latest data from the National Student Clearinghouse Research Center, a nonprofit that tracks 97 percent of students who attend degree-granting institutions that are eligible to receive federal financial aid.
This spring the center found a decline of more than 275,000 students, or 1.8 percent, compared to the previous spring. The decrease marks the seventh straight year when fewer students attended college in the U.S.
Enrollments went down in 34 states this spring, the center said. Six of the 10 states with the largest declines are in the Midwest or Northeast (see below). In addition, the number of students who are at least 24 years old declined by 263,000, according to the center. Enrollments for the over-24 age group (sometimes called adult students) have fallen by more than 1.5 million over eight years. Meanwhile, the number of traditional-age students increased slightly (0.4 percent), the center said, but enrollments of younger students remain below their level two years ago.
The 10 states with the largest enrollment declines were: New York (45,608), Michigan (22,571), Florida (17,003), Minnesota (11,262), Missouri (9,962), Ohio (9,623), Pennsylvania (9,596), Colorado (9,049), West Virginia (8,755) and Oregon (7,255).
The report from the center also included numbers by sector (above).
At a time when conventional wisdom holds that small private colleges are facing the greatest survival challenges, the new data show larger declines in enrollment at midsize private colleges than at small colleges. Larger institutions appear to be faring better.

The following table shows the shifts, adding in comparisons on full-time vs. part-time status. Declines were greater for part-time enrollments, except for the two sectors (for-profit and community colleges) where part-time enrollment is the most common.