You have /5 articles left.
Sign up for a free account or log in.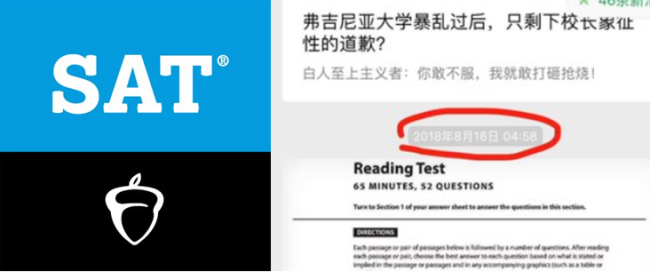 As students left testing centers nationwide Saturday, having finished taking the SAT, reports started to circulate that some may have had an unfair advantage because of leaked versions of the test that had been circulating in South Korea and China.
Posts to Twitter and elsewhere on social media featured images with Saturday's test questions, indicating that they had been available earlier in Asia.
This post at left was quickly followed by others, generally saying that the August SAT contained questions from one given in the fall and/or leaked in the fall in Asia. People who work with students who took the SAT reported that their clients confirmed the questions were on Saturday's SAT.
Saturday's SAT was not given outside the United States, and no one could necessarily know that the questions used in Asia in the fall would be used in the United States this weekend. Nonetheless, someone who saw the test questions in Asia and then took the test in the United States Saturday would have an advantage. Given the more limited test schedules in Asia, some wealthy Chinese and Korean students do travel to the United States to take the SAT. (A Reddit post in response to the discussions over Saturday's SAT explains why students -- including those not trying to cheat -- travel from Asia travel to the U.S. for the SAT.)
The College Board never comments on whether a particular test has been compromised.
Zach Goldberg, senior director of media relations for the College Board, was consistent with that policy in declining to say whether Saturday's test questions were available in Asia before the test. But he noted that if security is breached, the College Board can take action against those suspected of having advance information.
"After every test administration, we go to great lengths to make sure that all test scores we report are accurate and valid," he said via email. "In order to do so, we take additional quality control steps before scores are released. A comprehensive statistical analysis is one way we can determine if a student gained an unfair advantage. When appropriate, we will cancel test scores."
The College Board and other testing agencies face challenges in maintaining test security, especially as exams are given across time zones. But Reuters and others have written numerous articles raising questions about whether the College Board has done enough to prevent leaks. Further, the use of "recycled" questions -- used on more than one exam -- can create fairness issues, depending on which students have been exposed to which questions.
Robert Schaeffer of FairTest: the National Center for Fair and Open Testing, and a longtime critic of the College Board, closely monitors reports of security lapses. He said via email that sources in Korea told FairTest that Saturday's SAT questions have been sold for weeks in South Korea (for many thousands of dollars).
"Recycling tests remains a major problem, since the content of pretty much all previously administered exams are now in the public domain either because they were officially disclosed or the items were reconstructed on sites like Reddit," he said. "Once that's the case, all a 'test prep' company (aka cheater) needs to do is identify which test form is being reused in order to make a complete set of questions and answers available to 'clients.'"
An official of a test-prep company in the United States, asking for anonymity because he did not want to offend the College Board, said one of his clients told him that he had access to the complete test online, and that questions were available in Asia. His client was an Asian student who traveled to the United States to take the exam.
"He told me he'd practiced on the complete test," the test-prep official said. "He wasn't sure about all of the answers, though. With the leaked tests, there are often either no answer keys or untrustworthy ones put together by the test pirates. He sent me a part of the leaked test to prove he was telling the truth."
Another test-prep official, also requesting anonymity, said he and his students were concerned about the situation.
"If it is true that College Board allowed questions from a previously leaked SAT to be used on August 25, then this action effectively invalidates the August 25 test as a legitimate standardized test," he said. "One would think that College Board would be smart enough to check which of its tests have been leaked to the public before allowing them to be used on real test administrations. Either they don't care that some students have gained an advantage on their test through cheating, or they are too lazy or too incompetent to figure out how to find out which of their tests have been compromised and leaked to the public. Whatever the case may be, College Board is doing a lousy job protecting the fairness of the SAT."
Test-prep officials embrace the concept of the SAT. But the reports about the leaked exam have critics of the College Board, those who doubt the fairness of the SAT to start with, saying that their concerns are growing.
Jon Boeckenstedt, associate vice president for enrollment management and marketing at DePaul University, offered the following on Twitter Saturday.