You have /5 articles left.
Sign up for a free account or log in.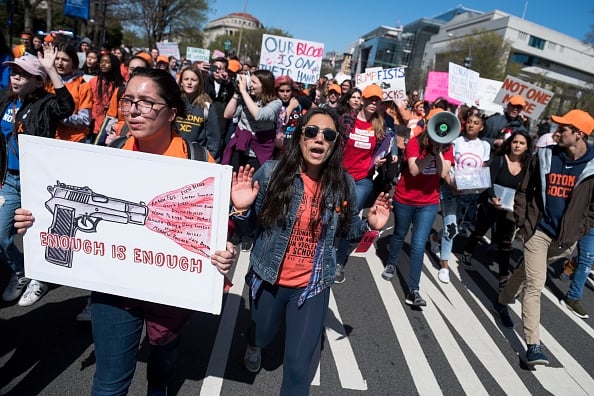 Tom Williams, CQ Roll Call, Getty Images
This year some women's colleges are reporting record large entering classes, in part because of substantial gains in yield. Some are calling this a "Trump bump," as women look at the political environment, plus the Me Too movement, and find themselves concerned about enrolling at a college where women will be respected and their political concerns will be supported. Admissions officials at these colleges report increases in the number of essays about politics and more questions on campus visits about the political environment.
It turns out that women's colleges may not be alone in experiencing these trends. New data from surveys by the National Association for College Admission Counseling show that both high schools and colleges are reporting increasing interest by high school students in the political atmosphere of colleges they are considering. The results are far from uniform, and it appears that plenty of students are not focused in this way. But counselors at both the high school and college level report that many students are frustrated by the direction of the country, and that this affects the way they look at potential colleges.
As one counselor told NACAC of today's high school students: "They're woke and they're angry!"
In the past, some counselors have reported parents wanting to block their children from applying to institutions perceived as too liberal, but today's high school students may have different concerns.
In a survey NACAC asked high school counselors about the impact of national political conversations on their students. In some areas, the results were notably different for public and private high schools. Counselors at private high schools were much more likely to report increased interest in colleges' political leanings and increased interest in colleges outside the U.S. (Note: The survey did not reveal the leanings of the activism students were embracing or the types of political atmosphere they were seeking in colleges.)
Trends Seen by High School Counselors
| | | |
| --- | --- | --- |
|   | Public | Private |
| Increased activism | 49.3% | 57.8% |
| Expressions of disillusionment | 33.4% | 37.4% |
| Improved attention to civility | 16.9% | 29.6% |
| Reduced civility | 17.7% | 19.8% |
| Increased consideration of colleges' political leanings | 11.4% | 42.5% |
| Increased interest in colleges outside the U.S. | 5.0% | 14.6% |
Colleges surveyed by NACAC are also seeing reflections of the political mood. Only a minority of four-year colleges (28.6 percent for public colleges and 41.6 percent for private colleges) reported that they were seeing increasing number of essays on political activism.
But a majority of those with competitive admissions (those admitting fewer than 50 percent of applicants) said that this was the case. And the share dropped as colleges became less competitive in admissions.
Colleges Seeing More Application Essays on Political Activism, by Selectivity
| | |
| --- | --- |
| % of Applicants Admitted | % Seeing Increase in Political Essays |
| Less than 50% | 58.3% |
| 50% to 70% | 41.9% |
| 71% to 85% | 23.5% |
| More than 85% | 18.2% |
Colleges were also asked if they sensed increased interest by prospective students in institutions' political leanings. Only a minority (37.8 percent) said yes, but this figure was higher at private institutions than at public institutions (43.6 percent versus 27.3 percent).
Support for Activist Students
Political activism has been much discussed in admissions circles during the last year.
In February, as high school students staged walkouts to protest the failure of the federal and most state governments to do anything about gun violence, some school officials threatened to suspend those participating in walkouts and to report these suspensions to colleges that had admitted or were considering applications from the students.
Many college admissions leaders responded by saying that they would not penalize applicants or admitted students for suspensions if those suspensions were for participating in peaceful protests.
One of the most detailed statements came from Stu Schmill, dean of admissions and financial services at the Massachusetts Institute of Technology.
"Some students who have been admitted to MIT's Class of 2022 have asked us if their acceptance will be rescinded if they are disciplined for joining the protests, while other applicants still under consideration are wondering if they have to choose between speaking out and getting in," wrote Schmill. "We have already informed those who asked that, in this case, a disciplinary action associated with meaningful, peaceful participation in a protest will not negatively impact their admissions decision, because we would not view it as inappropriate or lacking integrity on its face. The purpose of this blog post is to communicate that fact more broadly and explain our reasoning as to why."
But even as many admissions leaders applauded themselves for supporting student activism, a new study this year suggested that there are limits to the support.
A study in the journal Sociology of Race and Ethnicity, by Ted Thornhill, assistant professor of sociology at Florida Gulf Coast University, was based on email messages sent to 517 white admissions counselors at predominantly white colleges and universities. The messages were from fictional black students and asked if the student would be "a good fit" at the college.
The fake students had varying personas, and the one least likely to be encouraged was the one in which a black student expressed interest in black activism.