You have /5 articles left.
Sign up for a free account or log in.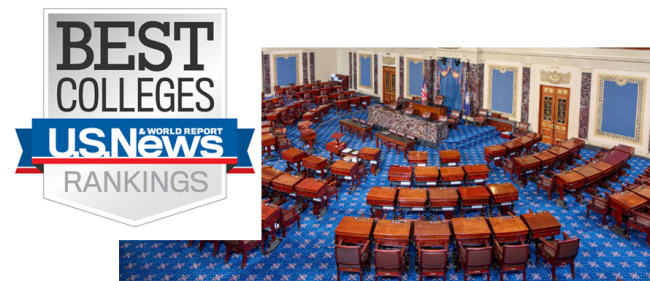 This fall, U.S. News & World Report unveiled changes in its methodology that it said placed much more emphasis than in the past on social mobility.
Many critics were unimpressed, noting that the same elite institutions (which largely educate students who are upper and middle class) remained on the top of the rankings. At top-ranked Princeton University, 72 percent of students come from the top 20 percent of family incomes in the United States. That includes 17 percent from the top 1 percent and 3.1 percent from the top 0.1 percent. Only 2.2 percent come from the bottom 20 percent of family income. The reason Princeton and similar institutions are ranked high, even with social mobility getting some more play in the methodology, is that U.S. News favors institutions that do a good job of graduating low-income students over those that educate large numbers of low-income students.
Now six U.S. senators have joined the discussion, sending an unusual joint letter to U.S. News urging it to change its methodology.
"America's best colleges and universities are those that look like America, educate all of our students and prepare them for a diverse and global workforce," says the letter. "As the primary mass media arbiter of college prestige relied upon by many students, families and colleges, U.S. News has an obligation to assess American higher education fairly. U.S. News should acknowledge and correct for the role its rankings have played in fueling the collegiate arms race and preserving regressive admission policies like legacy enrollment and early decision. This approach prioritizes prestige and exacerbates America's deeply ingrained and racialized wealth disparities."
The changes U.S. News has made should be considered a first step, the letter says.
"Without an exclusive metric assessing the access a college or university provides to historically underrepresented students, deep inequities will continue to be masked," the letter says.
The letter was signed by six Democrats: Tammy Baldwin of Wisconsin, Cory A. Booker of New Jersey, Christopher A. Coons of Delaware, Kamala Harris of California, Christopher Murphy of Connecticut and Brian Schatz of Hawaii.
Brian Kelly, editor and chief content officer of U.S. News, wrote to the senators, offering to meet to discuss their concerns. He noted that the rankings methodology has evolved as more data sets have become available. For example, he said, the current methodology makes use of the graduation rates, by institution, of Pell Grant recipients, something that hasn't always been available to use.
But Kelly also defended the idea that some elite institutions continue to do well -- even as some institutions that are not at the top of the rankings saw improvements.
"The new data has caused meaningful changes in our rankings," Kelly wrote. "Clearly some schools are doing a better job at this than others. Schools such as [the University of California, Los Angeles] and Howard [University] have benefited by moving up in the rankings. Many schools that serve low-income populations do not fare so well. Interestingly, so-called elite schools often perform quite well on this measure, as there is a clear correlation between the wealth of a school and its ability to serve all of its students. We will continue to study this data, take feedback, and make refinements as necessary."