You have /5 articles left.
Sign up for a free account or log in.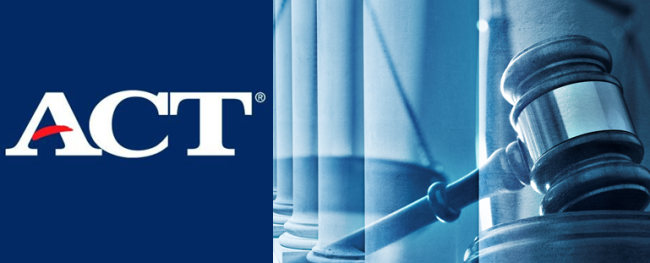 May 2 is a date that should be one of little stress for successful high school seniors. May 1 is the deadline to reply to admissions offers.
But for Brendan Clare, May 2 was a day that nearly derailed his college plans. On that day he received a letter from ACT (sent a few days earlier) telling him that ACT had concerns about the validity of his test scores. As a result, Clare had a choice of either having his scores invalidated, offering evidence that they were valid or retaking the test.
ACT suspected that the gains he made from the first to second times he took the ACT (in June and September of 2017) were the result of cheating. Clare was aware that Pennsylvania State University, which he planned to attend, could withdraw his admissions offer based on revoked ACT scores. He was also aware that he had just turned down other admissions offers, including one with a $25,000 scholarship offer. (He had gone up from a 21 composite score, slightly above the national average, to a 26, much better, but hardly record-setting on the exam where a perfect score would be 36.)
At first, Clare tried to convince ACT that he hadn't cheated. When that didn't work, he retook the test and earned a score close enough to his second score (despite the added stress of the exam being the ultimate high-stakes test) that ACT dropped its challenge to his scores, and Clare was able to enroll at Penn State. But with help from his father, a lawyer, Clare and his mother sued ACT in New Jersey court on multiple grounds.
The suit accuses ACT of harming Clare in multiple ways, including by failing to notify him of its doubts about his test scores until just after he would have accepted or turned down offers of college admission -- eight and 10 months after he took the test. He might have cleared up the situation well before he faced deadlines from colleges, the suit charges, and there is no reason for ACT to have waited until a time that it knew was the college decision day.
In Florida, a woman whose SAT scores were challenged by the Educational Testing Service and the College Board is threatening to sue those entities. The cases are similar in that the challenges to these two students' scores came after they made substantial gains after they first took the standardized tests. In both cases, the students say that the first time they took the exams, they hadn't prepared. But, after receiving disappointing scores, they then studied, hired tutors and did plenty of practice -- actions that they say explain their score gains. Clare's mother's suit against ACT cites her payment of $1,260 for tutoring between the first and second times Brendan Clare took the ACT. The College Board says that score gains alone are not grounds for challenging an SAT score.
The suit against the ACT also challenges the way the testing company determines who may have cheated. For instance, the suit alleges -- based on documents the plaintiffs obtained -- that ACT appears to believe that Clare copied answers from certain students. But at least one of those students took the test in another room, the suit says.
A key part of the Clare suit is a challenge to the way ACT (and others in the testing business) require those taking a test to agree to binding arbitration in the event of disputes over test scores. Clare's suit notes that he could not have taken the retest that cleared him without agreeing to the binding arbitration agreement. He argues that this requirement was unfair and illegal. If he wins his suit, the challenge could open up the way for many other students to take legal action, something that the mandatory arbitration clause makes exceedingly difficult.
ACT, as a matter of policy, does not discuss litigation. But court documents from ACT and Clare illustrate the key arguments.
Can Arbitration Be the Only Recourse?
Clare's suit argues that the agreement he signed (to take the retest) doesn't apply because he didn't pay for that exam and thus didn't enter into a contract. As to the earlier times that he agreed to the ACT's "terms and conditions," it was under conditions that were illegal, Clare argues.
Citing other New Jersey court rulings, his legal team argues that the typical 16- or 17-year-old who takes the ACT would have "no idea what rights were being replaced by arbitration." Further, legal papers submitted on Clare's behalf state that the terms and conditions are inconsistent, on one hand saying an arbitrator could find against ACT, but also stating that ACT shall "in no event" be liable. This type of inconsistency violates accepted practices about arbitration, court filings say. Other provisions seem sure to confuse most of those who would take the ACT, the papers say. The terms refer to American Arbitration Association rules but don't specify which of seven sets of rules used by the association would apply.
Arbitration clauses with "false and misleading provisions" are not enforceable, the brief argues.
ACT argues in its brief that Clare was "clearly put on notice" and "unambiguously advised" that he would have to waive the right to a jury trial, and he would have access only to arbitration if he opted to take the ACT. The language is "crystal clear," the ACT argues.
Clare maintains that he had no choice -- if he wanted to go to Penn State -- but to take the retest, even if there would be another waiver attached to it. And his strategy worked in that he was able to enroll.
But ACT argues that this is clear evidence that he knew that one consequence of taking the ACT again was once again agreeing to the terms and conditions -- including arbitration as the only remedy for disputes.
As to the argument that most people taking the ACT would be unaware of their legal rights, ACT points to the involvement of Clare's father (who is also his lawyer) as evidence that he did know or should have known the situation.
Robert Schaeffer, of FairTest: the National Center for Fair and Open Testing, and a critic of the ACT and the College Board, said that the case was significant because Clare is unusual in having the ability to take ACT to court.
"In most instances, a test taker's family has limited funds for litigation and needs scores quickly to meet admission and scholarship deadlines while the testing companies have very deep pockets and all the time in the world to fight," he said. "In this case, Brendan is already enrolled in college and his dad is an attorney who can pursue the case for free."
If Clare wins, Schaeffer said, "hundreds if not thousands of students will benefit by facing a more level playing field" in challenging testing organizations' decisions. Those who cheat should have their scores canceled, Schaeffer said, but what Clare is challenging is the testing companies as a "Star Chamber" in which students are treated as if they are "guilty unless proven innocent."
More from Traditional-Age