You have /5 articles left.
Sign up for a free account or log in.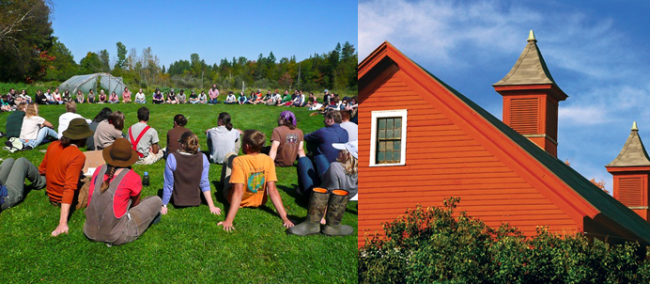 On Friday evening, Hampshire College announced that it would not admit a full freshman class for the fall. In January, Green Mountain College announced it would close.
Both are small New England private colleges. And their announcements came relatively late in the annual admissions cycle. Students wanting to enroll in fall 2019 would have applied to these colleges and would have largely completed their search process. Many application deadlines have passed, potentially leaving few opportunities for high school seniors who hoped to attend one of these institutions.
And because both colleges have specialized missions that are not standard in higher education, students who were attracted to those institutions can't just apply elsewhere and hope to come close to the experience of a Green Mountain or a Hampshire. (Green Mountain has an environmental focus, while Hampshire focuses on student-directed learning, outside of traditional majors.)
Within hours of the Hampshire announcement, Bennington College announced that, "in support of Hampshire and the students who applied," it was extending its application deadline to March 1, so Hampshire applicants could seek to come to Bennington. (Bennington, while not identical to Hampshire, has long stressed the role of students in designing their own education.)
Tony Cabasco, vice president for enrollment at Bennington, said, "Hampshire is one of our big overlap schools. Pedagogically, we're different places, but we share the self-defined major." He said that the college has already been hearing from some applicants to Hampshire.
Cabasco said that he could see a modest increase in class size and yield due to Hampshire not admitting a full freshman class. But Cabasco noted that applications have been strong in the last year at Bennington and the college is small, admitting a new class of 200 to 215 students. So it is unlikely that the college could absorb all the students who might have in the past gone to Hampshire.
Gariot P. Louima, dean of admissions and external relations at Antioch College, also known for an individualized approach to education, said that Antioch has already been receiving inquiries from some who had applied to Hampshire. "We're a small, progressive academic community," he said, so he's not surprised by the inquiries.
Antioch accepts applications up until May, so there is still time to apply.
At the same time, Antioch is quite small (enrollment is 217, while Hampshire has been 1,300) so Louima said that potential students need to talk about the differences and their comfort level with such a small institution. Antioch is known for its co-op program, however, in which students regularly have jobs in locations all over the country, so he said he stresses that students' networks are broader than those enrolled with them.
Many small private colleges in New England are very anxious to increase their enrollments. One small institution that could attract students from both Green Mountain and Hampshire has plans to help such students but is not looking to grow.
Sterling College in Vermont shares an environmental emphasis with Green Mountain. And many Sterling students design their own educational programs, as do those at Hampshire, although at Sterling these programs must relate to the college's environmental expertise. Tim Patterson, dean of admission and financial aid at Sterling, said that one of the college's top overlap colleges for applicants has been Hampshire.
"Students interested in progressive education with real emphasis on student self-direction would be looking at Sterling," he said.
Patterson said that Sterling was committed to treating students who had previously wanted to enroll at either Green Mountain or Hampshire with "the utmost respect and compassion." Sterling's application deadline is Feb. 15, so they still have time to apply.
But Patterson added that Sterling was committed to its current size, in which it enrolls about 45 new students (a mix of first-time freshmen and transfers) every fall. (Sterling is about to start a farming program for juniors and seniors, located in Kentucky, and the initial plan is to enroll 12 students there, primarily students from Kentucky who want to go into farming.)
The admissions process is very personalized at Sterling, Patterson said. Standardized tests aren't required, but a personal interview is, and the latter is important.
As a result, he said that the interviews are particularly important in planning for yield for a given year (which in recent years has ranged from 32 percent to 50 percent). And he will continue to rely on those interviews, even with the potential for a shift because some applicants have lost Green Mountain and Hampshire as options.
"Because of our scale, we can take a really personal approach. So rather than changing an algorithm, I can really work with students so we can build those relationships," he said.
Early Decision at Hampshire
The only students that Hampshire said it would enroll this fall include 41 who were admitted early decision and another 36 who deferred enrollment a year ago. But Hampshire has released early-decision applicants from their pledge to enroll if admitted, so it is unclear how many will enroll. A typical class of new students at Hampshire in recent years has been about 300.
It may be difficult for Hampshire to hold on to the early-decision admits, even if they are committed personally to the college and its approach to education. One parent of such a student wrote on Facebook that the letter from Hampshire said it "only guaranteed enrollment for one semester, fall 2019. No parent in their right mind could support that."
A spokesman for the college said that officials hoped to provide a full education to such students. But he confirmed that the college was telling early-decision admits that only one semester was assured. "In the spirit of consumer protection expected by the state and our accreditors, the college felt it had to account to accepted students and their families that they'll be enrolling to Hampshire facing some uncertainty and that their Hampshire experience will be fluid and changing, so yes we provided them that as a possible scenario," he said via email.