A Call for Policy Changes to Improve Access
Catharine Bond Hill, a leading economist of higher education, says policy changes -- by the government and colleges -- could make a difference. She urges many colleges to grow in size to admit more students.
PHILADELPHIA -- Colleges that have the resources to do so -- in particular elite private colleges -- should seriously consider growing in size so they can educate more students.
That was one of several policy recommendations -- some for colleges and some for the government -- delivered by Catharine Bond Hill Sunday evening at the annual meeting of the American Council on Education here. Hill is managing director of Ithaka S+R, a research and consulting group focused on higher education. She is also an economist whose research has focused significantly higher education, and is the former president of Vassar College. Her comments came in the Robert H. Atwell Lecture, generally considered a key part of the annual ACE gathering of higher education leaders.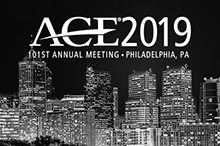 Hill acknowledged that increasing class size -- which some institutions have done or are doing -- may run counter to the way some college leaders view their jobs or their institutions' economic strategies.
"I know all the arguments against this and have made them myself over the years, and they are convincing for any one institution," Hill said, in her prepared remarks. "I've written the memos that make the case that growing reduces endowment per student and reduces the ability to compete with other institutions on quality. But these arguments are based in institutional objectives, and not necessarily the overall public good. Growing would be a way of reallocating resources across students, if not across institutions. Let more students benefit from the resources of the wealthiest schools -- not just their endowments and their physical assets, but their academic programs and alumni networks."
If these colleges grew, "it would make the competition for seats at the selective schools less of a zero-sum game, which is a source of some of the current hostility" toward higher education that Hill mentioned in her speech, she said.
And Hill noted that, in previous periods of time, elite colleges did grow, many of them at roughly the same time. "When many institutions went coeducational in the 1970s, they grew to avoid the pushback from alums on reducing seats for their traditional pool of students, whether men or women," Hill said.
Hill also offered other policy changes that would improve the access of disadvantaged students to higher education. She focused on areas where a strict market analysis might not yield the best outcomes:
Adjust antitrust laws so that colleges could agree not to compete in certain areas (such as providing non-need-based scholarships) and to instead allocate more funds to need-based aid. "In search of excellent students, and those who can contribute to relaxing the budget constraint because they can afford to pay something, schools moved toward awarding merit aid to attract a class that met these objectives. (An entire industry arose to help schools do this!)" Hill said. "This benefits a set of students who receive the merit aid, but hurts the overall system, as resources are transferred to those who could afford to pay, in many cases (although not all). If one school offers merit aid, they can attract these students. If the school's closest competitor does the same, the allocation of students may end up the same, but these particular often well-to-do students pay less and the schools have fewer resources for their educational missions. Is society better off?"
Recruit and provide full scholarships to many more veterans. "Currently, veterans are overrepresented at the for-profits and underrepresented at colleges and universities with higher graduation rates," Hill said. "After World War II, institutions stepped up and opened their doors … We should do the same now, but we aren't. Why not? Because we don't need to. The colleges and universities with the higher graduation rates and the most resources have plenty of applicants, and those are very talented and many can pay the full tuition … So, why risk admitting veterans? Because it would be the right thing to do, and we owe it to them in return for their service and in return for allowing so many other young men and women to go directly to college … It would also have the added benefit of bringing to campus a diverse group of talented young men and women with very different life experiences, which would add to the education of all students. And, it would help counter the narrative of the better-resourced schools as elitist and excessively liberal."
Restore regulation of the for-profit sector. "Better regulation of the for-profits is clearly needed," Hill said. "Here is an example of significant government and regulatory failure. Regulation has aided rather than constrained the market failures affecting the for-profit sector. The Department of Education's deregulation campaign is a perfect example of failed public policy. It has aided and abetted the predatory behavior of many of the for-profits, again many, not all, and our veterans are a major casualty of these policy failures."
You may also be interested in...
Today's News from Inside Higher Ed
Inside Higher Ed's Quick Takes