You have /5 articles left.
Sign up for a free account or log in.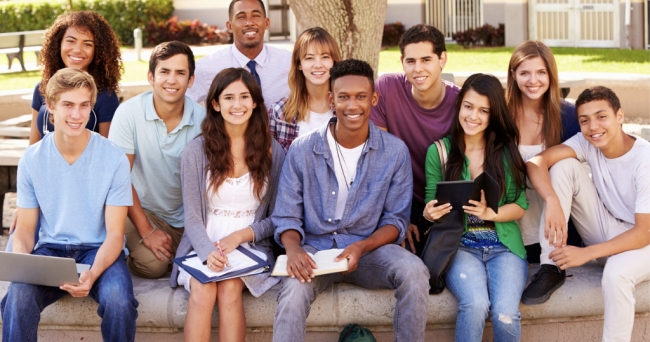 LOS ANGELES -- Remember how at one point it was kind of cool when a guide on a college tour walked backward? That day is gone, said four counselors last week at a session at the annual meeting of the American Association of Collegiate Registrars and Admissions Officers. The problem is that everyone does it, so it doesn't stand out to any student (or parent) anymore, at least after visiting a second college with such guides.
The counselors were gathered to provide insights into what high school students (in this case from California high schools with high college-going rates) want when they are interacting with college admissions officers. The counselors acknowledged that students are fickle.
"Our business is designed around the predictability of 18-year-olds," said Jeff Morrow of Oaks Christian School, who added that 18-year-olds are anything but predictable. But that said, they shared what they are hearing about student reactions.
While students are over being impressed by guides walking backward, they pay a lot of attention to the guides themselves, and college officials were urged to pay close attention to the quality of tours. Several counselors said that when they are being debriefed by students about their college trips, students will reference the name of the guide before the name of the college -- and connecting with that person seems to be something high school students expect. This may be unfair to colleges, but institutions need to know that they are being judged by their tour guides, the counselors said.
Students want the information they receive to be customized and not just a general pitch, the counselors said. They criticized those colleges that send out representatives to high schools who just give the same talk over and over again.
"Sometimes the college just dives in to the general spiel" without customizing by asking students what they want to know about, said Casey Rowley, a counselor at Beverly Hills High School.
Colleges that are prestigious "assume that students will know things that they don't know," said Rebecca Heller of the Viewpoint School. While students may know that a given college is prestigious, they may not know much more, she said.
Morrow said that college recruiters frequently fail to meet the needs of all of the students who come to their visits. Morrow's school opens these visits to sophomores, juniors and seniors -- who are at very different stages of their college searches, and college representatives don't seem aware of this all the time, he said. The sophomores "don't always know what to ask," so a college rep needs to provide some structure.
While the counselors were critical of some of the visits their high schools receive, they all said that they see better interactions in these small group meetings than at college fairs, where applicants and college reps are engaged in something that resembles speed dating.
"Everyone ends up looking the same. The brochures are all the same," said Evelyn Alexander of Magellan College Counseling.
Several questions from the audience (primarily made up of college admissions officials) indicated that they agreed that there was relatively little value in many college fairs. But they said that they feel obliged to be there, especially if colleges with which they compete for students will be present.
Going After Californians
While some of what the counselors said would apply to students nationwide, they also spoke about their home state, which by virtue of its large population is producing more high school graduates each year than is any other. There are great opportunities for colleges outside the state to recruit Californians, they said, but also challenges.
For many years now, it has been as difficult to get into the University of California's Berkeley and Los Angeles campuses as to get into an Ivy. But in the last few years, the rest of the UC campuses and some California State University System campuses have become much more competitive in admissions. The counselors all reported that while some families are aware of this, others are not -- and are reluctant to change their college search strategies despite the evidence that no UC can be considered a safety school.
"I think it is my purpose in life to convince California families that there are more than 32 colleges and universities," said Alexander, referring to the number of UC and CSU campuses. She said that it is "a huge challenge to convince a California tax-paying family" that their child may have better options out of state. The California parent assume that the in-state public institutions "are cheaper," she said, but there is an opportunity for out-of-state colleges to show that non-need-based aid, combined with the assured ability to finish a bachelor's degree in four years, could make their colleges comparable in actual price to California institutions.
Morrow said that he is regularly telling parents that "it is so tough to get into UCLA and UC San Diego," so they need to consider alternatives.
It's true, he said, that students with the academic preparation level that once would have assured admission to a UC can't assume that anymore. And that's frustrating to families. But he said he needs to explain to families over and over again that they should be frustrated with the state for not keeping capacity levels higher at the UC and Cal State systems, but that they shouldn't pretend that their children are assured spots that no longer exist.
Alexander said that she has students with 4.2 high school grade point averages who are turned down by top University of California campuses, and who will avoid considering outstanding non-California institutions in favor of California public institutions of lesser quality than those options.
"This is a tragedy for me," she said.
Rowley said that many of her students who make it to Berkeley and UCLA do so via a community college. Both of those campuses and the rest of the UC system have been admitting more transfer students. She said real routes exist to those universities via transfer, and that counselors need to get students "thinking about this option early on," not just when rejected for freshman admissions.