14 Agree to Plead Guilty in Admissions Scandal
One coach and 13 parents reach deals over legal charges. Others face new charges. New details emerge on test fraud after another guilty plea.
(Pat Greenhouse/The Boston Globe via Getty Images)
Thirteen parents and one coach who faced charges in the admissions bribery scandal have agreed to plead guilty, federal prosecutors announced last week.
The parents are all wealthy individuals who paid anywhere from $15,000 to $600,000 to participate in various parts of the admissions scheme, which in some cases involved falsely claiming that their children were athletes so their applications would be endorsed by coaches. In other cases, the scheme involved various forms of cheating on the SAT and ACT. In those cases, parents had their children falsely designated as having learning disabilities, and then had them take the exams in settings where proctors had allegedly been bribed to allow various forms of cheating.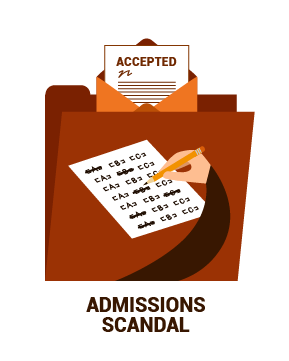 Prosecutors also announced that one coach -- Michael Center, the former head coach of men's tennis at the University of Texas at Austin -- had agreed to plead guilty to one count of conspiracy to commit mail fraud and honest services mail fraud. In 2015, Center accepted $60,000 from William Singer, the ringleader of the scheme, and $40,000 for the Texas tennis program, "in exchange for designating the child of one of Singer's clients as a tennis recruit, thereby facilitating his admission to the University of Texas," according to the prosecutors.
Those agreeing to plead guilty include one of the most famous of the accused parents -- Felicity Huffman, the actress -- who admitted that she paid Singer $15,000 to participate in the college entrance exam part of the fraud, on behalf of her oldest daughter. Huffman's eventual sentence is not clear, but the size of the bribe she paid is small compared to some of her co-defendants. Huffman's plea agreement notes that the maximum penalty could be 20 years in prison, but also states that prosecutors will seek "the low end" under sentencing guidelines.
Huffman released a statement in which she accepted responsibility for her acts and stressed that her daughter was not aware of the scheme.
"I am pleading guilty to the charge brought against me by the United States attorney's office. I am in full acceptance of my guilt, and with deep regret and shame over what I have done, I accept full responsibility for my actions and will accept the consequences that stem from those actions," Huffman said.
She added, "I am ashamed of the pain I have caused my daughter, my family, my friends, my colleagues and the educational community. I want to apologize to them and, especially, I want to apologize to the students who work hard every day to get into college, and to their parents who make tremendous sacrifices to support their children and do so honestly. My daughter knew absolutely nothing about my actions, and in my misguided and profoundly wrong way, I have betrayed her. This transgression toward her and the public I will carry for the rest of my life. My desire to help my daughter is no excuse to break the law or engage in dishonesty."
The largest bribe detailed in Monday's announcement was $600,000.
As detailed by prosecutors: "Bruce Isackson, 61, and Davina Isackson, 55, of Hillsborough, Calif., were charged in a separate information and have both agreed to plead guilty to one count of conspiracy to commit mail fraud and honest services mail fraud. Bruce Isackson will also plead guilty to one count of money laundering conspiracy and one count of conspiracy to defraud the [Internal Revenue Service]. The Isacksons agreed to pay Singer an amount, ultimately totaling $600,000, to participate in the college entrance exam cheating scheme for their younger daughter and the college recruitment scheme for both of their daughters. The Isacksons also underpaid their federal income taxes by deducting the bribe payments as purported charitable contributions. The Isacksons are cooperating with the government's investigation."
Davina Isackson's lawyer released a statement (on behalf of the couple) to the Los Angeles Times that said, "No words can express how profoundly sorry we are for what we have done. Our duty as parents was to set a good example for our children, and instead we have harmed and embarrassed them by our misguided decisions. We have worked cooperatively with the prosecutors and will continue to do so as we take full responsibility for our bad judgment."
The scandal broke last month with indictments of 50 people -- most of them parents, but also coaches and others involved in the scheme. The investigation was dubbed "Operation Varsity Blues" by the Federal Bureau of Investigation.
The scheme involved applicants to Stanford and Yale Universities, two institutions that are hypercompetitive in admissions. The greatest number of applicants involved in the scheme were seeking to enroll at the University of Southern California. Stanford and Yale have each revoked the admission of one student.
New Charges, New Details
The day after the announcement about the 14 agreements to plead guilty, prosecutors announced new charges -- including money laundering -- against 16 parents who were not part of the previous day's announcement. Details are available here.
Then on Friday, Mark Riddell pleaded guilty to one count of conspiracy to commit mail fraud and honest services mail fraud and one count of conspiracy to commit money laundering, federal authorities announced. The charges relate to his helping some of those accused in the admissions scandal earn high scores on the SAT or ACT.
The Justice Department released a summary of what Riddell has admitted to doing, alongside William Singer, who organized the scheme:
"In many cases, Singer facilitated the cheating by counseling his clients to seek extended time on the exams, including by having their children purport to have learning disabilities in order to obtain the required medical documentation. Once the extended time was granted, Singer instructed the clients to change the location of the exams to one of two test centers: a public high school in Houston, Texas, or a private college preparatory school in West Hollywood, Calif. Singer had established relationships at those locations with test administrators Niki Williams and Igor Dvorskiy, who allegedly accepted bribes of as much as $10,000 per test in order to facilitate the cheating scheme. Specifically, Williams and Dvorskiy allowed Riddell to take the exams in place of the students, to give the students the correct answers during the exams, or to correct the students' answers after they completed the exams. Singer typically paid Riddell $10,000 for each test. Singer's clients paid him between $15,000 and $75,000 per test … In many instances, the students taking the exams were unaware that their parents had arranged for the cheating."
You may also be interested in...
Today's News from Inside Higher Ed
Inside Higher Ed's Quick Takes