The Real Odds of Getting In
New analysis shows just how false are the reports that it's impossible to get into college.
It's that time of year. "It was even harder to get into Harvard this year: Acceptance rate drops below 4.5 percent," warned The Boston Globe. Doing a roundup including other Ivies, The Wall Street Journal's headline was "Many Top Colleges Report Record-Low Acceptance Rates."
Such headlines are no surprise. Most top colleges reported last year that their application totals were up. And most of those colleges didn't increase their class sizes or have any reason to assume that their yields would be lower. So it has been known for some time that their admit rates would fall.
But those highly competitive colleges do not represent most colleges. Each year, the annual survey on the state of college admissions by the National Association for College Admission Counseling documents that most four-year colleges admit most applicants (and this is also true for community colleges). But college acceptance season leads to many stories (based on a small subset of colleges) suggesting otherwise. This frustrates many involved in college admissions, who fear that these stories scare would-be students. And many articles about the admissions scandal have suggested that fear of rejection was a motivation of some of the parents involved.
This year, there is a new analysis to demonstrate the disconnect between admit rates at Ivies and the institutions that most students actually attend.
The Pew Research Center released an analysis, using U.S. Department of Education data, showing that just as NACAC has reported, most colleges admit most applicants.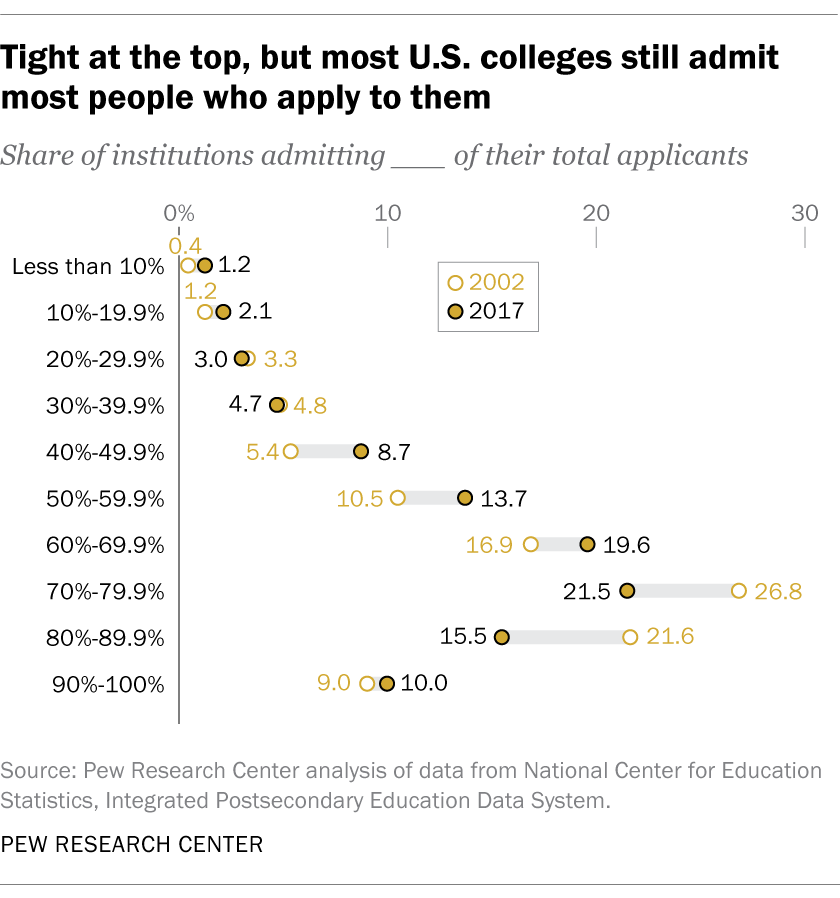 Of the 1,364 four-year colleges and universities whose data Pew examined, only 17 admitted fewer than 10 percent of applicants. While the data (at right) show college admissions becoming more competitive, particularly at the most elite institutions, it's still the case that most colleges aren't competitive. Fewer than 20 percent of colleges admitted less than half of their applicants.
The Pew analysis also noted that well-known colleges are among those admitting a majority of applicants.
"More than half of the schools in our sample (53.3 percent) admitted two-thirds or more of their applicants in 2017, including such well-known names as St. John's University in New York (67.7 percent), Virginia Tech (70.1 percent), Quinnipiac University (73.9 percent), the University of Missouri at Columbia (78.1 percent) and George Mason University (81.3 percent)," the analysis said.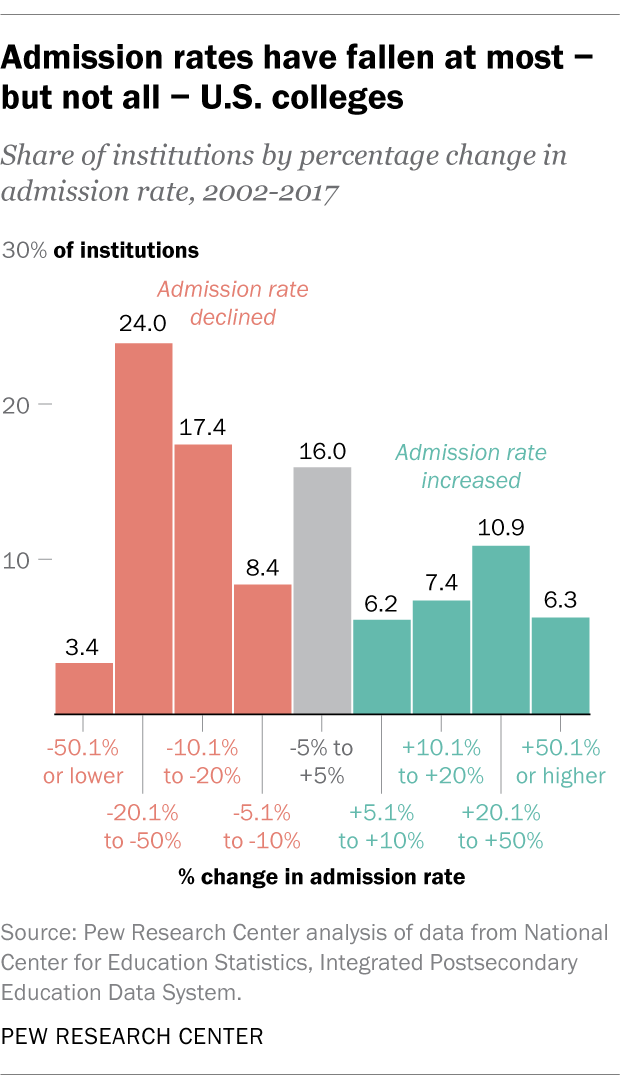 This is true even though admit rates across the board are falling somewhat, the analysis says. The key fact there, however, is that more applicants are applying to more colleges. That's a different story from colleges raising their admissions standards (although some are doing that as well).
The increase in applications can create challenges for colleges in predicting yields.
Some admissions leaders have blamed the Common Application for these increases, based on the theory that the ease with which students can add on colleges (assuming that they don't have supplemental essay questions) encourages many to apply to colleges about which they may not be serious. (Of course, many of these same admissions officials have pushed their institutions to join the Common App so that they might attract more applicants.)
But Pew's analysis suggests that Common App shouldn't be blamed for application increases. Pew compared application increases within its sample at the 729 colleges that are members of the Common App and at the 635 colleges that are not. Pew found "almost no difference" in the application gains between the two groups.
You may also be interested in...
Today's News from Inside Higher Ed
Inside Higher Ed's Quick Takes