More Admissions of Guilt and More Details in Admissions Scandal
Three more plead guilty; a mystery about a big-spending family becomes public; Southern Cal tightens rules on admission of athletes. Plus: Slippery Rock stands up to Dr. Phil.
Scott Eisen / Getty Images
The last week saw numerous developments in the admissions scandal that provided a fuller picture of the bribery schemes -- and of how one university is responding.
Pleading Guilty
Three people -- two of them coaches -- pleaded guilty to various charges.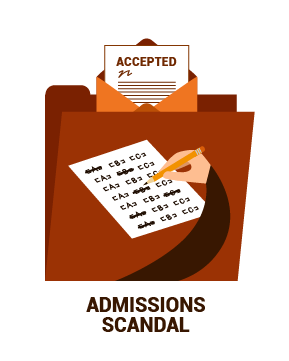 Michael Center, the former men's tennis coach at the University of Texas at Austin, pleaded guilty to one count of conspiracy to commit mail fraud and honest services mail fraud. Center was accused of being bribed to help a student from California -- who was not a tennis player -- get into Texas by pretending to be a tennis player. The applicant was not only admitted but was awarded a scholarship to cover book costs. Center received about $60,000 in cash, prosecutors said.
Also pleading guilty last week were Laura Janke, former assistant women's soccer coach at the University of Southern California, and Toby MacFarlane, formerly an insurance company executive. They were charged in connection with a conspiracy by Rick Singer (the ringleader in the scandal, who has already admitted guilt).
A summary from the Justice Department of the involvement of Janke and MacFarlane said in part:
"MacFarlane paid $450,000 to facilitate the admission of his children to USC as purported athletic recruits. Specifically, on Oct. 3, 2013, Singer emailed MacFarlane's daughter's high school transcript and college exam scores to Janke and another defendant. Soon after, Singer caused a purported charitable organization he established, the Key Worldwide Foundation (KWF), to wire $50,000 to a private soccer club controlled by Janke and the other defendant. Using materials provided by MacFarlane and Singer, Janke then created a falsified soccer profile for MacFarlane's daughter, falsely describing her as a 'U.S. Club Soccer All American' in high school. MacFarlane's daughter was presented to the USC subcommittee for athletic admissions as a purported soccer recruit, and was accepted to USC in March 2014. On May 2, 2014, MacFarlane issued a $200,000 check to the Edge College & Career Network LLC ('The Key') -- Singer's for-profit college counseling and preparation business -- with 'Real Estate Consulting & Analysis' written in the memo line. On May 12, 2014, Singer issued a $100,000 payment to the private soccer club which Janke partly controlled."
The Mystery Family
The indictments in the case have revealed that some families are alleged to have paid more than $1 million each to get their children into top colleges. But until last week little information was available on who those families were. The details in the indictments were about people who had paid from $15,000 to several hundred thousand dollars.
But The Wall Street Journal has now identified a family that paid $1.2 million to secure the admission of Sherry Guo to Yale University. Her lawyer said that Guo was from China and went to high school in California, and that her parents paid for Singer's services, which included having her designated (inaccurately) as a recruited athlete. Many wealthy Chinese families send their children to high school in the United States, hoping to improve their sons' and daughters' odds of admission to top colleges.
Her lawyer defended Guo to the Journal, saying that as someone from outside the United States, she didn't know as much about college admissions as someone who grew up in the U.S.
She was "so unfamiliar with how people apply to schools in the U.S.," he said. "Rick Singer's instructions to her didn't seem as out of place as they would to a student who grew up in the United States and has more of an expectation of free choice."
The lawyer confirmed that Guo is no longer at Yale.
Last month Yale announced that it had revoked the admission of someone involved in the admissions scandal.
New Procedures at USC
The University of Southern California had more cases of bribery and admissions fraud than did any other college.
A vulnerability of USC and other colleges appears to relate to the significant advantage that recruited athletes have in admissions -- even at colleges such as Yale that are highly competitive in admissions. In football and basketball, recruits are tracked with great diligence, but the scandal typically involved people bribing their way onto coaches' lists in sports such as tennis and crew. It appears that these lists assured admission but didn't receive much scrutiny.
Wanda M. Austin, USC's interim president, last week announced a series of steps to prevent such fraud. Going forward:
Applicants who apply as athletes will have their files "reviewed on three levels -- by the head coach, the senior sports administrator overseeing the team and the USC Office of Athletics Compliance -- before being sent to the admissions staff."
The head coach of each team involved "will certify in writing that the student is being recruited for athletic abilities."
Team rosters "will be audited at the beginning and end of every academic year and cross-checked with admissions lists."
"Ensuring the integrity of our admissions process remains a top priority of university leadership," Austin wrote. "I appreciate the patience of our community as we continue to work toward making our university stronger."
Slippery Rock Stands Up to Dr. Phil
Meanwhile, Slippery Rock University has found itself insulted by an interview that Dr. Phil McGraw gave to People Now, the video show affiliated with the magazine.
Explaining the motivation of the parents facing bribery charges, he said, "They're not buying their kids an education. That's not what it's about, it has nothing to do with the education. I think this is jewelry for a lot of people. The kids are leaving high school. They don't want to say, 'My kid's going to the junior college.' They want to say, 'My kid's going to Harvard; my kid's going to USC or Yale.' I think it's bragging rights for them and they don't want to be the one parent that says, 'Well, yeah, my kid's going to, like, Slippery Rock.'"
William Behre, president of Slippery Rock, responded with an open letter to Dr. Phil on Facebook. He started by reminding Dr. Phil that he earned degrees at regional state universities, in his case Midwestern State College and the University of North Texas. At institutions like those, and like Slippery Rock, he wrote, "students whose parents work to pay their mortgage will find quality institutions that open doors to the American dream."
Dr. Phil is known for his love of (and ability to purchase) classic cars. Behre added that "for less than the price tag of your lovely '57 Chevy Bel Air Convertible, Slippery Rock University students can secure an education that will change the trajectory of their lives. Our graduates have gone on to run Fortune 500 companies, perform life-saving surgery and help protect America as four-star generals."