You have /5 articles left.
Sign up for a free account or log in.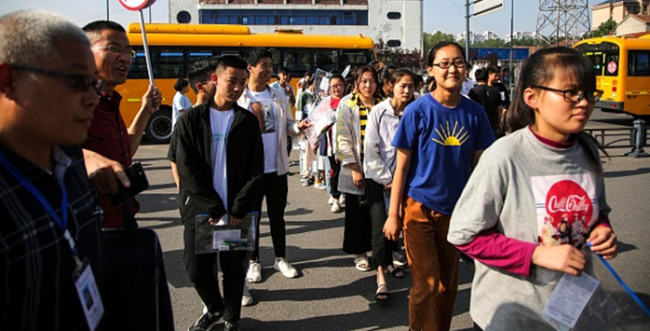 Three more American universities will accept gaokao scores for admissions purposes, joining a small but growing number of U.S. institutions willing to consider scores from China's notoriously grueling college entrance examination in lieu of the standardized tests international students must normally take to be admitted to an American college.
It's not surprising that more institutions are experimenting with a different pathway for Chinese applicants, given the heavy reliance of American colleges on the enrollment of tuition-paying Chinese students. But the experience of other colleges that have tried this suggest that demand for such a pathway may be limited.
A Beijing-based company, InitialView, which works with admissions offices to offer videotaped interviews of international applicants, announced last week that the Universities of Oregon and Tulsa and the Rochester Institute of Technology will all accept gaokao scores combined with an InitialView-conducted interview and writing sample for purposes of offering admission this fall. Students pay a $50 fee that allows them to apply to all three colleges. No additional standardized tests -- TOEFL, IELTS or the SAT -- are required.
"One aspect about this that we hope will appeal to students is the fact that they don't have to spend a year studying for other standardized tests," said Terry Crawford, the CEO and co-founder of InitialView. "What typically happens is a student takes a gaokao and they're not pleased with their results and they decide to go abroad. They'll typically take a year to study for the U.S. admissions process."
"Now they have an option to test the waters for going to a prominent school in the U.S. because a decision can be made so quickly, because it really is just them filling in their gaokao scores, and our interview and writing sample takes an hour. They can get a sense if that's an option for them."
The gaokao is administered in June. The InitialView pathway lets students use their scores from this June to apply for admission at the three partner universities for this fall.
Both Oregon and RIT declined requests for interviews about the new admissions pathway. Information on Oregon's website about the partnership with InitialView states that "students who do well on gaokao English section combined with the interview/writing sample may be offered full admission." RIT's website states that to apply "students only need to provide their gaokao score and then schedule an interview," though it notes as well that the university "reserves the right to request further documentation from applicants as needed."
The gaokao includes a written English component, but the decision by the three universities to require an interview and writing sample in lieu of a standardized English proficiency test that would test speaking, writing, reading and listening abilities is notable.
"We're going to work with our faculty in our intensive English program and get help in looking at the writing samples and the interview," said Steve Lanier, the director of international undergraduate admissions at the University of Tulsa. "We feel confident with the millions of students that take the gaokao that if we're choosing the top tier, we'll find some strong students."
Lanier said he doesn't expect large numbers of students to gain admission through the gaokao/InitialView pathway. "We'd be happy with just a very small handful," he said. "I really don't think we'll get more than five or six students."
An estimated 10 million Chinese students took the gaokao this June, but it's not clear how big a group of those students would be prime candidates for this program (that said, a tiny percentage of 10 million can still be an awfully big number). The program targets a select group of students who had planned and prepared to go to a Chinese university but who have both the English ability and the financial means to quickly shift their sights toward the U.S. in the event their gaokao score isn't good enough to get them into the Chinese university of their choice.
Unlike their peers who study in international program tracks at Chinese high schools, students in the gaokao track generally wouldn't have been studying in an English-language environment or have spent years preparing both academically and emotionally for getting a degree abroad.
The University of San Francisco began admitting students using gaokao scores in 2015. Michael Beseda, San Francisco's vice provost for strategic enrollment management, said the university enrolled 20 students using gaokao scores the first year, about 15 the second and zero the third. Last year it enrolled three.
While the numbers have diminished, Beseda said the students who have enrolled at USF using the gaokao option have been retained and graduated at the same or higher rates as other international students. As in the case of the three universities working with InitialView, USF doesn't require a standardized English proficiency test for gaokao applicants, but it does require a video interview (done in-house, via Zoom) and a writing sample, both of which are judged by English faculty. Students are admitted based on their gaokao, high school record and the interview and writing sample.
"We're continuing to offer it," Beseda said of the gaokao pathway. "But I think the jury is out on whether or not the Chinese market is embracing the gaokao admission option. It takes some time for a student to build affinity with an institution -- or, in this case with the idea of going abroad to the United States to go to college. Students who are taking the gaokao are taking the gaokao to go to Chinese universities. So introducing in July or late June the idea that, hey, maybe I'm not going to go to a Chinese university, I'm going to go to an American university, and acting on that in a relatively short period of time -- it's a major change in their plan. You don't have the typical recruitment process or admissions process where a student deliberates, applies, learns more, gets admitted, visits."
The University of New Hampshire started accepting gaokao scores for admission for the first time in 2018. Robert McGann, the director of admissions and interim vice president for enrollment, said fewer than 10 students applied using the new gaokao pathway last year, and while some of those applicants were admitted, none enrolled. He is hoping for five to 10 students to be admitted using gaokao scores this year.
Unlike the other institutions featured in this article, UNH requires a minimum score on a separate standardized English test alongside the gaokao scores, but it is willing to consider scores from the 45-minute online Duolingo test in addition to scores on the TOEFL and IELTS. Students who earn a minimum score on the English test and who score in the top 25 percent of gaokao test takers in their province proceed to a Skype interview, with a writing component, which is conducted by a UNH faculty member; according to UNH's website, "proper review of tests, interviews and transcripts by the UNH Office of Admission will determine each applicant's ultimate admission decision."
"I think this is part of a broader shift in thinking that moves away from the approach that we need to have an American-centric approach in admissions, which doesn't fully acknowledge that there are bright kids everywhere -- every continent, every country, every system of education," McGann said. "In order to internationalize your campus, you have to meet students where they are."
"As a parent in China with kids who are in the local elementary and middle schools, I feel like we owe it to the hard-suffering student in China (and their parents) to offer them options that work for their situation, particularly given the level of investment that they are willing to make in U.S. higher ed," Gloria Chyou Crawford, InitialView's chief operating officer and co-founder, said via email. "They spend years preparing for the gaokao, a test renown[ed] for its rigor and integrity (note that it is generally only offered once a year and that cheating is a criminal offense that would essentially prevent one from going to college). To frame it another way, why would U.S. higher ed continue to emphasize materials that are widely known to be less consistent and even susceptible to rampant fraud when materials that are broadly respected within Chinese society already exist?"
Others viewed using the gaokao in admissions as being more problematic. Yong Zhao, the Foundation Distinguished Professor in the School of Education at the University of Kansas and author of Who's Afraid of the Big Bad Dragon? Why China Has the Best (and Worst) Education System in the World (Jossey-Bass, 2014), said the only justification he can see for U.S. universities accepting gaokao scores is from an access perspective: as it stands, Chinese students typically have to travel off the mainland to take the major standardized tests typically required for U.S. admissions. Expanding access to students who might otherwise have to travel long distances to take standardized American admission tests is a good thing, Zhao thinks, but otherwise he thinks the decision by U.S. universities to accept gaokao scores is not justifiable from an educational perspective.
"U.S. universities brand themselves to offer a different kind of education but now in accepting gaokao, you're assuming continuity of the system," Zhao said.
Zhao said that much of what the gaokao tests is how well students are prepared to take the specific test. He also raised the question of fairness and the ethical implications of different standards for applicants for different countries. "Japan has a national test. How do they deal with that?" he asked. "Are you going to create differential tests for different ethnic groups?"
"I understand the attraction to at least experiment with gaokao scores as an admissions metric, and respect the schools that are giving that a go," said Eddie West, the executive director of international programs at the University of California, Berkeley, Extension. "But at the risk of waxing ideological, my feeling is that if anything admissions officials should be de-emphasizing test scores, no matter the test, in the admissions process, given the many documented shortcomings of standardized testing."
West added, "I also have to point out a certain irony of U.S. schools, whose inherent appeal to many Chinese and other international students is the more holistic and qualitative -- vs. rote and quantitative -- way education and learning is often experienced here, going out of their way to invest the mother of all high-stakes standardized tests -- the gaokao -- with even more sway over Chinese students' lives than it already has."
On the other hand, Beseda, of USF, framed the move toward accepting gaokao scores as being very much in line with USF's recent decision to make the SAT and ACT optional for both domestic and international applicants. "USF just announced this year that we were going test optional in admission because all of our data showed that grades in secondary school and so on are much better predictor of success at USF," Beseda said. "The gaokao is not the SAT. It's more like the college admission test that you wish you really did have, that really is rooted in curriculum."
UNH also announced this spring that it would no longer require the SAT or ACT for undergraduate applicants. "Our thinking was, let's use a test that is nationally normed within that country, the gaokao, let's still rely heavily on the grades and courses taken in the high school career as a measure or predictor of success, and let's introduce our own process for measuring English language readiness," McGann said.
Many Australian universities also use gaokao scores in making admission decisions. Gerard A. Postiglione, an honorary professor and coordinator of the Consortium for Higher Education Research in Asia at the University of Hong Kong, said that top universities throughout Asia, including his own, use gaokao scores in admitting mainland Chinese applicants.
"Using the gaokao is fine, but weighting it heavier than other indicators could be a problem in a U.S. context, because the way universities operate in the U.S. is very different than the way they operate in China," Postiglione said. "The way teaching occurs, the way students interact, the way it's required for students to have a very different learning style than is expected of students at universities in the mainland -- that's a good reason why the gaokao should not be weighted too heavily."