You have /5 articles left.
Sign up for a free account or log in.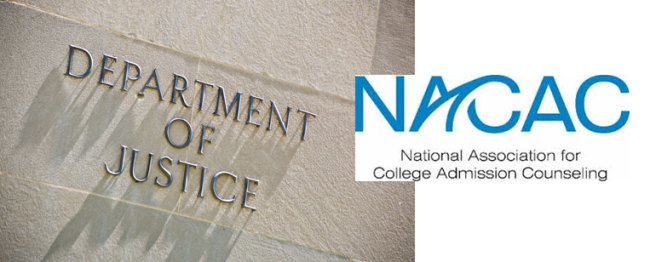 Colleges may soon face more competition for students if the National Association for College Admission Counseling agrees -- under pressure from the federal government -- to withdraw several rules from its code of conduct.
The association informed members of the proposed changes late last week. The changes are being proposed because the Justice Department, which has investigated NACAC for possible violations of antitrust laws, objects to them. While NACAC is not saying that it believes the provisions were wrong, it is saying that failure to approve the changes at the association's annual meeting this month in Louisville, Ky., could harm the association. The government appears to be asserting that the targeted rules -- which prohibit colleges from offering money and other incentives to students at various points in the admissions process, and discourage colleges' attempts to woo students who have committed to attend other institutions -- hurt students by limiting their choices.
"Approving these measures is in the best interest of NACAC and its members and an essential step to help bring closure to a two-year, ongoing investigation by the Antitrust Division of the U.S. Department of Justice. The department has indicated that it is likely to seek a 'consent decree' -- a formal agreement, approved by a federal judge, that would compel NACAC, under a court order, to delete three provisions from the [ethics code]," said the letter.
"The changes being proposed at the national conference are intended to advance a good-faith compromise with the department and to mitigate the potential impact of other actions the department might take. Failure to make these changes -- and prolonging the DOJ investigation -- would have serious negative consequences for NACAC's finances and ability to operate, including the possibility of extremely costly and time-consuming litigation and, potentially, even more burdensome requirements mandated by federal authorities."
While it is impossible to know if NACAC's members will approve the measures, the association's members have rarely rebuffed the association's leaders. Still, the changes could disrupt the way many colleges do business.
The changes would remove from the Code of Ethics and Professional Practice the following measures:
"Colleges must not offer incentives exclusive to students applying or admitted under an early decision application plan. Examples of incentives include the promise of special housing, enhanced financial aid packages, and special scholarships for early decision admits. Colleges may, however, disclose how admission rates for early decision differ from those for other admission plans."
"College choices should be informed, well-considered, and free from coercion. Students require a reasonable amount of time to identify their college choices; complete applications for admission, financial aid, and scholarships; and decide which offer of admission to accept. Once students have committed themselves to a college, other colleges must respect that choice and cease recruiting them."
"Colleges will not knowingly recruit or offer enrollment incentives to students who are already enrolled, registered, have declared their intent, or submitted contractual deposits to other institutions. May 1 is the point at which commitments to enroll become final, and colleges must respect that. The recognized exceptions are when students are admitted from a wait list, students initiate inquiries themselves, or cooperation is sought by institutions that provide transfer programs."
"Colleges must not solicit transfer applications from a previous year's applicant or prospect pool unless the students have themselves initiated a transfer inquiry or the college has verified prior to contacting the students that they are either enrolled at a college that allows transfer recruitment from other colleges or are not currently enrolled in a college."
A summary of the proposals gave NACAC's view of the Justice Department's objections to the provisions. In general, they deny colleges the right to compete for students by offering scholarships or other enticements to enroll. Of course, NACAC members have said that the provisions protect students.
On Twitter, NACAC posted a response by its CEO, Joyce Smith, to concerns about removing the provisions.
"The CEPP statements that DOJ has asked that we delete [are] about colleges being able to compete, not about students directly. That is the focus on antitrust law," Smith said. "After comprehensive review by legal counsel and cooperation with all that has been required of us by DOJ, we are expecting to receive a consent decree, a court order, outlining specific compliance and reporting requirements that will be monitored over time. Our options will be to accept the consent decree, without admitting guilt, and delete the language, found in their judgment, to violate antitrust laws or opt to face litigation and extensive legal expenses. After two years of cooperation with DOJ's requirements for investigation, this is what we are doing."
But whether NACAC members will agree remains to be seen. The vote will be taken at the meeting of NACAC's Assembly, an elected body.
Some fear that without the bans by NACAC, many colleges (low on prestige) would compete in ways that they can't now. Over time, more colleges could join them. While NACAC doesn't have an army to enforce rules, it does have the power of its reputation.
Jon Boeckenstedt, vice provost of enrollment management at Oregon State University, posted on Twitter a series of predictions on what would happen. "Is this bad? I don't know. Will it shake things up? Almost certainly. Enrollment people won't have any excuse to deflect aggressive business tactics that are suggested by trustees or other senior administrators, even if we find them distasteful," he said.
"But it will almost certainly result in better prices for students who are willing to ride the wave of competition. The downside, of course, is that the people with resources will be able to surf -- or hire surf consultants -- to help them get the edge up," he said. "Throw your enrollment projection models out. Or at least don't put as much faith in them as you might have otherwise. It's going to be a wild one, I think. This might be really good news for colleges down the food chain who are willing to be a low-price, high-volume dealer."
On his blog, Boeckenstedt predicted some results. "College deposit amounts will soar to increase the cost of walking away from a commitment. If you can't take it out on your competitors, you can make switching costs for consumers higher. For nonaided ED admits (and, really, is there any other kind?) colleges may require a full year's tuition as deposit," he wrote. And "Someone will establish a deposit clearinghouse to notify colleges when one of their deposited students has sent another deposit(s) elsewhere."
But Jens Larson, associate vice president for enrollment management at Eastern Washington University, tweeted, "You can control what you do (adapt). You can control the economic system (revolt). But controlling students is off the table."
Overlap Group
Many observers have asked how antitrust can even apply to NACAC. But antitrust has applied to nonprofit groups as well as businesses.
The Overlap Group was an organization of the Ivy League universities and the Massachusetts Institute of Technology that met (in the 1980s and prior) to decide on the aid awards that would be offered to students admitted to more than one institution. The universities maintained that the practice benefited students, but the Justice Department, in an investigation that started in 1989, and in a suit filed against MIT in 1991, disagreed. The Justice Department argued that the colleges were effectively fixing the price paid by students.
The Ivy institutions agreed to stop the practice, and MIT lost a federal court ruling in 1992. MIT won an appeal, but didn't pursue the case.
In the Overlap discussions, many colleges initially expressed shock that antitrust matters could affect them, but like the provisions in NACAC's code of ethics, they do, at least according to the Justice Department.