You have /5 articles left.
Sign up for a free account or log in.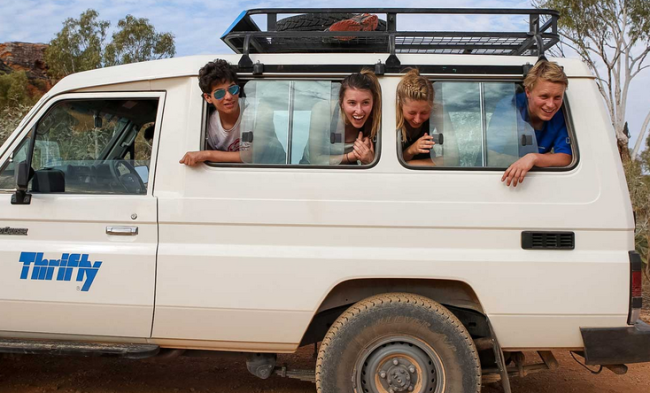 Gap years, long popular in Europe, took a while to gain traction across the pond. Hesitant parents and logistical barriers stood in the way.
After Malia Obama said in 2016 that she would take a year off before attending Harvard University, interest in gap years increased (as seen by the jump in Google searches).
Over recent years, more students have been deferring their college start by a year. And that might be a good thing.
The Gap Year Association, previously known as the American Gap Year Association, estimates that on average 30,000 to 40,000 students annually take a gap year. Since 2010, there has been a 294 percent increase in gap years taken.
Some universities and organizations host freshman study abroad programs and report that their students demonstrate better engagement and higher rates of retention.
Studies back these claims up: studying abroad is good for students academically and can lead to on-time graduation. Many advocate for students taking a gap year prior to starting college, as it encourages growth and maturity.
Universities like Harvard and others are even encouraging students to take a gap year in their admission letters.
The University of North Carolina at Chapel Hill and Bob Clagett (former dean of admissions at Middlebury College) conducted separate studies on grade point averages of students who took a gap year, and both found that they typically outperform their peers. When studies were replicated and students' wealth was controlled, similar results were found.
However, these gap years have historically been reserved for the wealthy and privileged who can afford to take a year off -- and who can potentially get their world traveling bankrolled by Mom and Dad.
Budding programs like Verto Education could offer an alternative route for those looking to pursue a college education, but after a gap year.
Verto, in its second year, has partnered with universities in the U.S. and abroad to offer college freshmen the opportunity to partake in a gap year while simultaneously receiving college credits. Once a student has been accepted into Verto, they are guaranteed admittance into one of Verto's 24 partner universities the following fall or spring.
Verto says that not only does this alleviate the pressure of concerned parents whose children want to travel the world after high school graduation, but also ensures that those students not yet ready to settle still graduate within four years.
CEO and co-founder Mitch Gordon says that programs like Verto are what "is needed in our culture right now."
"Graduation rates are a significant issue. We need some different models," Gordon said. "What we are really trying to do here is create a new model by addressing some of the issues in higher ed right now."
Gordon characterized the semester as a "great accelerant of growth," with programs including a non-credit-bearing life skills course every Friday that covers topics like budgeting, healthy relationships and interpersonal skills.
Many colleges include a pre-orientation experience prior to freshman year that incorporates service-based learning and personal growth, similar to what Verto describes. These however are typically on or nearby the campus. Additionally, some universities like Northeastern University and New York University's Liberal Studies offers freshmen the opportunity to spend their first semester or year abroad.
Gordon differentiates his program as more experimental and geared toward service-based learning than at traditional universities.
"We don't spend money on sports teams or research: all of our money goes into students and academics," Gordon noted.
"One of the things we are most proud of is our students get more faculty contact than any other students in the world," Gordon said. He cited the fact that faculty basically live with the students and are constantly traveling with them.
The Verto program stands out compared to other gap years because it is a freshman year. Core requirements for freshmen are taken, so students later enter college as second-semester freshmen in the spring or sophomores in the fall.
During the program, students can earn up to 16 credits a semester. Of the four courses offered per location, two are country specific and the other two are general education. These all-program required courses include a college writing and rhetoric class and an identity and politics class.
"[Gordon] had noted there were families interested in doing a gap year, but oftentimes parents were concerned that their children would not be earning credit at this time," said Robina Schepp, vice president of enrollment at one of Verto's partners, Pace University.
"We were interested because we knew that students who were interested in doing a gap year were looking for a nontraditional experience and looking to grow," Schepp said. "Those students still want the opportunity to earn some college credit."
To date 25 students have applied to Pace through Verto. Because those students were conditionally admitted to Pace, they will receive further advisement to make sure that all their Verto credits will be applicable to their major at Pace.
"In general it's a nationwide trend that students come to college with more credit either through AP or bridge programs with their local college or community colleges," Schepp said.
Students have the choice to either complete fall or spring semester or both, however, 60 percent only stay for the first semester and most students apply for fall rather than spring, as they want to keep the traditional college start time.
Students spend their mornings in the classroom and afternoons doing experimental and service-based programs. The course work is designed in part to raise emotional awareness.
Verto's 24 partner universities in return receive what Verto describes as more energized and engaged students. Some of the partner colleges noted that this was an opportunity for students who did not know a lot about their college to become more interested in applying. They categorized the partnership as one that could be mutually beneficial from a marketing and outreach standpoint.
Jim Rawlins, director of admissions at the University of Oregon (a Verto partner), said that the Verto experience fit into a much bigger picture for them, as it aligned with their mission and "just felt right."
"[Verto] pointed some students our way that may not have even considered us," Rawlins said.
Erin Jensen, an admissions counselor and advocate for gap years at Portland State University, said that one of the reasons PSU partnered with Verto was because of the exposure it would bring. Jensen said that experiences like these were so much more than just an education, due to the introspection and growth these programs bring: "It's a niche that really hasn't been explored yet in higher ed."
Gordon reiterated these sentiments about the potential for colleges to reach a wider variety of applicants: "Students they wouldn't have got in the first place and students they -- and everyone -- want to have on their campus."
"It's been one of my best relationships I've ever been around because of the care and concern [with which] Mitch set the program up," said Bobby Andrews, vice president of enrollment for DePauw University. Andrews went on to say that Verto did a good job of finding the right fit when matching students and schools.
Those partner programs located across the United States range from large public universities to smaller private liberal arts colleges. In addition to its U.S. partners, Verto partners with universities in Ireland, New Zealand, Australia and England.
High Point University, one of Verto's earliest partners, received its first cohort of students last January.
"It has been a wonderful thing for us," said Kerr Ramsay III, vice president for undergraduate admissions at High Point. He said students "arrived better prepared and better focused."
"Different students need different types of experiences," said Ramsay. "Our goal is to provide for students a wide variety of options."
"Credit transfer went incredibly smoothly and we were able to work with them from the beginning," Ramsay said, describing how HPU was in touch with Verto through the entire process. "The student transition went even better than expected."
"The schools that have stepped up and been early partners are schools that really embody innovation," Gordon said.
Gordon said that the main reasons high school counselors get excited about Verto, and why the program is growing so fast, is because of their impressive partner universities, affordability and how much they engage students.
Gordon said Verto plans on tracking alumni success over time, but it is "confident that students will graduate on time," as it is a key part of their mission.
The Wall Street Journal reported in 2010 that 90 percent of students who take a gap year return to college within a year.
"Half of our alumni go straight into college after a semester or year of traveling the world with Verto. The other half spend a semester interning in New Zealand, studying in Ireland or getting work experience in France," wrote Verto co-founder Mallory Meiser in a LinkedIn post from May.
However, regardless of a successful mission, will Verto be yet another program for upper-class students already set to succeed in college to enjoy an early semester abroad?
The opportunity for students to earn freshman year credits make this program more worthwhile and less of a luxury good.
According to their website, Verto offers around $105,000 worth of scholarships available to 25 eligible students. Verto semesters range in cost from $12,000 to $19,000, depending on program location and airfare.
Verto is working on recruitment at high schools for first-generation and minority students. Gordon said that those students have the opportunity to reach stronger universities through the dual-application process. Gordon stressed that at Verto they want to raise more scholarships for these students.
And he isn't the only one trying to bridge this gap. In addition to some universities encouraging deferrals for gap programs, others like Florida State University and University of North Carolina at Chapel Hill are providing students with financial assistance to take these gap years.
Other programs like the National Outdoor Leadership School (which also offers college credit and scholarships), Carpe Diem (a fellow partner with Portland State University), Rustic Pathways (one of Verto's partners, which offers no college credit) and others all offer structured gap year programs. The Gap Year Association provides resources for students looking to explore further gap year options, and some places even have gap fairs.
Erin Jensen from PSU described both Carpe Diem and Verto as tailored to high achievers wanting more of a challenge, and those students who found that the high school model didn't work for them. She said that students wanted to learn both critical thinking and soft skills. In her years of experience, she's rarely heard a negative or even neutral review of taking a gap year, saying students return feeling "energized and engaged."
"I think we all know what demographics do study abroad years. Rich white kids, to put it bluntly," said Jensen, who has been working to further initiatives that assist lower-income students with gap years.
"The interest of high school counselors has skyrocketed over the last few years," Jensen said. "There are plenty of colleges and universities who are looking to encourage gap years and make them more accessible for students who historically haven't been able to do them."
Carpe Diem's sister program, Carpe Mundi, provides a similar service to first-generation college students and Pell Grant recipients fresh out of high school. Carpe Mundi's program has more of an emphasis on mentorship and internship hours and is available to students in the greater Portland, Ore., metro area. Students would receive credit from Portland State University or Portland Community College.
Looking forward, Gordon wants his quickly expanding organization to grow even more. Already he's looking to add more opportunities for students not planning on majoring in liberal arts, including launching a STEM-compatible program next fall. Additionally, he's hoping to almost double the number of partner programs to reach 50 universities by the end of this year or early next year.
"I think we'd live in a better world if all students had access to a program like this," summarized Gordon.