You have /5 articles left.
Sign up for a free account or log in.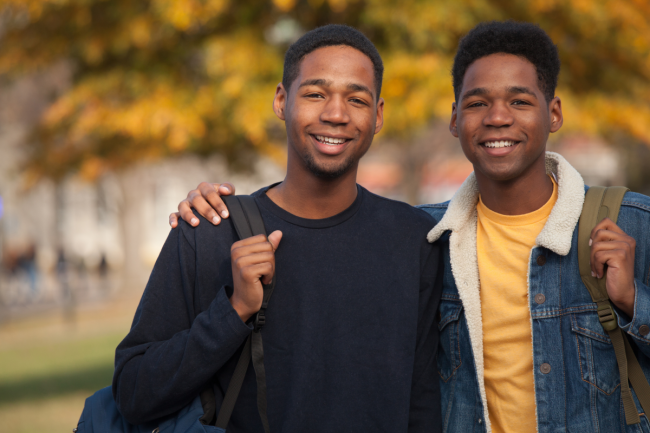 An older sibling going to college has an influence on younger siblings, according to a working paper released by the National Bureau of Economic Research.
"Older siblings' admissibility substantially increases their own four-year college enrollment rate and quality of college attended," the study says. "Their improved college choices in turn raise younger siblings' college enrollment rate and quality of college chosen, particularly for families with low predicted probabilities of college enrollment. Some younger siblings follow their older sibling to the same campus but many upgrade by choosing other colleges. The observed spillovers are not well-explained by price, income, proximity or legacy effects, but are most consistent with older siblings transmitting otherwise unavailable information about the college experience and its potential returns."
The study -- by Joshua Goodman of Brandeis University, Michael Hurwitz of the College Board, Christine Mulhern of Harvard University and Jonathan Smith of Georgia State University -- is based on data from the College Board on all students who took the PSAT, the SAT or Advanced Placement exams.
When older siblings enroll "in target colleges [those with higher completion rates and peer quality], [it] increases younger siblings' probability of applying to the target college, generally improves the quality of colleges they apply to, and substantially increases younger siblings' college enrollment rate and quality of college chosen."
The impact is greatest on "uncertain college-goers," the study finds.
When older siblings enroll at a target college, it "nearly quadruple[s] the probability that younger siblings apply to the same target college (from 10 to 37 percent). Though younger siblings do not appear to increase their number of college applications, they roughly double their probability (from 25 to 53 percent) of applying only to colleges with historical graduation rates higher than 50 percent, suggesting their portfolio of applications improves given their older siblings' choice of a higher quality college," the study finds.
Further, "Thirteen percent of younger siblings follow their older sibling to the target college only because their older sibling enrolled there, an impact that is highly statistically significant," the working paper says.
But the impact extends further, to the younger siblings applying to other high-quality colleges.
The key is information, the paper says.
"We argue that an older sibling's enrollment in a higher quality college can provide for families information about postsecondary education that would otherwise be difficult or impossible to obtain. In that sense, an older sibling's college choice is a particularly high touch intervention, providing prolonged exposure to another person's experience of the complex good that college education represents," the report says.
"If students' college choices are deeply affected by the college experiences of people in their social networks, such social factors may partly explain persistent differences in college enrollment by income, race and geography," says the conclusion of the study.