The 'Hidden Consensus' for Affirmative Action
New book says campuses are far less polarized on the issue than is widely believed.
Istockphoto.com/Prostock Studio
In 2018, John M. Carey and Yusaku Horiuchi, professors of government at Dartmouth College, published a letter in The Dartmouth, the student newspaper there. In the letter, they responded to critics of a student's column in the paper.
The column criticized the coordinators of a program of the Dartmouth Outing Club. The director and assistant director of the club were women, and they picked women for 15 of the 19 slots in the group's leadership. In his column, the student said that the gender balance was "ludicrous" and "an exercise in mental gymnastics." The column had its defenders but was attacked as "hateful," "toxic," "vicious," "privileged," "ignorant," "patriarchal," "white supremacist," "racist," "misogynist," "homophobic," "oppressive" and "endangering lives."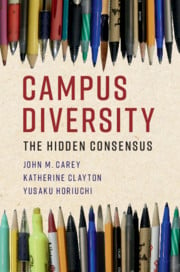 In their letter to the editor, Carey and Horiuchi didn't focus on the debate over the outing club itself -- although they said they supported "diversity and inclusivity."
Their focus was the attacks on the author of the column.
"We would suggest that it is counterproductive to label one's adversary in a debate with this kind of language. It will not change minds or win hearts. It will drive away anyone in the middle ground and further polarize opinion. And the effect on open discussion of difficult ideas can only be chilling. Anyone who does not hew to established and codified positions will be afraid to express any opinion. Worse, it could encourage self-segregation, as students will feel secure only among those whose views are known and shared," they write.
They then noticed the reactions. They were attacked in other letters to The Dartmouth. But in personal conversations, they received support.
It was the start of their work, together with Katherine Clayton, a political science Ph.D. student at Stanford University, on Campus Diversity: The Hidden Consensus, just published by Cambridge University Press.
The book's thesis is that students generally support affirmative action -- both for admissions and for faculty hiring. They acknowledge that it doesn't seem that way. Debates about court cases and the very concept of affirmative action are widespread and -- in some cases -- ugly. Both sides accuse the other of racism.
And the authors assert their conclusions based on surveys conducted that do not use the phrase "affirmative action."
The research did not come easy. Publishers rejected the first version of their work, based only on surveys of Dartmouth students. They said Dartmouth was too liberal. They regrouped by adding other campuses (and the results didn't change).
What they used is a technique called "conjoint analysis," first developed by marketing analysts, and a tool used, Carey said, "to sell you pizza with all the toppings."
In conjoint analysis, respondents see a table with two candidates for admission and information about them in various categories.
Was the candidate a recruited athlete?
State of residence
Gender
High school type (public or private)
Parents' education
High school class rank
SAT score
Family income
Extracurricular interests
Race and ethnicity
Then the students are asked to "admit" a student. (For the faculty hiring, separate questions are used on the type of faculty position, research record, where their Ph.D. was earned and so forth.)
This method is better for hot-button issues, where respondents may already have an opinion (or think they do), Carey said.
They surveyed students at Dartmouth; the University of California, San Diego; the University of North Carolina at Chapel Hill; and the University of New Mexico.
The results -- based on hundreds of replies from the four institutions -- were consistent. The students prefer students of every race and ethnicity over whites. And they prefer faculty candidates the same way.
But, Carey stressed, race isn't all that students care about. "Race matters, but not as much as academic achievement or professional achievement."
The survey altered SAT scores and class rank. When they moved up, so did the odds that students would favor admitting them.
When factoring in students' preference for admitting applicants with strong academic records, they were also in favor of admitting students from lower socioeconomic categories.
The researchers found similar results with the faculty survey. One result of note was that teaching skill was ranked much higher than research skills.
Race is of course central to the debates about campus diversity, so the researchers broke students into white and nonwhite groups (for their analysis).
"With respect to the race/ethnicity of the applicant, both whites and nonwhites show measurable preferences in favor of applicants from all nonwhite groups relative to white applicants, but the preferences among nonwhites tend to be more pronounced," the book says. "Specifically, among white participants, shifting from a white applicant to various nonwhite categories increases the likelihood of selection by 2 percentage points for an Asian applicant, 7 percentage points for a black applicant, 5 percentage points for a Hispanic applicant, and 9 percentage points for a Native American applicant, whereas among nonwhites, the range runs from 7 percentage points for an Asian candidate to 13 points for Native American applicant."
The researchers pulled Asian responses from other nonwhites because of the debate over Asians and affirmative action. They found virtually no difference between Asians and other minority groups.
Of the results, Carey said, "If you look at popular discourse and legal discourse, you would think the difference is larger."
He said that he believes the students who "are the most polarized" do "the most talking."
Edward Blum, who is leading the lawsuit challenging Harvard University's affirmative action policies, said he has not read the book. But he pointed to recent research by the Pew Research Center. Pew found in March that 7 percent of Americans believe that race or ethnicity should be a major factor in admissions decisions, and 19 percent believe it should be a minor factor. Nearly three-fourths (73 percent) of a representative sample of Americans said that race or ethnicity should not be a factor. Solid majorities of white, black, Latino and Asian American respondents shared that view.
"I'm confident that during the next two years or so as this case heads to the Supreme Court, there will be many more books, articles and studies about the benefits and costs of racial preferences in admissions," he said.
Carey acknowledges that (and other) polls. But he insists that the book's findings show students' views on affirmative action.
"People should know," he said.
You may also be interested in...
Today's News from Inside Higher Ed
Inside Higher Ed's Quick Takes