You have /5 articles left.
Sign up for a free account or log in.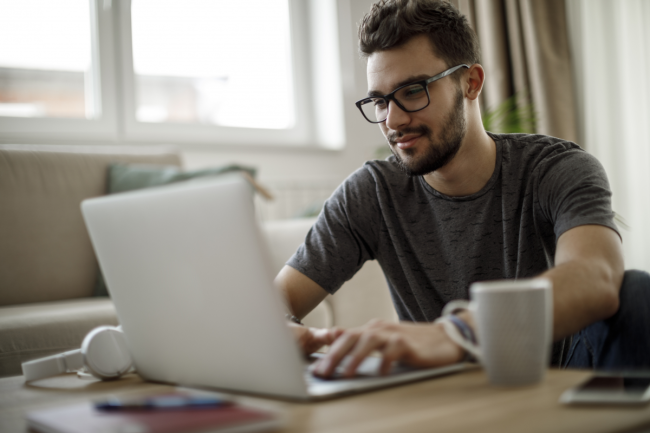 Istockphoto.com/damircudik
Texas Christian University has created a webpage for admitted applicants in light of coronavirus fears. On the top it says, "There's nothing like being on campus, but taking a virtual tour of TCU is a close second!"
Videos follow, with the campus tour and specialized information for the newly admitted -- on orientation, roommates, getting involved on campus. A parent question-and-answer section leads off with information on whom to contact with questions but then attempts to answer a number of them on the timing and substance of admissions decisions.
At Kenyon College, known for the beauty of its campus, each acceptance letter is personalized with a paragraph about the applicant. Historically, each letter also included an invitation to visit the campus, but not this year. The letters were originally scheduled to go out Saturday but are going to go out instead tomorrow or Wednesday.
Diane C. Anci, vice president for enrollment and dean of admission and financial aid at Kenyon, said the additional time was taken to redo every acceptance letter, adding these words: "Adding to the significance of this moment is the reality that your class is being called upon to make a decision during unprecedented circumstances. We recognize that nothing can replace an in-person visit to Kenyon, so we will do everything we can to help you experience Kenyon from where you are."
The coronavirus situation is forcing colleges to teach online for a few weeks or the rest of the semester. Budgets are tight. People are stressed. But for admissions, the timing is just as colleges are rolling out their days for admitted applicants. Most colleges have canceled these days (along with most student activity on their campuses) and are left to recruit students without what for most of them is one of their best assets: their physical campuses. This is a crucial time of year for many students. Anci noted that Kenyon has several events -- since scrapped -- on campus for high school juniors. But it's the high school seniors -- next year's freshmen -- who are the particular focus.
A few colleges have extended the deadline to reply to admissions offers from May 1 to June 1. Oregon State University and Southwestern University, in Texas, have made that change. But for most colleges, the key deadline is unchanged (as of now).
For many colleges, this deadline has created pressure to start producing their first online content for newly admitted students, or to greatly improve the content.
Gil Rogers, executive vice president of PlatformQ Education, which helps colleges do that, said he has been very busy.
"You're never going to completely duplicate the on-campus experience, and the first thing you need to do is accept that," he says.
Rogers said it's not just a matter of taking the information you provide in person and providing it online.
Time is the biggest obstacle, he said. An in-person event for newly admitted students might last an hour or 90 minutes, and feature current students along with administrators. Providing the same information online means 10-minute videos. You can provide more than one, but they should be short. And they can still involve current students and administrators.
Anthony Pinto, assistant director of enrollment management at the University of Tampa, is one of PlatformQ's clients. He said that several years ago, after storms struck the New York City metro area, Tampa was left without a way to hold events in a key market.
That prompted the shift at Tampa (which still has in-person events) to creating lots of content online. In terms of time, Tampa cuts the one-hour program in-person to a half hour online.
Pinto finds that the questions from students are "basic," such as "how do I request a roommate?"
Tampa does separate videos for students and their parents (although no doubt some watch videos that weren't intended for them). With parent videos, one recently prompted more than 400 questions when it was live.
Still, he said, "they don't get to see our palm trees."
Alice Arredondo, director of admissions at the University of Missouri at Kansas City, said that her university hosts webcasts every Tuesday on an admissions topic, including financial aid and housing.
"It is a different dynamic," she said. But, as professors have noted about online students, some students who might not have raised their hands in an in-person event will do so online. "We do find students like engaging in this way," she said.
Ken Anselment, dean of admissions and financial aid at Lawrence University, said that institutions that recruit international students as undergraduates may be better off handling the current crisis. Even before the current coronavirus issues, Lawrence relied on alumni to talk to prospective students. Having trained its alumni in China, Lawrence will now train them domestically.
The California Institute of the Arts has taken several proactive steps: it's sharing a new video on the institute, it is shooting videos with each of its six deans to send to admitted applicants and President Ravi S. Rajan is sending communication to all admitted international applicants.
Some colleges are just starting to figure out what they will do.
A spokeswoman for Wesleyan University said, "We're committed to providing our admitted students with an opportunity to preview the Wesleyan experience. We're currently exploring all options."
At Shenandoah University, the campus is closing until at least March 30. Andy Woodall, assistant vice president of recruitment and admissions, said that accepted-applicant day is April 3. It's still on, but may not take place if the university decides to extend its closure.
The university typically gets about 250 students, and many bring parents or siblings, so it's not unusual to have 600 people on campus for the day. "Our goal is to make the experience as live as possible," he said.
That may mean creating videos with students and faculty members, Woodall says.
The situation for colleges is changing rapidly. On Wednesday, Purdue University Northwest sent out a press release stating that its program for new students on March 28 was being called off, but that its program on April 18 was still on. Then on Thursday, another release: the program on April 18 was canceled.