You have /5 articles left.
Sign up for a free account or log in.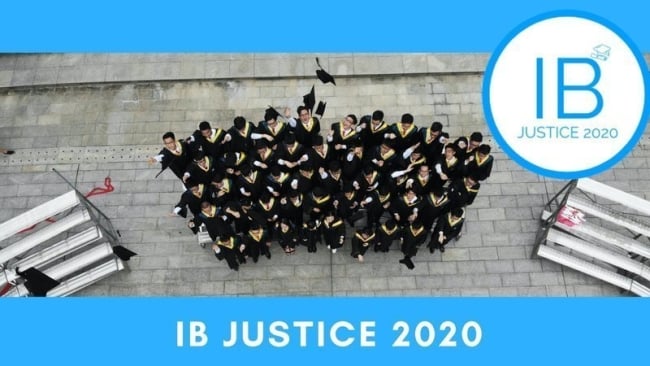 The International Baccalaureate (IB) program is highly respected. It is known for rigorous courses during high school. Students take an exam to receive their final grades.
Nearly 175,000 students around the world took exams this year, 89,000 of them in the U.S., most of them at special high schools. The students -- in the U.S. and abroad -- are highly sought by U.S. colleges.
This year, however, the coronavirus pandemic struck, and the final tests -- scheduled for May -- were not given. The IB program announced the following system for awarding final grades:
In order to award a diploma or certificate following the cancellation of all external written components of our examinations for the May 2020 session:

Students complete their Internal Assessment coursework as usual.
Schools submit their registered student coursework as required.
Schools submit predicted grades for each subject taken by a student.

Following the submission of the above the IB will be using historical assessment data to ensure that we follow a rigorous process of due diligence in what is a truly unprecedented situation. We will be undertaking significant data analysis from previous exam sessions, individual school data and subject data.
The IB never released any information on the algorithm, or on how students' predicted grades would be used to create final grades. The predicted grades are used by colleges to provisionally admit students until their final scores are available.
Last week, students received their final exam scores -- and many students report that their final grades are nowhere near their predicted grades.
A petition that gathered more than 17,000 signatures said, "So far, what we've seen is a great deal of injustice; many students around the world received significantly lower final grades than what they were predicted. For example; 41 down to 34, 43 down to 37, 38 down to 28, 42 down to 36, 30 down to 26 and the list goes on. Essentially, the [IB organization] has lowered some students by up to 12 points! This is the first time in the history of IB that we see such substantial differences between the predicted grades and the final grades, on a large scale, considering that the IB examiners had no real grounds to evaluate and assign us our grades other than marking our coursework -- on top of that, the IB decided to take into account the historical data of individual schools (passing/failing rates) along with global data per individual subject. How is that a fair way to assign IB graduates their final grades considering the current circumstances they are living in? How is that fair on the students that have worked for two years + to get into the universities [where] they want to study their passion(s)?"
The petition continued, "As a student myself, I want justice for my fellow students around the world. This is unreasonable coming from the IB which is notorious for preaching educational equality and justice. If no change is made, many students would no longer have the motivation to continue studying as a whole. We deserve justice, and we deserve to move on with our lives. Many of us have already suffered too much these past few years [in school] and even more so recently, mentally and physically. Many of us were not even given the opportunity to increase our predicted grades when the news of the exams being cancelled prevailed."
In Hong Kong, the number of students earning perfect scores dropped by one-third, compared to last year's grades, according to The South China Morning Post. In India, lower-than-expected grades are causing widespread distress, according to The Times of India.
In the United States and elsewhere, students fear that colleges may revoke admissions offers.
One student, who asked not to be identified by name because he is in the appeal process, said, "What also strikes me as unfair is that it seems like IB tried to fit the results of the school as a whole to the distribution from the past years, without looking at individual people. For example, my friend who had 34 predicted ended up getting 36, while I was downgraded from 43 to 35."
"I feel really cheated; I worked hard for two years in order to receive a good final score and get into a good university," he said. "Right now all that is ruined because of something that is in no way my fault."
Another student who also asked for anonymity said he was expecting his colleges to revoke his offers of admission (which were based on his predicted grades).
One student said, "Personally, I lost my chance at university because of losing points … Devastation is an understatement to what I feel now, because I truly was looking forward to studying at the university of my dreams. Now I don't know what to do."
Despite all of the uproar, IB says that the average final grades rose slightly this year, to 29.90 from 29.62.
A spokesman for IB's Americas office released a statement that said, "The International Baccalaureate (IB) is listening to its global community of IB students, teachers and IB World Schools. We hear the voices of those who are disappointed with their results, and those who are elated by their accomplishment. We are equally committed to the enquiry upon results (EUR) process for students who believe their results do not reflect their work and we will ensure proper and prompt attention. We are proud of all students that participate in the IB program. We remain committed to serving them."
The students who have organized the petition vow to pursue the organization until it reveals how it determined their grades.
The petition concluded, "To summarize, what we, as your beloved and cared for students, are requesting in plain English is this: we need transparency, we need an explanation, a demand for universities to consider leniency, free remarks, free retakes, and most importantly, a public statement from you that tackles the situation and provides clarity for everybody affected by your despicable excuse for a grading algorithm. We want our universities to admit us based on our coursework rather than your skewed assessment of our capabilities. We deserve our justice. Whether it be now or later, you will have to answer to your faults."