You have /5 articles left.
Sign up for a free account or log in.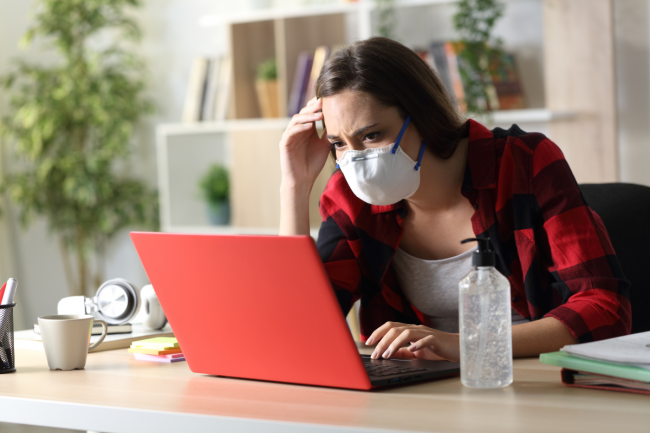 Colleges that have been struggling to get their yield rate equivalent (or at least close) to last year's may be in for a rude awakening.
SimpsonScarborough is releasing a survey tomorrow of incoming freshmen who aspired to attend a four-year residential college that finds that 40 percent of them say they are likely or highly likely to not attend any four-year college this fall. Further, 28 percent of returning students who have the option to return to their campus say they are not going back or haven't decided yet. (Some of both groups of students may be interested in attending a community college.)
Students planning to attend private institutions were more likely than those at public institutions to change their minds about attending.
"It's an insane marketplace," said Elizabeth Johnson, chairman of SimpsonScarborough. "It could be catastrophic."
The trend extends to the most competitive of institutions. Harvard University last week said that 20 percent of freshmen were deferring enrollment.
In fact, Johnson said SImpsonScarborough has stopped trying to predict how many students will enroll this fall. "The colleges are not going to know until move-in day, and then colleges have to count heads."
The survey asked new and continuing students what they want colleges to do. The top choice for new students (but not returning students) was to stay home and take classes online. This runs counter to the dominant belief of college administrators: that students want to return.
Preferred Choice for Students
| | | |
| --- | --- | --- |
|   | Returning Students | New Students |
| Return to campus for hybrid model | 41% | 30% |
| Stay home and take classes remotely | 31% | 39% |
| Return to campus and take classes in person | 17% | 17% |
| Return to campus and take classes online | 9% | 13% |
One of the issues is that students don't trust their colleges. Only 25 percent of returning students strongly agree that their institutions would take the necessary steps to keep students safe. The figures are twice as high at colleges that have abandoned plans for in-person instruction in the fall as for colleges that expect students back.
And mirroring news reports of COVID-19 outbreaks on many campuses, only 7 percent of students strongly agree that they trust fellow students to follow safety guidelines.
Students believe they will contract the coronavirus. Three out of four freshmen are very or somewhat worried they will contract coronavirus. And only 34 percent of returning students feel safe living in the residence halls.
Minority students are more likely to be "very worried" about contracting COVID-19 on campus than are white students (34 percent of students of color are very worried compared to 21 percent of white, non-Hispanic students). Campuses may be less diverse as a result. Twenty-eight percent of minority students say they are not returning to campus for in-person instruction, compared to 16 percent of white, non-Hispanic students.
A growing number of students say that their colleges aren't communicating with them effectively. A prior survey, in April, found that that 20 percent of students gave their institutions a grade of fair/poor in communication.
And a growing number say their institution's handling of COVID-19 is fair/poor (42 percent). That's up from 30 percent in April.
The survey was based on responses from 927 freshmen and 905 returning students, with a margin of error for the answers of 3 percent.
The next few weeks, Johnson said, will be crucial for colleges.
She said she has been struck by colleges that are assigning everyone possible to reaching every student. "It's like, pull out all the stops," she said.
SimpsonScarborough will present a webinar on the survey on August 13 at one p.m. Eastern Time.