You have /5 articles left.
Sign up for a free account or log in.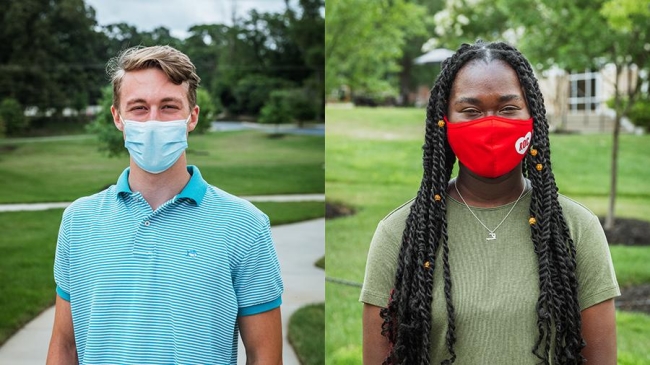 This year many private colleges have struggled with enrolling freshmen. Some have met their targets, and some fell far short of them. Many of those that met targets had advantages -- they were wealthy and able to provide lots of financial aid, and they were well-known nationally, well-known enough that some freshmen would enroll even if they couldn't be on campus.
But some private colleges that are not wealthy or famous did well, too. Anderson University also had a good year in admissions -- very good when you consider that South Carolina, where it is located, was a hot spot for COVID-19.
But the college went up in freshmen -- from 700 to 750. Because of retention gains, overall enrollment increased from 3,600 to more than 3,900. The college is managing this enrollment growth on campus. While distance learning technology is available and will be used by some high-risk professors, the norm is classes in person (albeit with some hybrid classes, classrooms rearranged to allow for social distancing, and face masks). Anderson has had six students diagnosed with COVID-19 since they came back several weeks ago to start classes. They are all in quarantine off campus.
So how was Anderson able to pull this off?
Some of what worked at Anderson may speak to other colleges. Its size appears to be about as large as you can get while still having a "family" atmosphere where it seems that everyone knows everyone. (The president's wife bakes cookies for every single student during finals week.)
Some of its success may be due to its religious connections. Anderson is a Christian college affiliated with the South Carolina Baptist Convention. As such, there is no drinking on campus (a rule the president says is fairly well enforced). The college also doesn't have fraternities or sororities.
"We had an indication in March that we'd be higher" in enrollment, but "so much can happen in the summertime," even during a normal summer, said Evans Whitaker, the president. "We said we can always postpone things," but they didn't want to. "We just planned that we'd open as normal."
While Whitaker speaks with confidence about the college's plan, he is also a realist. "We can't promise that the pandemic won't get worse," he said. And the college will handle things appropriately, he said. But for now, he is hopeful that Anderson's path is the right one. He said that the key is that "students have a sense of security, that we're going to act in their best interest."
The Strategy
A specific strategy was also in play.
First, Whitaker said, "we shifted our thinking away from predicting what would happen on our campus this fall, to something about which our students and families cared far more -- possibility and promise." On campus, "our ability to control how our fall semester would unfold diminished greatly with COVID."
Said Whitaker, "Instead of offering predictability and with it lower risk, it was far more important to give our students and parents confidence that we, the Anderson University trustees, faculty and staff, would do our very best to make their fall semester experience the best it could be, in spite of COVID."
He added, "We could not guarantee anything, except that our entire focus would be on keeping students and employees as safe as possible and that our core process of teaching and learning would drive our priorities." For example, large events were canceled, such as opening convocation and homecoming. They "could wait until next year," he said. The focus was to "adapt as we go so that students can earn academic credit, graduate on time and graduate to serve in their chosen profession."
The promise wasn't that everything would be the same, or even that the campus would stay open. Rather it was "to do our best to deliver our mission, keep people as safe as possible, adapt as we go and hold out hope for a brighter tomorrow."
So first the college went ahead with in-person orientation for freshmen on campus. "We went against the grain of most of our respected peer institutions," said Whitaker. (And COVID-19 was spiking in the region.)
"There were no infections and it was a great learning experience to prepare us for working with people under constrained conditions with the opening of the fall semester," he said.
Then there was the academic calendar. Classes started a week earlier in August, and the Labor Day holiday was called off, as was fall break. "Our last day of classes for the fall semester is Tuesday, Nov. 24, so we have nearly two months before we welcome students back to campus in January."
The next step was revamping move-in procedures. Normally, there is one day on which everyone moves in. This year, there were six -- three for new students and three for continuing students. Only two family members could accompany a student.
Face masks are required to be worn at all times. "At first, we didn't require masks outside, but last Friday we adapted and began requiring them after seeing how students socialized outside," Whitaker said. "We felt it best to take this extra precaution. Compliance has been outstanding."
Each student received two washable masks, and disposable masks and hand sanitizer are in every building.
Then there are what Whitaker calls "extreme sanitation measures." After each class, the professor and students spray an antibacterial solution on each tabletop and lectern and wipe them down. Then in the evening, the housekeeping staff does the same in every classroom.
The university hired new staff to care for those who get sick. And a contact tracing coordinator was hired. (The university is testing its athletes and students with symptoms, and offers testing to students or employees exposed to someone with symptoms. The testing is conducted by an outside contractor, with results within 24 hours.)
Then there were the classrooms. "We redesigned the layout of our classrooms to achieve proper physical distancing of students and faculty," Whitaker said. South Carolina governor Henry McMaster exempted higher education institutions from a limit of 250 on physical gatherings. The university is only planning to use the exemption in the spring, for an outdoor commencement -- but that's a long way off.
Classes have been organized to allow for hybrid instruction. For example, for a Monday-Wednesday-Friday class, there are three groups, A, B and C. Groups A and B attend class on Mondays, groups B and C attend on Wednesday, and groups A and C attend on Friday. Plus, any student who is ill (even not with COVID-19) attends remotely.
Finally, a key part of the plan was to protect jobs. Anderson is not a wealthy university -- it has an endowment under $50 million. But it promised to try to avoid layoffs and furloughs. Thus far, it's kept that promise.
'Great Hospitality'
Several of the features of the plan center on "great hospitality," which is one of the four "pillars of distinction" at Anderson -- along with "great academics," "great faith" and "great purpose."
Whitaker says hospitality isn't just about providing food and comfortable rooms, but about assuring students that all will be as well as possible.
Shirley V. Hoogstra, president of the Council for Christian Colleges and Universities, said the issue of what to promise students is an important one. Presidents need to admit what they can't control, but they also need to put resources behind those things they can control.
She also mentioned other Christian colleges that are having great years in admissions -- Dordt University, Milligan University and Grace College.
Hoogstra also mentioned size as a key issue. "I can understand why Michigan State canceled classes," she said.
Smaller colleges have a chance at motivating students to follow guidelines.
Whitaker also said the college benefits from having students close to their homes. About 70 percent come from South Carolina. (The top competitors for students are Clemson University and the University of South Carolina.) This year, students want to be close to home, several surveys have said, and that helps.
Student Views
Nolan Clanton is a freshman from far away: from Murrieta, Calif., north of San Diego.
"I was thrilled to learn that Anderson decided to meet in person. I personally learn better from in-person teaching, and did not want to have my first semester in college online," he said.
At the same time, he was worried about the semester possibly ending earlier than scheduled -- he wouldn't be driving home.
"But when I got on campus, that fear almost immediately subsided," he said. "I found that the students were more responsible than anyone could have foreseen. Everyone follows the university mandates concerning masks indoors, which in itself is a huge accomplishment."
Darcy Smith, a freshman from Lexington, S.C., said she thought the pandemic "would ruin my college experience." She was "devastated" by that, and welcomed in-person classes.
"Anderson University has taken many precautions in order to give me and my classmates the best experience," she said via email. "In addition to requiring face masks and practicing social distancing, Anderson initiated protocols such as smaller class sizes, preventative cleaning, and limiting large group gatherings. Even with all of these unusual changes, Anderson University still continues to pursue its students to make them feel comfortable."