You have /5 articles left.
Sign up for a free account or log in.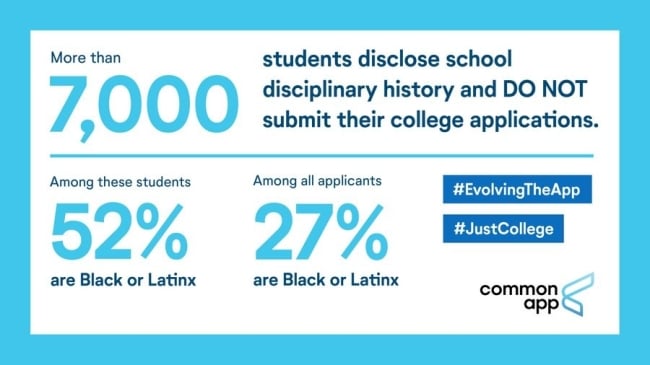 Admissions staff members have grappled for years with whether applicants should be required to disclose their high school disciplinary history when applying to college.
The Common Application, a nonprofit organization that offers the most widely used college admissions tool in the U.S., announced yesterday that its answer is no.
The Common App will no longer ask college applicants to share whether they got in trouble in high school as part of its standard application process. Common App members, of which there are more than 800 -- including all eight Ivy League institutions -- may still request this information as part of a supplementary process.
"It's time to evolve the application. Eliminating disciplinary reporting requirements is a necessary step to creating a more equitable admissions process -- and, in turn, a more just economy," reads a statement on the Common App website.
Removing the discipline question is something the Common App has considered for several years. But discussions around racial injustice this summer and increased capacity to analyze application data spurred the decision to act, said Jenny Rickard, CEO of Common App.
There is mounting evidence that students of color, and Black students in particular, are disciplined disproportionately at school, Rickard said. A 2015 study from the Center for Civil Rights Remedies, for example, found that suspension rates are around 3.5 times higher for Black students than for white students.
The Common App's own data suggest that just asking students for their high school disciplinary history can deter them from applying to college. Students who disclose that they have a school disciplinary history are more likely to not submit their college application, perhaps fearing they will not be admitted to college because of it.
Common App data for 2019 show that among students who didn't report any disciplinary history, 12 percent did not press "send" after beginning to fill out their college application. Among students who did declare a disciplinary history, 22 percent did not complete their application. In total, more than 7,000 students who declared a disciplinary history did not submit their college application.
Among those 7,000 students, 31 percent are Black and 21 percent are Latinx. Among all Common App applicants, 11 percent are Black and 16 percent are Latinx.
Aside from racial disparity, asking for disciplinary history also highlights an economic disparity, Rickard said. Some schools refuse to share disciplinary history records with colleges. These schools tend to be private schools whose attendees are more likely to be white or Asian students from wealthy families.
Since 2006, anyone applying to college through the Common App has been asked the following question: "Have you ever been found responsible for a disciplinary violation at any educational institution you have attended from the 9th grade (or the international equivalent) forward, whether related to academic misconduct or behavioral misconduct, that resulted in a disciplinary action? These actions could include, but are not limited to: probation, suspension, removal, dismissal, or expulsion from the institution."
Starting in the 2021-22 application season, this question will be removed from the common portion of the application process as well as the School Report portion of the application, which is typically filled out by high school counselors and describes a student's academic history.
The Common App is not the first college application to remove disciplinary history questions. The Coalition for College, which offers a college application tool used by more than 150 colleges, came to this decision in 2017, said Stacey Kostell, CEO of Coalition for College, in an email.
Much like with the Common App, Coalition for College members still have the option to ask questions about disciplinary history through additional application steps.
"Each member school has the ability to customize their Coalition application with additional questions, if they choose, but disciplinary records are not part of the set of standard information collected across all schools," Kostell said. She added that prioritizing student access "drives all Coalition decisions about what questions to ask in the Profile and how to ask them."
The Universal College Application, a Common App competitor, still asks applicants to disclose whether they have disciplinary or criminal records.
According to a Center for Community Alternatives 2015 report on the use of high school disciplinary records in college admissions, suspensions and expulsions from elementary and high schools have "skyrocketed since the mid-90s." The report recommended that colleges and universities "refrain from including questions about high school disciplinary violations on college applications and prohibit the use of such information in admissions decision making."
Although not all colleges that ask for an applicant's disciplinary history weigh this information heavily in their admissions decisions, this information can make the difference between a student getting a place at college or not, said Angel Pérez, CEO of the National Association for College Admission Counseling.
Pérez supports the Common App's decision to remove the disciplinary history question. But he stopped short of advising admissions officers not to ask this question independently.
"I believe in the autonomy of our colleges, but I would strongly advise our members to look at the data on asking questions about disciplinary history," Pérez said. He said students of color are disproportionately disciplined by their schools and that the system currently favors wealthy students who attend private schools that refuse to disclose disciplinary histories to colleges.
Two years ago, the Common App sent its members a questionnaire asking what they thought of removing questions about criminal records and disciplinary records from the shared portion of its application process. The Common App subsequently decided to remove the criminal history question from its application, but not the disciplinary question.
At the time, opinions among college admissions officers were divided on whether to keep the criminal history question, but the case to remove the criminal history question was deemed stronger than for the disciplinary question. A spokesperson for the Common App told Inside Higher Ed in 2018 that there was "greater commonality in the practices and use of school disciplinary history" than with criminal history.
Since removing the criminal history question, approximately 50 percent of colleges have added the question back into their supplements to the core Common App process, Rickard said. It's too early to predict how colleges will respond to the disciplinary history question. Common App staff will be tracking this closely, she said.
The American Association of Collegiate Registrars and Admissions Officers published a report in December 2019 advising colleges not to ask about criminal histories if they were not required to do so by state or system regulations. The report suggested that if colleges feel the need to screen for criminal history, they should do so later in the enrollment process, Michael Reilly, CEO of AACRAO, said in an email.
"About two-thirds of institutions in the U.S. have typically asked for and collected criminal history as part of their admissions applications," said Reilly. "What was requested was not consistent across institutions and most requested both high school disciplinary history and criminal history as part of the process."
AACRAO advised colleges not to ask for information on either criminal or disciplinary history because the association felt it created "a chilling effect on applicants and led to students abandoning the admissions process, often for past activities that would not have prevented them from being admitted," Reilly said.
"We also believe both the high school disciplinary process and the criminal justice system disproportionately impact students of color, particularly Black boys and men, and therefore led to even further inequities in the college admissions process," Reilly said. He added there is little evidence screening for criminal history during the applications process makes campuses safer, even though safety was often the reason given to support the practice.
Reilly believes more colleges will move in the direction of not asking these questions. He predicts that in some cases, states may even make this decision for their public institutions.
"I think the recent national focus on racial injustice will contribute to a reassessment of institutional practices that exacerbate inequities," Reilly said.