You have /5 articles left.
Sign up for a free account or log in.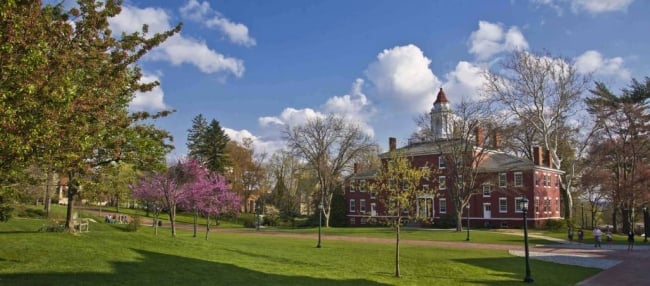 Allegheny College, founded in 1815, has long been in the "good, not great" mix of colleges. It is located in Meadville, Pa. -- a small city in the northwest of the state, about midway between Cleveland and Buffalo. It is in a state with many private colleges, and many of them, like Allegheny, are liberal arts colleges. A few years ago, the college shrank. It decided it could be more competitive at 1,700 students than 2,100.
Admissions to Allegheny has been stable, but not impressive. The college receives over 5,000 applications for approximately 500 students. But to get those 500 students, the college admits just over 60 percent of applicants.
So this year the college is trying something different to stress its strengths. Allegheny requires every student to take a major and a minor (the minor must be in a field unrelated to the major). The college also requires seniors to write a thesis, typically in the subject of the major. These requirements suggest a rigor about higher education. The college cites research that indicates Generation Zers (born between 1997 and 2012) want meaning in their college experience, to prepare for careers, but not "just a job.
The results of a new marketing plan are clear on Allegheny's webpage, which welcomes students with a question: "Is it OK if I don't know what I want to be?" Those who click are told, "The future is wide-open to you right now. There's a world of things for you to learn. Why would a school teach you only one way to think? Prepare you for just one kind of job? You're capable of more than that. So we're going to ask more of you."
The first people they meet through the new approach are professors.
Shannan Mattiace, a professor of political science, talks about general education and waiting to pick a major. "Something that's unique to our university system in America is that we have two years of broad, general education. Our system is essentially designed for students like that, to let them not know what they want to be for a while, and instead to focus on learning how to think and learning how to solve problems," she says.
Mattiace adds, "Some students really want a plan, though. They tend to worry most about their major. We encourage them not to do that. Students often change their minds once they're at school. Job markets change. Students find themselves losing interest in their original choices. When this happens, if they don't have a far-ranging, curious mind, it will be that much harder to stay motivated. Without the ability to reinvent themselves and reimagine, they'll get stuck."
While the college's overall message is not jobs-specific, it also has launched a microsite with majors and minors that focuses on jobs of alumni. Users can pick a major area and a minor area, and they then get back from the page jobs of alumni who made the same choice. They don't get back a single outcome, but several. For instance, students who majored in the humanities and minored in the natural sciences might work as a first-grade teacher, an executive producer, an assistant principal or a senior talent acquisition manager. Someone who majored in the natural sciences and minored in the social sciences might work as a clinical department administrator, a nurse, a director of geriatric education or an export classification analyst. Short biographies of alumni accompany the feature.
For example, Benjamin Thomas, a third-year student at the Burrell College of Osteopathic Medicine at New Mexico State University, is quoted about his major (neuroscience) and minor (theater). "I realized that the sciences and the arts are not mutually exclusive. In fact, they feed off of each other and allow me to move forward in my medical career by improving patient interaction, treatment modalities, and finding the root cause of chronic issues rather than putting a temporary Band-Aid on a problem," he said.
Hilary L. Link was inaugurated as Allegheny's president a year ago. She says the marketing campaign and related research were in the works before she arrived. And she said there was no consideration of delaying it because of the COVID-19 pandemic.
"It's an extraordinary moment," she said.
She said that the requirements at Allegheny point to the values it hopes to sell to future freshmen. She stressed that you can't fulfill the major/minor requirement with two fields that are closely related. "We want people to see how things intersect" beyond the obvious, Link said.
Link said that, even before the pandemic and the subsequent economic collapse, she sensed that students were interested in finding jobs with meaning (or going to graduate school) and not just getting any job.
Students "recognize that in today's world, you need to cross between expertise and discipline," she said.
They've read the articles about how an older generation was looking for a company in which to make a career and today the students may well graduate into a series of careers, some of which don't yet exist.
The campaign was designed by Allen & Gerritsen, with initial research by the Art & Science Group. Link declines to say how much it cost.
It's only been operating for a few weeks, and Link said the response has been good so far. The key is that the campaign is about Allegheny as it has been, not some new ideal for a college.
Craig Goebel, principal of Art & Science, said Allegheny's approach is "very compelling." The company did research on what Allegheny students want and expect in their educations. "Students have strong interests besides the major," he said.
Students want an "intellectually driven relationship" with their college, he said -- at least, those who pick Allegheny do.
Elizabeth Johnson, chairman of SimpsonScarborough, which did not work on the campaign, said via email, "It's clear that Allegheny is working to promote the liberal arts without using the phrase 'liberal arts.'" She said this was "smart because that phrase is commonly misunderstood by high school students and their parents. Instead they are pushing concepts like 'multidisciplinary learning,' producing graduates that are 'adaptive, broad thinkers,' exposing students to new and unexpected learning opportunities, preparing them for more than one type of job, and preparing them to 'think critically, communicate creatively, and question everything.' All of these ideas are fundamentally tied to the entire category of liberal arts colleges."
Johnson added that "developing a brand is about differentiating from your category. To do this, Allegheny is zeroing in on one aspect of the experience they offer: multidisciplinary learning. The website hits on this concept hard and the microsite lets students choose two disciplines (business and physics, for example) and then shows them what they can do with that combination. It also says that 'every student minors in a subject different than their major.' That's interesting and unique. We find that many schools like to talk about the multidisciplinary opportunities on their campus. But when it comes down to it, it's difficult or darn near impossible to have a truly multidisciplinary experience given the barrier of organization structure."
She said that Allegheny's claims appear to be "authentic and true" in a way "we don't often see in higher ed marketing." Johnson said Allegheny is "trying to hang onto their soul (by leading with 'preparation for life'), which is deeply rooted in their liberal arts tradition."