You have /5 articles left.
Sign up for a free account or log in.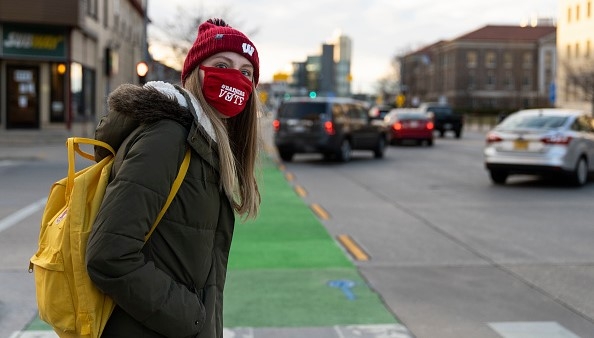 The Washington Post/Getty Images
Nearly 90 percent of students plan on re-enrolling at the same college they attended during the fall semester, despite decreased satisfaction with support services and social experiences and heightened concern about finances as a result of the coronavirus pandemic, according to a new white paper based on a survey administered by Anthology, a higher ed technology services company.
About two-thirds of the 1,143 students surveyed in October by the company were taking classes fully online, while nearly one-third have a hybrid model of instruction and 3 percent were fully in person, the white paper said. Over all, 32 percent of students said they didn't "feel included" in a circle of friends, and 27 percent said they did not feel like a part of the "college community," both of which are "typical factors of mattering and belonging that lead to increased retention," the white paper said.
Students who live on or near campus were more likely to feel socially connected to their institution, but those who live elsewhere felt slightly more connected to faculty and staff members and felt safer, the white paper said. The "most concerning responses" came from 12 percent of students surveyed who lived on or near campus and had to move at some point during the semester as a result of institutional policy changes or other factors, the white paper said. Students who experienced this transition were less satisfied with their college over all and were the least likely of the student groups to re-enroll next semester, according to the white paper.
Sixty-eight percent of students over all also expressed concern with their ability to pay for college, Anthology found. Financial worries were more acute for students in underrepresented groups, with 73 percent of students of color and 77 percent of first-generation students responding that they might have trouble continuing to pay for their education, the white paper said. It is "encouraging," however, that this did not seem to interrupt most students' plans to continue pursuing their degrees, the white paper concluded.