You have /5 articles left.
Sign up for a free account or log in.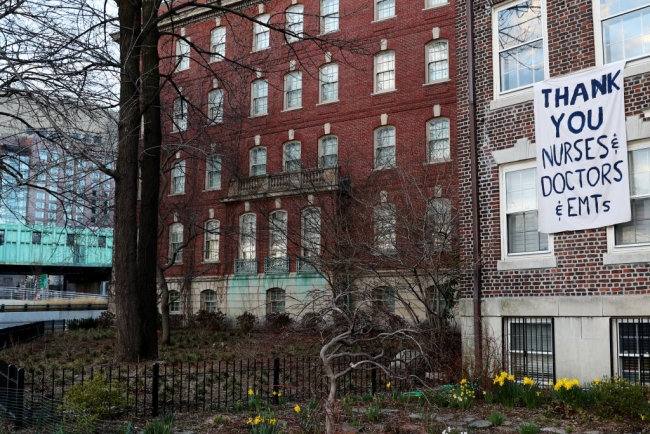 Maddie Meyer/Getty Images
In the aftermath of Sept. 11, higher education saw a burst of interest in Middle Eastern studies, Arabic and homeland security.
Today, in the wake of the COVID-19 pandemic, data and anecdotal evidence now suggest we may be seeing a similar rise in demand for health and medical education.
"It's unprecedented," said Geoffrey Young, senior director for student affairs and programs at the Association of American Medical Colleges. In the past two decades, the average yearly increase for total applications to medical schools has been about 2.5 percent, he said. This year, applications are up 18 percent over all.
The increase, Young said, appears to have impacted a majority of medical institutions. However, some colleges and universities have seen their numbers overshoot that national increase. Johns Hopkins University School of Medicine received a 26 percent increase in applicants this year over last year, officials there said. Howard University College of Medicine has seen a greater than 30 percent increase in applicants compared to last year. All four medical schools in the State University of New York system saw an increase in applications of at least 8.5 percent. At the University at Buffalo Jacobs School of Medicine and Biomedical Sciences, part of the SUNY system, applications are up 40 percent, with almost 2,000 more candidates this year over last year.
Some observers have dubbed the jump "the Fauci effect," after Dr. Anthony Fauci, a member of the White House coronavirus task force, director of the National Institute for Allergy and Infectious Diseases, and frequent television news guest. But others say that explanation, that a prominent doctor has encouraged students to pursue health professions, is a little too simplistic -- very few people apply to medical school without years of preparation and thought.
"It's kind of fun to say [the Fauci effect], but it really does a disservice to the years of work applicants have to put into being prepared to apply," said Dr. Dori Marshall, associate dean and director of admissions at Buffalo's medical school. "You can't apply to medical school on a whim. You have years of prerequisites you have to prepare. You have to do shadowing, you have to do community service and you have to have people ready to write letters of recommendation for you. You can't get that accomplished in a couple of months."
Observers are still speculating, but some have suggested that -- if not Fauci himself -- a lack of gap year opportunities, more time to apply and greater flexibility on the part of colleges played a role in the application boost.
According to recent AAMC surveys, about 60 percent of med school matriculants take a gap year in between their undergraduate education and their application in order to gain more experience or have a break from school. Some typical gap year opportunities were shuttered this year. Coupled with a poor job market, that may mean that some students who would have waited to apply any other year are getting their materials together now.
Applying to medical school is also less expensive this year than in years past, as most interviews are virtual, meaning students don't have to miss work or secure a plane ticket to apply.
That may have some effect on who is applying to medical school. At the University at Buffalo, first-generation applicants are up 59 percent this year over last year, at 1,129, up from 711. The number of students asking for financial aid has more than doubled, at 1,305, up from 620.
Buffalo was also explicit about offering flexibility amid the pandemic. The university announced it would be accepting online courses for spring and summer and considering them for the fall semester, accepting pass-fail grades without prejudice (meaning students are not asked whether a letter grade was an option in the course), and accepting Medical College Admission Test scores into January.
Marshall said that may have had an impact on first-generation applicants. With stories of students taking virtual classes in parking lots because they lacked home Wi-Fi, "we just didn't want to get into the business of asking students to try to qualify how they were managing to get through each semester," she said.
Anecdotally, applicants appear to still be competitive. At the University at Buffalo, the grade point average of applicants has remained the same despite the increase, and the MCAT score has only dropped one point.
"If people were simply applying because they got excited by Tony Fauci, I think we might have had a lot of applicants who weren't necessarily the strongest applicants," Marshall said.
Although the prominence of doctors and health-care workers may not have contributed greatly to the increase in medical school applications, other health-related programs -- some that don't require so many years of preparation -- are also seeing increases.
For example, at Dartmouth College, applications to its master of public health program are up 52 percent compared to last year. Applications to the hybrid track, where students only visit campus three times per year, are up 171 percent, officials said.
Johns Hopkins, whose faculty experts and research centers have been prominent in the pandemic news cycle, has also seen record high interest in its public health programs at the master's and doctoral levels.
"Applications across all programs are up over a third over all, compared to this time last year," said Michael Ward, associate dean for enrollment management at Hopkins's Bloomberg School of Public Health, via email. "Last year's cycle ultimately concluded with the highest number of applications in our 104-year history, and this year is on track to surpass that record."
At Adelphi University, a private institution in New York, applications to the undergraduate exercise science program are up more than 15 percent. Dr. Emilia Zarco, chair of health and sports sciences, said she believes it is a choice major for students who intend to go to medical school.
Nursing is another profession that gained prominence last year. Officials with the American Association of Colleges of Nursing have said that applications are up 6 percent nationally this year.
At Bryn Mawr College, applications to its postbaccalaureate in premedical studies program are up 33 percent compared to the average at this time over the last three years. The program is meant to prepare students who want to change careers or who didn't pursue the necessary prerequisites in college to apply to med school.
Isabelle Barker, associate director of the program, who also interviews applicants, said some applicants suddenly found themselves working remotely last year, in their mid-20s and taking stock of their lives.
"I don't know that it's necessarily 'the Fauci effect,' or seeing Fauci on TV. My sense is they are seeing it more along the lines of the world around them, the communities they live in, the cities they live in," she said. "Seeing a public health phenomenon and wanting to be part of that solution."
That may be even more salient for students from certain identity groups. There was little growth in the number of applicants to medical schools across the country from underrepresented groups this year, the AAMC has reported. But at Bryn Mawr's postbacc program, applications from Black candidates have quadrupled. Non-Hispanic Black Americans have suffered nearly quadruple the rate of hospitalization for COVID-19 as non-Hispanic whites, and nearly triple the rate of death, according to the Centers for Disease Control and Prevention. Black Americans make up 13 percent of the U.S. population but only 4 percent of the doctors, though research shows Black patients receive better medical care when they are treated by Black nurses and doctors.
The economic outlook for health-care jobs may also be in play in the increased demand.
"Health sciences, nursing and the medical sciences in general have always been at the top of the heap in terms of the jobs with economic value," said Nicole Smith, chief economist at Georgetown University's Center on Education and the Workforce. Those jobs also allow a person to marry an "instinct for nurturing," she said, with an "ability to pay your bills."
Employment in health-care occupations is projected to grow 15 percent from 2019 to 2029, according to the Bureau of Labor Statistics, faster than the average for all occupations and adding more jobs than any other occupational group.
The AAMC has long warned of a physician shortage, but while there was a modest increase of about 1.7 percent in the number of medical school matriculants this year, some programs, such as those at Bryn Mawr and Buffalo, cannot increase their capacity because of resource restraints or agreements with the association. (Howard University, on the other hand, will be accepting 125 applicants this year, five more than last year.)
Young, of the AAMC, said the federal government has an important role to play in addressing that shortage. Many residency positions are funded by Medicare, and Congress maintains a cap on the number of those positions it can fund. This year Congress voted to raise that limit by 1,000, which is still not enough, Young said.
"If we don't do that, then there is the risk or the reality that there won't be enough postgraduate training programs to educate those graduating seniors," he said.
The exact motivations and mechanisms behind the increased interest may come into clearer view with time and more data. But in the meantime, Fauci himself has said he is encouraged by the trend.
"If it works to get more young individuals into medical school, go ahead and use my name," he told NPR. "Be my guest."