You have /5 articles left.
Sign up for a free account or log in.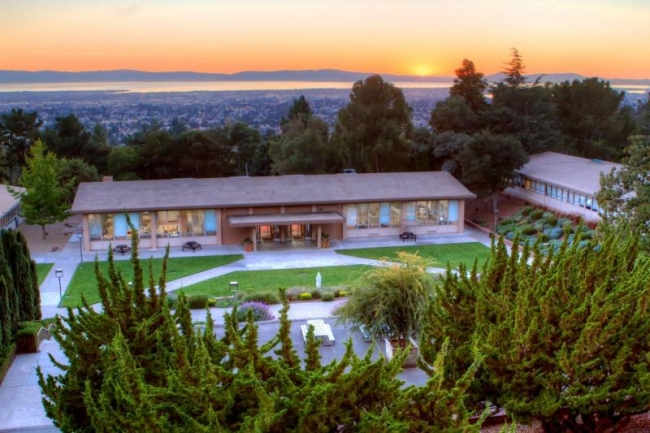 Courtesy of Holy Names University
Holy Names University is giving parents a new incentive to encourage their children to attend the private university: along with their child's enrollment, parents can take two free courses.
The private, Roman Catholic university in Oakland, Calif., markets the effort, called HNU Parent Promise program, as part of its strategic plan and long history of educating multiple generations of families. Experts see the program as a student retention tactic that may help traditional college-age students stay at the university, as well as draw in adult learners who are looking to return to higher education.
"We really wanted to commit to this program, which allows parents of our current students to see what university life would be like, to take those two courses and see themselves in that situation," said Sheila Smith McKoy, provost and vice president for academic affairs at Holy Names.
Through the parent promise program, up to two Holy Names parents or guardians per student can each register for two free undergraduate classes while their child is enrolled at the university. The class credits would count toward a bachelor's degree at Holy Names or another institution, according to the university. Participants must meet required prerequisites to enroll in a course and are limited to undergraduate courses.
At first glance it might seem like a gimmick, but admissions experts said the program is a novel idea at a time when many private universities are trying to stand out.
"I applaud their creativity," said Madeleine Rhyneer, vice president of consulting services and dean of enrollment management at EAB, an education consulting group. "They clearly have thought really hard about what would matter most to the community of students that they're serving."
Enrollment at Holy Names has fluctuated in recent years. This year, the university enrolled just over 600 undergraduate students, 125 of whom are over the age of 22. Holy Names boasted more than 800 full-time undergraduate students during the 2012-13 academic year, but that number fell sharply in subsequent years to a low of 485 full-time undergraduates in the 2016-17 academic year, according to data from the National Center for Education Statistics. The university also enrolls several hundred graduate students each year. About a third of Holy Names students live in Alameda County, where the university is located, and more than half come from the San Francisco Bay Area.
Holy Names' student body is incredibly diverse, Smith McKoy said. The university is a federally designated Hispanic-serving institution, and 40 percent of its students are Hispanic or Latino, according to NCES. About 17 percent are Black or African American, 11 percent are Asian and 15 percent are white.
Smith McKoy knows firsthand how challenging it can be for parents to return to and complete a college degree. Her mother wanted to do so before her sister was finished with her undergraduate education.
"I come from a household where my mother had to leave college when she married, and one of her dreams was actually to finish school, her undergrad, before my sister did," Smith McKoy said. "There was this really interesting competition where she was working full-time and going to school -- and their graduation was within weeks of each other."
It's too soon to tell how many people might take advantage of the parent promise program. Holy Names first announced it Jan. 12, and Smith McKoy said families have shown some interest since. She would not speculate on whether the university would see an enrollment boost from the program but said she does "expect that we'll have some fortunate things happen."
Rhyneer expects the program may help student retention more than enrollment. Parents that are already paying for their child's education at Holy Names may feel they're getting more bang for their buck with the new program. Smith McKoy also noted that participation in the program could lower expected family contributions -- the amount of money families are expected to pay out of pocket for tuition and fees -- because more than one student would live in the household.
It's a good idea to market to parents, Rhyneer said. Students and parents today are often likely to make college decisions together.
"Today, students and parents are very pragmatic, and it's very much a family decision related to fit and finances," she said.
As to whether students would want to attend college with their parents, Rhyneer thinks this setup could appeal to young people today.
"Maybe historically a student would say, 'No, I don't want Mom or my stepdad going to college where I am,' but I think that today's young people might actually think it's kind of cool," Rhyneer said.
The program comes at little cost to the university because it is already planning to offer the courses that will be available to parents or guardians, Smith McKoy said. Right now, the total number of participants isn't capped.
Parents and guardians who participate in the program will have access to the same host of student services, including advising services, as full-time undergraduates. If program participants decide to pursue a bachelor's degree at the institution, they'll also have access to financial aid advising.
For adult education programs to be successful, the education needs to be linked to work and career opportunities, said Shawn Hulsizer, senior vice president of impact, marketing and communications at the Council for Adult and Experiential Learning. The success of Holy Names' program will hinge on good outcomes for the parents.
"Maybe this is the first time a person has considered postsecondary education, and it might be a way for them to get started," Hulsizer said. "But for us, the imperative is that the learning leads to work."