You have /5 articles left.
Sign up for a free account or log in.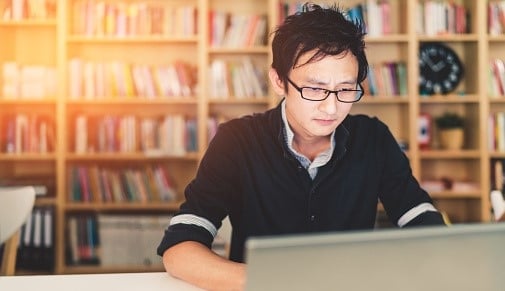 The past year has been a terrible one for the standardized testing industry, as colleges have shifted to test-optional policies and test cancellations have plagued administrations.
But even as colleges have gone test optional (or test blind), most have still required foreign students to take a test to demonstrate their English proficiency. For many years, the primary test used for admission to colleges in the United States was the Test of English as a Foreign Language, known by its acronym TOEFL. But during the year of the pandemic, an alternative -- shorter and less costly -- offered by Duolingo has gained market share. It was around before the pandemic but has taken off during the year of COVID-19.
So the Educational Testing Service is unveiling a new version of TOEFL, which will cost about half of what the regular TOEFL costs (but still about twice the cost of Duolingo). The new test will be called TOEFL Essentials, while the old version will be called TOEFL iBT.
ETS maintains that the TOEFL iBT is the best test, the "gold standard" in the words of Srikant Gopal, executive director of the TOEFL program. ETS last week informed colleges of the existence of TOEFL Essentials and is starting to promote it, with the first use of the test coming in August. But ETS is also still promoting the original test. And Duolingo is still gaining ground against the original TOEFL.
The Timing
The timing may at first seem odd for a major battle for the international student testing market. New international students dropped in enrollment by 43 percent this fall, and more drops are expected next year. But every indication exists that international students still want to study in the U.S., and American colleges want them -- both for the educational experience they provide and for the tuition dollars they bring. In this environment, colleges have been anxious to recruit the foreign students who are already in the United States, or who can get here.
So while there may be fewer international students for now, colleges are doing everything they can to get them. Just about every American colleges accepts TOEFL scores. Duolingo in 2018 could point to only dozens of colleges accepting the test, some experimentally. Now Duolingo is accepted by 3,000-plus colleges, nearly as many as TOEFL.
Yale University accepts both, as well as the International English Language Testing System (IELTS) and the Pearson Test of English. The university says, "Yale's most competitive applicants have [Duolingo] scores of at least 120." (Like the TOEFL, Duolingo doesn't set specific scores to pass the test.)
Duolingo costs $49 and takes an hour.
Raffi Muroy, director of international admission at Suffolk University, said his university has accepted both tests but has seen "a very significant uptick in Duolingo submissions since the summer of 2020."
He added that "it makes a lot of sense for TOEFL to examine an option that can be as beneficial and helpful … What maybe ETS/TOEFL can take advantage of is their reputation. But over all, I think that in these uncertain and ever changing times, any efforts test providers take to make a test accessible, convenient and thus break barriers is a positive one. Without compromising security and reliability, of course."
The New Test
ETS's Gopal said the new TOEFL will take an hour and a half to complete (roughly half the time of the old TOEFL). The cost of the new test will be $100 to $120, "roughly half" of the cost of the original form of the test. (There is no set fee for the TOEFL; its charges vary by country where it is given. It costs $225 to take in the U.S., less in some countries, more in others.)
The new test measures four skills: listening, reading, writing and speaking. Unlike the original TOEFL (but like Duolingo), the English skills it measures are in both academic English and conversational English in a variety of settings.
With the new TOEFL, ETS hopes to attract "different kinds of students," Gopal said.
The iBT TOEFL features questions "that are longer and go deeper into a topic," he said. For instance, there would be 10 questions on a reading passage that comes from a college textbook.
"It's a very immersive experience," Gopal said.
TOEFL Essentials would feature "more tasks, but they are shorter."
Gopal predicted that many colleges would offer both tests for admission, and that TOEFL iBT would continue to be popular.
'Not Reliable or Accurate'
He said that one reason for the new test was that many tests that have arisen to compete in the market are "not reliable or accurate."
Asked if he was talking about Duolingo, which he hadn't named at that point in the discussion, he said that he was.
He said that Duolingo develops questions "using computer models to guess" at what would be a good question. ETS, for both the new and old TOEFL, uses "assessment experts" to develop new questions. And new questions are tested around the world, to be sure that no one culture would have an unfair advantage.
TOEFL, old and new, also features human proctors (even though the test may be taken at home).
With Duolingo, "you can take the test and no one is watching."
Gopal would not say how many people took the TOEFL last year, citing ETS policy against revealing such totals. But he acknowledged that the number for 2020 was lower than the number for 2019.
He said the reason more students than in the past are taking Duolingo was "a desire from universities in the U.S. not to lose any applicant."
But he said these universities are realizing "that there is trade-off" and that they are letting in some students who are "not qualified." Because the growth in Duolingo is so recent, he said he doesn't know how many institutions have been affected. "We don't know how many institutions have lowered their standards and hurt their reputations," he said.
Jennifer Dewar, head of strategic engagement for Duolingo, strongly disputed the ETS claims about her company. She worked in admissions at Duke University and Washington University in St. Louis before joining the company, and she said Duolingo meets a clear need.
She said that Duolingo does use computers in its question-generating process, but she said "people" are involved as well. And she said questions are tested all over the world.
It takes at least a year for Duolingo to develop a new question, and that time reflects the company's values, she said.
Because many students have taken Duolingo and TOEFL, she said that "if a student does well on Duolingo, they are likely to do well" on TOEFL.
Dewar stressed that the company has grown by building relationships with the students and the colleges that its test serves.
While Duolingo also did not reveal how many people took the test in 2020, the number grew by 2,000 percent last year.
Asked about the new TOEFL test, Dewar said, "we are very happy to see long-term test providers moving in the direction that's critical for student access."