You have /5 articles left.
Sign up for a free account or log in.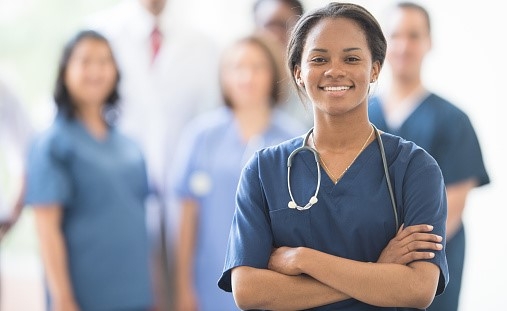 Kaplan's 2020 medical school admissions officers survey found that while medical schools are largely supportive of Black Lives Matter, less than half have a program for recruiting Black students.
Of the medical schools polled, 88 percent said they put out a statement to express solidarity with the Black Lives Matter movement. When prompted why they decided to take a public position, admissions officers gave the following reasons:
"Doctors are trained to be able to provide care for all demographics and populations. This was an important issue to address because of its impact not only on the community as a whole, but in particular the suffering that is taking place in the Black community. Providers have a responsibility to understand what impacts the populations they serve."
"It was important to members of our community to see that the school cared; it was important to reflect as a school on our own record and efforts and think about what more we can do to end systemic racism and injustice; it is especially important given so many issues surrounding medicine -- levels of justifiable distrust for doctors given historical incidents, impacts on research when diverse volunteers can't be recruited and impacts of comments of physicians to patients that are insensitive or impacts of patient comments to physicians of diverse backgrounds."
"Our communities of color have been hit disproportionately hard by COVID infection and death rates leading to stress and anxiety, which have been further exacerbated by events playing out across our nation and within our own community. The recent tragic events reopen wounds cut by historical contexts and as these incidents occur, we are all impacted; but none more so than our African American colleagues."
Despite the strong support for Black Lives Matter, only about half (48 percent) of medical schools said they have a specific program to recruit Black applicants. One admissions officer without a program said, "At the time, the population of Black residents in my city does not warrant a specific stream for Black applicants."
Petros Minasi, senior director of pre-health programs at Kaplan, said, "It was important for many medical students and premeds that medical schools put out strong statements expressing solidarity with BLM, but it is equally if not more important for medical schools to implement strong, ongoing policies to ensure a diverse and inclusive student body. Many are already doing that and we think that is likely to improve and increase over the coming years."
According to the Association of American Medical Colleges, the number of Black first-year students increased by 10.5 percent nationwide in the fall. Black students made up 9.5 percent of first-year students in 2020, up from 8.8 percent last year. The percentage of all doctors in the workforce who are Black is less than 5 percent.