You have /5 articles left.
Sign up for a free account or log in.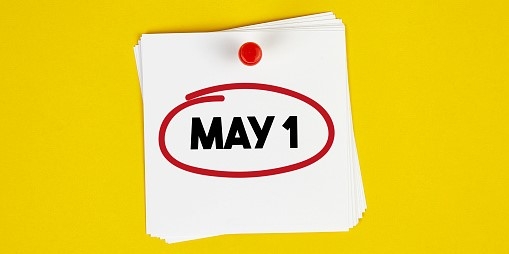 May 1 has for years been the theoretical end of the admissions cycle for four-year colleges and universities. Students have been admitted or rejected and have had time to weigh their offers and the financial aid they have been awarded. Many students have squeezed in one more campus visit by that date. Meanwhile, other campus offices have the task of planning for students' arrival in the fall. Orientation needs to be scheduled. Housing must be assigned, based on the exact number of students a college expects to enroll.
The reality, of course, has been different. Except for the colleges that are the most competitive in admissions, May 1 may have stayed in place as a goal, but one that was rarely met. Most colleges routinely recruited and accepted students far later in the summer. But they didn't generally advertise this fact.
Last year, the coronavirus pandemic broke out just as most colleges had admitted students in mid-March but before May 1. Many students not only had to make their decisions without campus visits, but their families' economic well-being took a severe hit, as many parents (and many students) were suddenly out of work. Colleges scrambled quickly to respond, and many colleges were flexible about May 1 deadlines.
At the time, many people thought the pandemic would be relatively brief and that campuses would soon be back to normal.
This year, after 12 months of the pandemic, will be a little different. One college, Queens University of Charlotte, has formally moved the date by which students must secure their spot in the incoming class from May 1 to June 15.
And -- quietly -- many colleges are applauding Queens for its apparent decision to go first in adjusting the deadline. Many colleges say they expect to make similar adjustments, but they will wait a bit. Or they will informally grant extensions.
Jen Johnson, vice president for enrollment management and marketing at Queens, said, "We've heard from students, parents and college counselors who are facing numerous obstacles during the college search process, including fewer options to take standardized tests, reduced opportunities to participate in sports and extracurricular activities, and, most notably, the challenge of visiting their choice schools during the pandemic."
Queens does offer in-person visits, but many students and families prefer the online options.
She said it made sense to announce now. "We're hearing about students and their families about anxiety," she said. "They need to know now that the deadline will be extended."
There are obviously impacts on other parts of the university from giving students longer to decide, she said. But she said that ignores a key fact: "It's the deadline for the student."
Johnson said that Queens is doing well on applications this year, with "well" defined as on track to meet last year's total. "That's a huge win," she said.
Queens will probably admit 2,300 students and hope for 400 to say yes.
Will other colleges follow Queens' lead?
Angel B. Pérez, CEO of the National Association for College Admission Counseling, predicts that many will. "While most institutions have not announced yet, I predict many will follow the lead of Queens University," Pérez said. "There is already precedent. Many institutions extended their deadlines last May. Given that yield will be harder than ever to predict, it is in the best interest of both students and institutions to allow more time for enrollment."
Ken Anselment, vice president for enrollment and communications at Lawrence University, said, "I think the pandemic will, once again, make May 1 a movable feast."
Last year, with the pandemic just beginning, Lawrence gave students a choice of deadline, offering them May 1, May 15, June 1 and June 15 "so we could give students time to visit -- back when we thought students might actually be able to visit -- and make sense of the ever-shifting information landscape."
This year, Anselment added, "if viral spread continues to decline and as more colleges become more open to on-campus visitors, you might see colleges shifting their emphasis on May 1 to allow for students to have their first on-campus experience, which, for many, will be an essential piece of their decision criteria."
Marie Bigham, a founder and executive director of ACCEPT, Admissions Community Cultivating Equity & Peace Today, has worked in admissions at Washington University in St. Louis and four high schools.
She is very concerned about the impact of deadlines on students -- even before the pandemic.
But the pandemic last year prompted her to reach out to colleges to ask them to be more flexible about deadlines.
"I just felt that it's going to be incredibly hard for them," she said. "It's not possible to make a decision like this" on a strict schedule.
"In an extraordinary moment, with students and families, some of whom have lost everything, it should be a no-brainer" to move deadlines. But she recounted that some of those she spoke to last year didn't agree. "It was like I was asking them to grow a second head out of their shoulders."
She said she thinks colleges should think about why they need certain deadlines. The reality, Bigham said, is that many deadlines could be pushed back.
"We are wed to this arbitrary calendar," she said, "because it benefits colleges and their reputations." Anything that the most competitive colleges do well at, lots of colleges want to do well at.
May 1 "made sense [for] a couple of colleges 30 years ago," Bigham added.
With so many colleges planning -- even informally -- for later deadlines this year, there are many questions about yield.
Rick Clark, director of undergraduate admission at the Georgia Institute of Technology, blogged this week to predict that at selective colleges, "yield will likely remain relatively consistent."
At national public universities, he said, "My prediction is these schools see flat or slightly higher in-state yield, and slightly lower nonresident/international yield, due again to financial, health and mobility impacts of the pandemic. I anticipate these schools will also build a bigger wait list than last year, in case they misjudge the vault flip."
And of the less selective (publics and privates): "I expect many/most to miss their class goal by their deposit deadline, be that May 1 or June 1. Since higher education is an ecosystem, the dominos will start to fall as selective schools go to their wait lists, which will create even more problems for colleges already 'hearing alarm bells in the vault.'"
Stay tuned.